Last Call With Ron Stodghill: Sandwich City
In defense of the unfussy, almighty meal on the go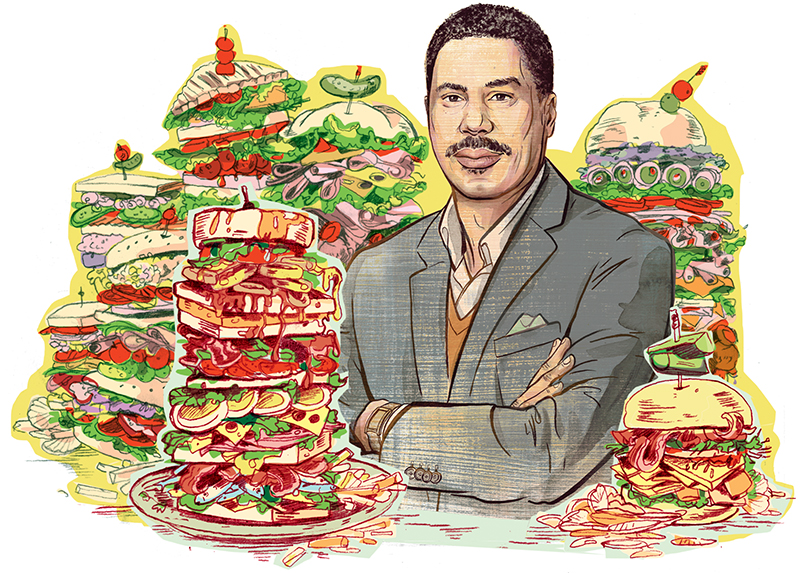 NOT LONG AGO, I was talking to a friend from Los Angeles who had recently spent time visiting Charlotte. When I asked whether she had enjoyed her stay, her response puzzled me. Charlotte is pleasant enough, she said, but then she issued this curious observation: "You all sure eat a lot of sandwiches."
I wasn't sure what to make of the remark, but it didn't seem like a compliment. In fact, her blithe characterization of Charlotte as a city of sandwich eaters concerned me. My friend is a foodie, and in the race among cities for cultural relevance, a foodie's opinion matters. Oblique observations about a city's eating habits—or, in her case, dangerously irresponsible sandwich sarcasm—aren't to be taken lightly these days, lest they morph into a full-blown crisis. I couldn't help but imagine some CEO taking up the issue with the board. Next agenda item is this sandwich obsession we're hearing about in Charlotte. I'm thinking we should postpone our expansion there until we understand its implications. First HB2. Now this.
I wish I could have taken the remark as mere casual observation. But its subtext was a sly indictment of our proud, fast-growing company town, a place where people are so busy chasing profits and promotions that we rely on the age-old simple sandwich to stay alive—portable, fast, unfussy—so we can get back to worshipping our big brands, superstores, retail chains.
Sandwich. Even its name was inspired by someone in a hurry. John Montagu, as the story goes, was the 4th Earl of Sandwich, and was so swept up in a 24-hour gambling binge that he refused to stop and eat. Instead, he ordered his servant to put his meal between a couple pieces of bread. That way, he could eat with one hand and gamble with the other.
So maybe ol' Montagu's story doesn't help our cause. Still, I'd prefer to think of the guy as a trendsetter, game-changer, a true, well, grinder—what we aspire to be. Consider his impact. These days, doesn't everyone, everywhere, eat lots of sandwiches? Why single out Charlotte? According to the USDA Agricultural Research Service, sandwich eating is on the rise all over. In 2009-10, some 49 percent of all Americans over 20 years old ate one sandwich per day. That's the most recent sandwich data available.
Instead of brooding over her remark, I confronted her head-on.
"So how many sandwiches are too many?"
"Huh?"
"You said the other day that Charlotte eats a lot sandwiches. How many is too many?"
"Oh. Yeah. Any sandwich is too many."
I felt my temper rising. What started as her cultural critique now felt like a personal attack. That's probably because I had eaten a spinach and artichoke chicken from Einstein's on Monday, a turkey and bacon from Amelie's on Tuesday, a crabcake sandwich from 300 East on Wednesday, a BLT from Just Fresh on Thursday, and at that very moment, Friday around noon, I was strongly considering one of those yummy pizza sammiches from Which Wich.
"That's just ridiculous," I snapped. "What's wrong with sandwiches anyway?"
"They are cold, bland, dry, uncreative; they're fast and uninspired," she sniffed. "They are salads pretending to be something else. And they stick to your gums."
"Whatever!"
"Besides, like L.A., Charlotte is ethnically diverse, and I'd expect better."
This was a low blow: My L.A.-based Ethiopian friend played the race card on me. I expected better.
"You're not being fair. How about the fact that our sandwiches here are just really good? Shouldn't that matter for something?"
"Look, I grew up in a society that took a millennium to perfect its cuisine. You can't expect me to really appreciate putting some shit between two slices of bread and calling it a meal and charging money for it," she quipped. "Frankly, I'd rather pay $5.94 for a bean and cheese burrito."
I was already exhausted. Dignifying our sandwiches was feeling futile.
"But sandwiches are ubiquitous. I mean, how do you get around them?"
"Kabobs, curries, lots of stuff. Even a hamburger."
"Aha! A hamburger is a sandwich, isn't it?"
"A hamburger is NOT a sandwich," she said, her tone sharpening. "It's not even in the sandwich section; it's in the burger section, and I resent the distortion of category."
"Okay, what about soup and sandwich? Good?"
"Only with grilled cheese, in which case it's hot, and there's been effort put into it."
I rolled my eyes while she talked. "Got it," I said, exasperated. "Well, I do hope you come back."
"Thank you. I plan on it." I found consolation in her words.
"I do want to ask, though," I said, finally. "During your visit here, what were you thinking watching everyone eating sandwiches? It must have been horrible."
"I was thinking, 'You all look like smart people. How did you get bamboozled?' "
I cut the conversation off there. The exchange had made me hungry. It seemed like a really good time for a sandwich. Maybe a salad on the side.
---
This article appears in the October 2016 issue of Charlotte Magazine
Did you like what you read here? Subscribe to Charlotte Magazine »
---