Last Call With Ron Stodghill: Simple Stone Markers
In Matthews, an African-American cemetery, an apartment complex, and a test of trust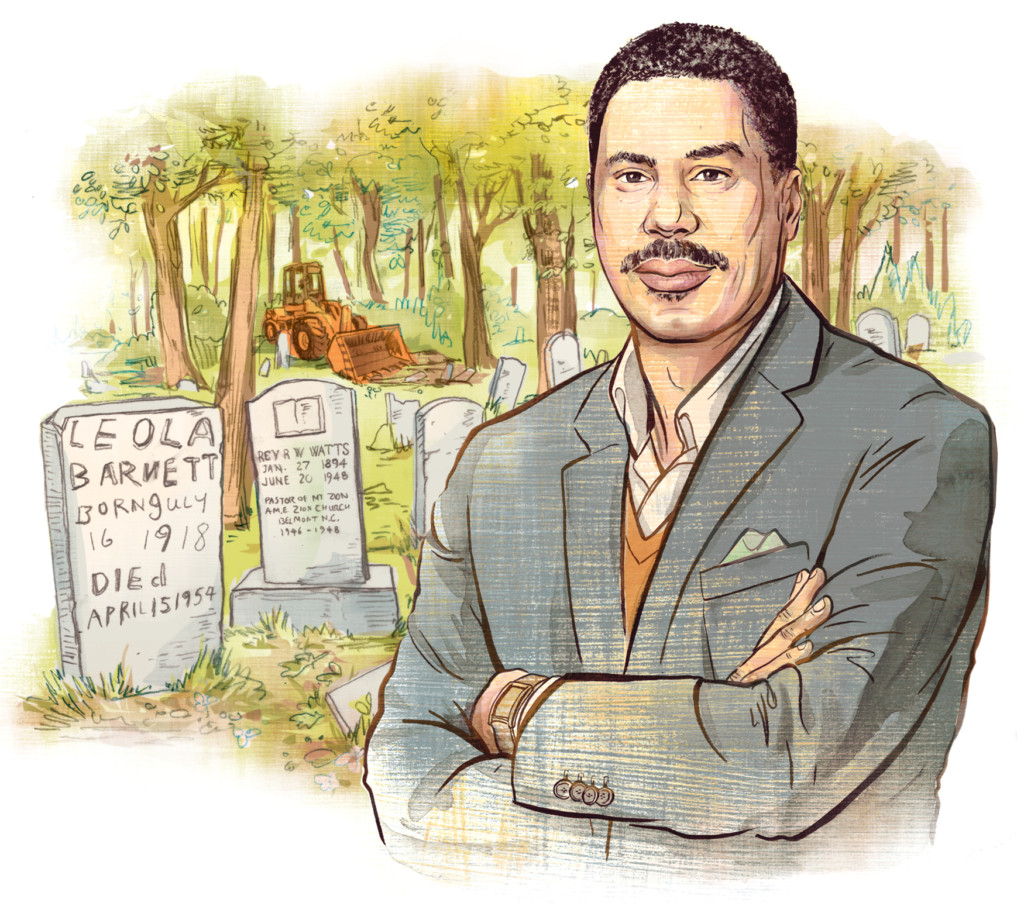 A FEW WEEKS AGO, I found myself wandering through the woods in Matthews searching for dead people. It was just after noon, and limping along ahead of me (arthritis in his hip, he explained) was a stranger, a middle-aged white guy in a red hoodie, black khakis, and sneakers. We stumbled through this gnarly, wooded, debris-laden area somewhere off Monroe Road, across from the Family Dollar Distribution Center and behind the Legacy Matthews apartment complex. "I know it's in here somewhere," he said. "I promise, it's here."
By now, his reassurances rang hollow. I had witnessed this kind of setup before, in slasher films: Some poor sucker (in this case, that would be me) walks deep into the brush, hearing only the sound of his own heavy breathing and twigs crackling beneath his feet, and then, just like that, he's dead. I glanced back at the apartment complex, at humanity, which now looked a thousand miles away.
I wouldn't have been out here had I not received an intriguing email, followed by a handwritten note, from someone who introduced himself as John Wallace, a purchasing assistant at a Ballantyne hotel. He said that he was a longtime Matthews resident looking to preserve an important part of the town's history. When I phoned him, he shared this story: A couple of years ago, a neighbor brought him out into this wooded, overgrown lot and showed him a patch of land where some tombstones and grave markers were eroding inside a dense morass of weeds and trees.
Wallace, now 47, says he was blown away, so much so that he brought his children to snap pictures of the site and take notes. He began researching and soon learned that it's a historically designated African-American burial ground known as Roseland Cemetery that dates back to the mid-1800s. This heightened his interest; three of Wallace's four children are adopted African Americans.
His research turned up something else: A developer plans to build apartments here. To be sure, planners with the town of Matthews say that the project developer—Greenville, N.C.-based Taft Development Group—won't disturb the landmark. In fact, they say their plans include cleaning up the site and installing a fence around the cemetery. Architectural drawings of the project confirm this. But Wallace knows that governments and developers haven't always kept their promises to African Americans, and he worries that the 250-unit complex might still compromise the sacred ground.
"Oh, look, it's right here!" I heard him call out.
I looked ahead and saw him standing in the distance, one hand aloft and the other pointing at the ground. He was smiling. "Told ya."
My fears vanished. I knelt down to study a couple of tombstones at his feet. One was a stately granite headstone engraved with "Rev. R.W. Watts, Jan. 27 1894, June 20 1948, Pastor of Mt Zion., A.M.E. Zion Church." The other was decidedly less ceremonious; a concrete slab, hand-scrawled, as though hurriedly, said simply: "Leola Barnett born in 1919 and died in 1954." I stood, surveying the ground around me, at rows of uniformly sunken ground, eerily casket-sized.
"I'm guessing the coffin just finally rotted and so the earth just finally dropped down," Wallace said.
Mecklenburg County's historical land records confirm that Roseland Cemetery was, in fact, a graveyard for slaves and freed blacks from Matthews and beyond. On property owned by the Renfrow family, farming and hardware entrepreneurs, the cemetery was mostly known as the primary burial ground for members of nearby Roseville AME Zion Church, which was founded in the late 19th century and remained vital until the late 1920s. Beneath the brush, some 70 to 75 graves are in Roseland, about half of them identified with simple stone markers.
You can learn a lot about a place by how it treats its dead, in whether it chooses to honor or erase them. Out there in these dense woods that afternoon, standing quietly with a stranger above the remains at Roseland, I could almost hear the rumble of trucks gearing up to converge near the land. I heard the echo of Barbara Dement, member of the Matthews Planning Board, which gave its blessing to the apartment project in a meeting in January. "Whether we like it or not, development is going to happen," she said at the meeting, according to the Matthews-Mint Hill Weekly. "Change is going to happen."
I heard the words of Wallace's adopted children, who sometimes wonder how their biological family history is different from that of their adopted father. Then finally I heard Wallace, a man I now trusted, expressing his own distrust of the growth in his suburb. I heard his doubt that developers would ultimately do right by the dead.
"I'll believe it when I see it," Wallace says. That day in the woods, Wallace looked defeated as he walked, limped, away from Roseland. I followed, and hoped he was wrong.