Last Call with Ron Stodghill: 'The Ache for Home'
After Keith Scott, some tough questions for Charlotte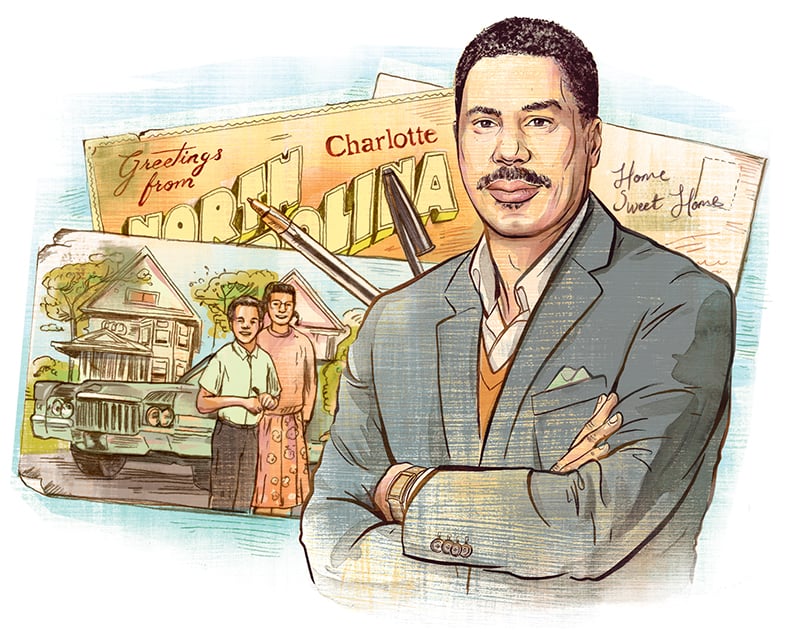 YOU CAN BARELY see it, the blue pen in my hand, but it is there, locked beneath my fingers in my little brown clenched fist like the last ticket out. I am standing next to my sister in front of uncle Bubba's big purple Cadillac Coupe de Ville in the grass driveway of somebody's house in Detroit, where I grew up. We must have been going somewhere special that day. We were dressed neatly; me in a short sleeve white oxford shirt, Afro full and round. Along with the pen, I am holding a jacket that matches my brown dress slacks. Kim wears a rose-colored sweater and coordinated flowery pants, her short bangs curled above horn-rimmed glasses. We pose. Our smiles are big, innocent. I am missing a front tooth. The moment looks cheerful. Someone decided to capture it.
Pens, pencils, paper—they all traveled with me. Years later, those same writing tools would travel with me to Charlotte, a fast-growing city with quite a bit to write about. Here, for more than a decade now, I have told more stories than I can count. I've told stories of prosperity, of laid-off bankers who reinvented themselves into solar panel entrepreneurs, of Gen Yers making a killing hawking their wares on the Internet. I've told stories of loss, too; I'll never forget the heartbreaker about a boy from Virginia who drowned in Lake Norman while on a trip to visit his dad. When you write about a place, you get attached to it—and over time it becomes the prism through which you look to better understand yourself and your relationship to the world around you.
The police shooting of Keith Lamont Scott forced me to see a divided Charlotte, a city of deep racial distrust and bumbling leadership, where old-timers despise newcomers, where protest and free speech are viewed as rabble-rousing and militancy. I suppose there is a story of our divided city that I could write, but frankly, it's been written over and again. I think contributing editor Greg Lacour said it best on this magazine's website that week: "Charlotte has polished uptown, built light rail, thrown up a few thousand new apartment complexes and mixed-use developments for affluent newcomers—and encouraged, or at least acceded to, an economy in which it's harder than in any other large American city to rise from poverty …"
I've seen what poverty and hopelessness can do to cities, to families. I think of my late grandparents—a domestic worker and a perennially laid-off autoworker. A few years ago, I took a trip back home and drove down Lumpkin Street on the northwest side of Detroit. I went hoping to see their house again, to reconnect to the place where my sister and I spent so much time as children. But it was gone; the tiny white wooden home that sat in the middle of the block on stilts had been torn down.
I cruised slowly, looking hard out my window. I wanted to see the little yard where I kneeled with my red plastic bucket and big silver spoon and dug holes in the dirt and grass, to see the front door that slapped closed as grandpa came in, often staggering drunk. I wanted to walk the cracked, uneven concrete path to the candy store, where my sister and I would stuff our brown bag with penny candy. I wanted to lay eyes again on our friend Margie's house, next door to grandma's, to be reminded of when she and my sister made cookies in the Easy-Bake toy oven before she became a hooker and overdosed on drugs. I sat in the car, windows sealed, and looked out at the empty lot of my childhood before the silhouettes of drug dealers began moving ghostlike my way. I pulled away.
I've lived in many cities, but I've liked Charlotte enough to live here twice. Charlotte took me in as a cub reporter in the late 1980s, and then after several years in New York, I arrived here again, hoping this could be my permanent home. But since the shooting, I have wondered whether there can ever really be another home for me. Was Charlotte home for Keith Lamont Scott, or Jonathan Ferrell, or the legions of black men sitting in the county jail at this moment? Can Charlotte can be home for people who don't work for the bank and play golf and go to the Blumenthal? I wonder. Maya Angelou once said: "The ache for home lives in all of us; the safe place where we can go as we are and not be questioned." That's not the Charlotte I know.