Last Call With Ron Stodghill: The City of Second Chances
With Patrick Cannon's sentence more than halfway over, a look at Great Charlotte Comeback Stories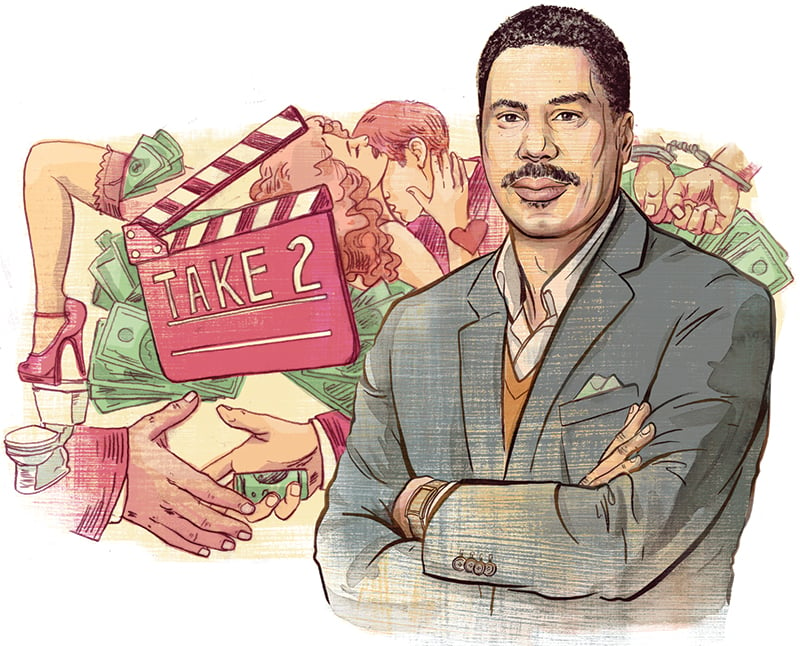 IT WASN'T so long ago that our former mayor, Patrick Cannon, was sent to prison for accepting bribes from undercover FBI agents. Cannon probably feels like it's been awhile. Even one day spent in the slammer must be its own living hell, let alone a sentence of 44 months. Nonetheless, assuming Cannon has displayed good behavior in his West Virginia lockup, he could be sipping café au lait at Amelie's uptown with old pals as early as this summer (that is, if java jaunts comply with the rules of his halfway house or home detention).
I have always believed Cannon got off a bit easy for his crimes; the mere act of getting caught on camera strumming a wad of cash against his ear like a corny comic book villain was worth at least another six months. Now, though, I am left wondering how the gifted-pol-turned-ex-con will rebound from such a steep fall from grace. After all, we do live in a world steeped in cynicism about the ability of people, especially public figures, to rebound once they topple. As F. Scott Fitzgerald famously mused, "There are no second acts in American life."
If there's any good news for Cannon and other defrocked locals, it's that Charlotte never got the message. Across town, there's ample evidence that some of our most disgraced figures don't go away easily, that they refuse, in many cases, to disappear from public view. Whether we like it or not, their ambition, grit, and, well, hubris continue to lure them moth-like toward the limelight. If our collective thinking is "Please, go sit down somewhere," their response is a deafeningly defiant, "Not in a million years!"
That seems to be the case, at least, for Paula Broadwell, the married West Point graduate and counterterrorism expert whose affair with then-CIA Director David Petraeus was leaked in 2012. The affair with the military commander occurred in Iraq and Afghanistan while she researched the unfortunately titled All In: The Education of General David Petraeus. Once seen as a presidential candidate, Petraeus resigned from his job, and last year he pleaded guilty in Charlotte federal court to the misdemeanor of mishandling government documents. Meanwhile, the 43-year-old Broadwell, who was never charged with a crime, has spent the past year promoting Think Broader, a Charlotte-based advocacy group geared toward showing how media unfairly portray and demean women.
Among my favorite comeback sagas is the story of Patrick Swisher, Charlotte's own toilet bowl king. Back in the 1990s, his company, Swisher Hygiene, made a small fortune selling products and maintenance services for restrooms in restaurants, bars, and other businesses across the world. But in 2002, he got locked up for nearly a year for lying on his taxes. Upon his release, he sold a majority stake in his company to Miami billionaire Wayne Huizinga, who grew the company into an industry juggernaut worth more than $1 billion before running afoul of the SEC for falsely inflating the company's value. Last year, Minnesota-based Ecolab bought Swisher's brainchild for a measly $40 million.
But these days, Swisher, unbowed, is back in business, promoting Enviro-Master, a six-year-old restroom hygiene franchising company recently listed among Inc. magazine's fast-growing private companies. "I can't think of a better place to be," the 61-year-old Swisher says of his hometown of Charlotte. "I've been blessed that people have come into my new organization and given me a second chance. I don't intend to let them down."
Then, of course, there's Sallie Wamsley Saxon, whose handle around town was once notoriously the "SouthPark Madam." Before she got busted in 2008, Saxon ran a high-end escort service from her Charlotte home. But Saxon, who served nearly two years in federal prison before being released in 2010, has put pimping in the past. Instead, the 66-year-old Saxon is trying to make a new mark—telling her personal story of redemption on the church speaker's circuit, and volunteering at Dove's Nest, a Charlotte Rescue Mission program for women. As Saxon told Christian-based Decision magazine last year: "I know what it's like to feel dirty and disgusted." Indeed, life can be a dirty business. I'm sure Patrick Cannon will tell us as much, in just a few months.
---
This article appears in the June 2016 issue of Charlotte Magazine
Did you like what you read here? Subscribe to Charlotte Magazine »
---