Last Call with Ron Stodghill: The Mighty 704
An area code can instantly evoke a feeling, depending on who's calling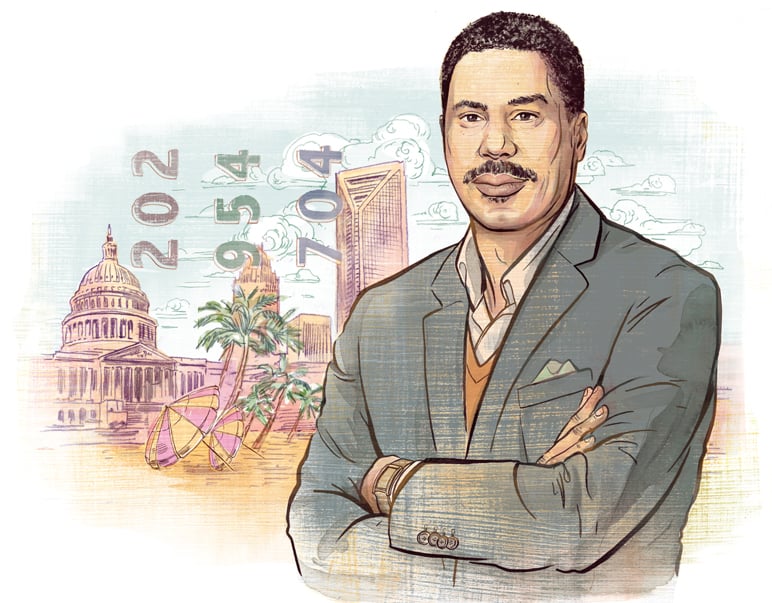 NOT LONG AGO, as I sat idling in morning gridlock on Interstate 77, I scrolled through my cell phone and dialed up Chauncey Mayfield, an old contact turned friend. We had not spoken in more than a year, and he greeted me with a sense of astonishment tinged with sarcasm. "Wow, there was a time when I would get maybe 15 or 20 calls a day from Charlotte," he said. "These days, I almost never hear from 704."
Mine, frankly, was an impulse call, spurred on by guilt. Before the market crash in 2008, I had Chauncey on speed dial if for no other reason than his news-worthiness as a rising star in business. At one point, his Detroit-based private equity firm, MayfieldGentry Realty Advisors, was invested in 4.5 million square feet of space in prime commercial towers across the country, among them 200 and 201 South Tryon, skyward gems at the corner of Fourth Street. But in 2013, the Securities and Exchange Commission charged Chauncey and his firm in a pay-to-play scheme. He bribed officials in the city of Detroit with gifts in exchange for investments into his real estate fund. As Chauncey awaited sentencing, I stopped—and apparently a heap of other people also stopped—reaching out to him.
In his heyday, catching up with Chauncey had always been a crapshoot; you picked a number from his assorted pre-fixes (202, 313, 843, 954 were in my iPhone) and hoped for the best. Tougher times, I figured, had shrunk his catalog. When I called this time, I correctly guessed the sole survivor: 954, a prefix attached to his sunny Fort Lauderdale condo, a Zen get-away for a man with plenty on his mind these days.
"Anyway," he sighed, "how've you been?"
After a few pleasantries, Chauncey talked about how the 704 crowd had gone, well, south on him. I could sense his disappointment as he recounted the exodus, from corporate honchos to politicos, folks he once counted as buddies who now avoid him like an Ebola patient. His perceived dissing is ironic: Here was a man whom the world once courted shamelessly, a darling of such power prefixes as 212 (Manhattan), 202 (Washington, D.C.), 617 (Boston), and 213 (Los Angeles), pining over little-ol' 704. The city where everybody waves hello was flipping its collective finger at the guy.
It's hard to know when exactly 704 lost its innocence. But as rites of passage go, this one, while bittersweet, may be necessary. Sure, our reputation as nice has been, nice. But we're an ambitious city and we live in an age when area codes matter. Those three little numbers signify your civic identity. They help decide whether your dwellers enjoy some FaceTime or go straight to voicemail. There's value in the prefix, in its portability and suggestion of where you've hung your hat. It's your biography, in numerical haiku. We're out-growing homespun images of red clay and cow pastures, transitioning from a time when 704 conjured racin', rasslin', and religion. Like our hardscrabble New South neighbor Atlanta (404), our smartphone footprint is starting to show who we really are: disarmingly polite dealmakers as prone to image-obsession, opportunism, and fair-weather friendships as most any major city.
"I probably have about 4,000 people in my Rolodex," Chauncey told me. "Of course, virtually all of them are just business contacts. When you're at the top, you never have many friends because most folks have an agenda. But in Charlotte, I made a few of what I considered to be meaningful relationships. That turned out not to be the case."
Maybe with time he'll rebuild his relationships here. But maybe next time we should take things slow—send him a few emails, texts, maybe sprinkle in a little 980—before connecting on our main line.
In a video from Innerview Media, Ron talks to Chauncey Mayfield about his experiences in the business world of Charlotte: