Last Call With Ron Stodghill: The Simpler Life Gets Faster
Is Charlotte still a slowed-down escape for Northern transplants?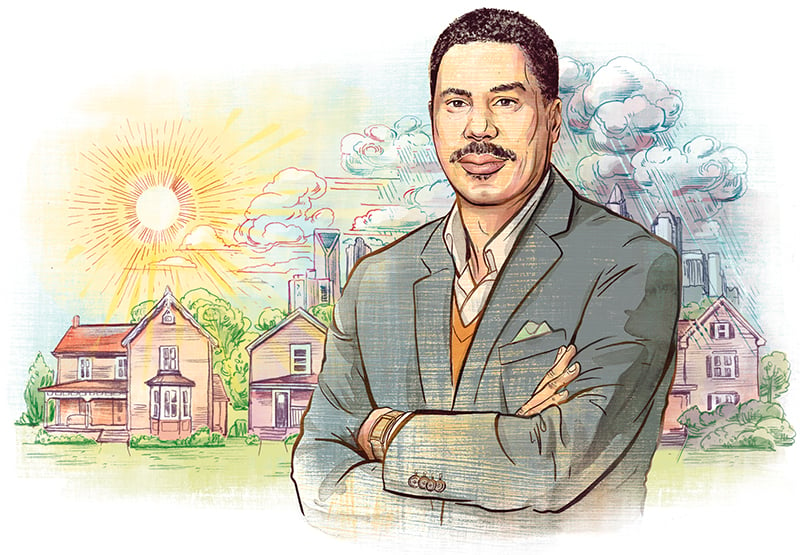 THE EPIPHANY came a year or so ago. I awoke one day and realized the Charlotte that once felt like my Great Escape, the city that always felt light and detached from the worry and woe of big-city life, was morphing into something more intense and frenetic. I know, of course, that the Charlotte I came to love decades ago is still alive—I think it's just trapped somewhere, mostly beyond my reach, in I-77 gridlock, in debates over the importance of black lives or bathrooms, in fears over rising crime and rage over school resegregation.
I probably arrived here with unrealistic expectations. I'm guilty of romanticizing, idealizing even, the modern South as a place of healing and restoration for those wise enough to flee the daily grind up North. My rosy view dates back to the late '80s, when I first arrived to work at The Charlotte Observer; I remember the plane descending over the red clay and dense trees around Charlotte Douglas. I felt like I was on a rescue mission for my lost identity, of the boy who was most at peace running barefoot across grassy fields and dirt roads at family reunions in Georgia and Tennessee, but whose childhood had been hijacked by the Rust Belt's smokestacks and pipe dreams of Detroit, where I grew up.
There's always been, I believe, a troubling mythology around the Mason-Dixon line, in its ability to transform a life midstream. You know the lyrics: "In my mind I'm gone to Carolina/Can't you see the sunshine?" For generations, my kin have wrestled a divided soul, one torn by a blind faith in distinctly Northern ideals of progress and freedom, and an aching desire for Southern simplicity and contentment. My folks, craving both worldly affluence and down-home frugality, usually wound up somewhere in between; proud, book-smart people who spoke a polysyllabic patois laced with enough "y'all", "Ahhh deee-clare," and "gon' fetch" to keep their country cred. We're the sort who pocketed sugar packets from white tablecloth restaurants with a rogue sense of entitlement.
I learned to forgive my family's cultural shape-shifting and think of it as kind of a necessary elixir for numbing the guilt that seemed to plague upwardly mobile black people back then.
If there was a Northern refuge, a place where my family's dueling selves could peaceably unite, we found it in a little town on the northwest fringe of Michigan's Lower Peninsula known as Idlewild, the country's fabled resort for blacks north of the Ohio River during segregation.
The late black scholar and Idlewild vacationer W.E.B. Du Bois once wrote of Idlewild: "For sheer physical beauty, for sheen of water and golden air, for nobleness of tree and shrub, for shining river … and all the wide leisure of rest and play—can you imagine a more marvelous thing than Idlewild?" In the 1970s, my grandparents purchased a quaint lakeside cottage on a densely wooded lot in Idlewild. We took pride in the resort's rich history; how in the early part of the 20th century, Idlewild attracted such black elites as Daniel Hale Williams, the prominent surgeon, and millionaire cosmetologist Madam C. J. Walker, as well as such acts on the "chitlin' circuit" as Count Basie, Duke Ellington, Sammy Davis Jr., and Sarah Vaughan.
By the time my family had a place there, though, Idlewild's star had dimmed, following the Supreme Court's 1954 overruling of separate-but-equal laws in Brown vs. the Board of Education of Topeka and with the passage of the 1964 Civil Rights Act. Instead of repairing in Idlewild, blacks with financial means took vacations to Miami Beach and Las Vegas and on cruise ships. I did the same: By the time I became an adult, my grandparents were deceased and I was vacationing everywhere but Idlewild, from Cape Cod to Cozumel to Barcelona.
In Charlotte, strangely, I never really missed Idlewild—until recently. For years here, even during my busiest days, it was easy to be lulled into that suspended, timeless space of my best, most peaceful memories—to sit on benches on South Tryon during lunch and gaze up and get lost in the infinite azure sky, or to listen to the song of birds hidden in trees. It was easy, a decade ago, to escape Charlotte while being in Charlotte. It was easy then to reconcile my dueling selves here. Now, though, the grind I fled has intruded Charlotte; it shows up in that I-77 traffic, in local news reports of shootings and layoffs, and in political scandal and infighting. The busier Charlotte gets, the more difficult it is to find peace here, the harder it is to distinguish it from other major cities. With families pouring in from across the globe, Charlotte's soul now seems fractured. That, I suppose, is the downside of growth and urbanization. But I do believe that beneath this fast-growing metropolis beats the heart of a small town. I guess I'll just have to listen more closely to hear it.