Last Call With Ron Stodghill: Tiffany's Table
What a friend taught me about life through mashed potatoes and asparagus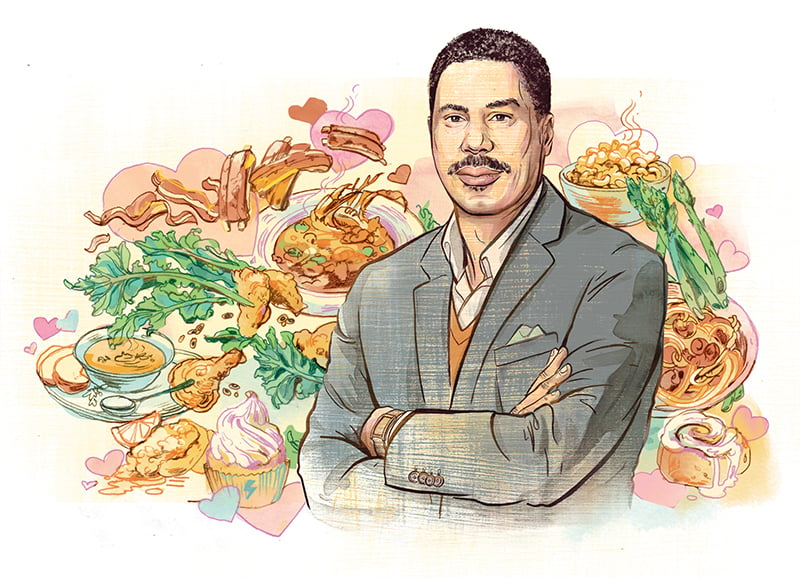 NOT LONG AGO, I asked my good friend Tiffany Taylor why, after so many years of holding out, her father finally gave her his sweet potato pie recipe. Tiffany, the student research manager at Johnson C. Smith University, pondered the question for a while. "Maybe because I was his baby girl and culinary twin," Tiffany, 31, told me. "He always prided himself on how much I looked, acted, and cooked just like him." After she got the recipe, Tiffany made countless pies before mustering the nerve to serve her pops a slice. This was six years ago. She'll never forget that moment, watching her dad sitting on the edge of his bed in his home in the eastern North Carolina town of Clinton, nodding satisfaction as his fork scraped the plate. "You did good, kid," her dad said, grinning. Tiffany treasures the memory: Arthur Taylor died in October 2015, at 82 years old. "A part of him lives in those pies," Tiffany says now. "Every time I make one, I honor him."
Tiffany is one of those people who express their love and friendship, and even build community, through their cooking. We're lucky to have folks like that around, people whose generosity ignites the palate—and the heart. I almost never snap pictures of food, but there's one photograph in my iPhone of a plate of fried chicken, asparagus, and mashed potatoes. The shot memorializes a rainy Sunday afternoon a couple of years ago when Tiffany, sensing I might need some cheering up, arrived lugging her personal pots and pans. She took over my kitchen and cooked a delicious meal. We ate, drank wine, and laughed into the evening. Then she packed her stuff and left me, spirit boosted. "The best comfort food will always be greens, cornbread and fried chicken," the late Maya Angelou once said. Maya was close.
Tiffany, whose master's degree in psychology gives her an appreciation for the power of human connection, delights in anyone's bountiful table, not just hers. I remember her sitting spellbound in my office as I recounted my 50th birthday festivities, which, along with three days of mountain golf with buddies in Asheville, included our own live-in professional chef (a.k.a., my buddy Max). Tiffany was rapt as I, affecting my most proper English accent, recited Max's so-called "Gentleman's Courses" menu: the "crab cake Benny" and "homemade buttered biscuits and gravy made from scratch, Southern-style peppered bacon and homemade grits," or the "fra diavola (brother devil) spicy tomato based pasta dish with lobster, butternut squash soup with pancetta and sage," or the "seafood gumbo and Max's special ribs cooked three ways."
In this era of microwave affection, when a smiling emoji or Facebook "like" masquerades as human touch, a meal well prepared can stir the soul. The hands that take time to cut and slice and grate also carve out a rare place in this world for us to feel worthy and appreciated. There is, of course, a notable kindness in paying the dinner tab for friends, but it pales against the generosity of serving them a home-cooked meal.
Of late, Tiffany has been on a cooking crusade. When I see her around campus, I ask her what's come out of her kitchen lately, and who was its beneficiary. She's always eager to disclose. There was, for instance, the recent birthday of a longtime friend whose penchant for Harry Potter novels is rivaled only by her rabid sweet tooth. Tiffany promised her friend something "good and shweet" and delivered through a killer recipe of "Harry Potter Butterbeer Cupcakes" she'd unearthed on Pinterest. "She squealed like a teenager when she opened that box," Tiffany recalled. Or New Year's Day dinner at her apartment, when Tiffany's boyfriend and her sister came in from Atlanta and Durham, respectively, along with a few other friends. Tiffany served a feast of ribs, collard greens, black-eyed peas, cornbread, mac and cheese, and more. "There's nothing better than seeing a bunch of people around the table enjoying a meal that I prepared," she says. "It really makes all the hard work well worth it." (I didn't need an invitation to this one, but a plate sure would have been nice.)
At the start of 2017, Tiffany embarked on a new culinary journey: a 52-week food challenge, which encourages her to cook a new recipe each week. "I wanted to push the needle on my capabilities by cooking things that I'd never tried before," says Tiffany, who posts pictures of her dishes on Instagram under @theycallme_drt. From the curry chicken to crab rangoon to cheesecake to homemade cinnamon rolls, Tiffany has been pleased with the results. "I think food should be considered a love language," Tiffany says. "Sometimes the best way to say, 'I love you,' isn't always with words but with a delicious plate of food." Reminiscing on Tiffany's chicken served on that dreary Sunday, I can attest that it feels good to be loved.