Last Call With Ron Stodghill: Tough Talk
When father confronts his son, the son never forgets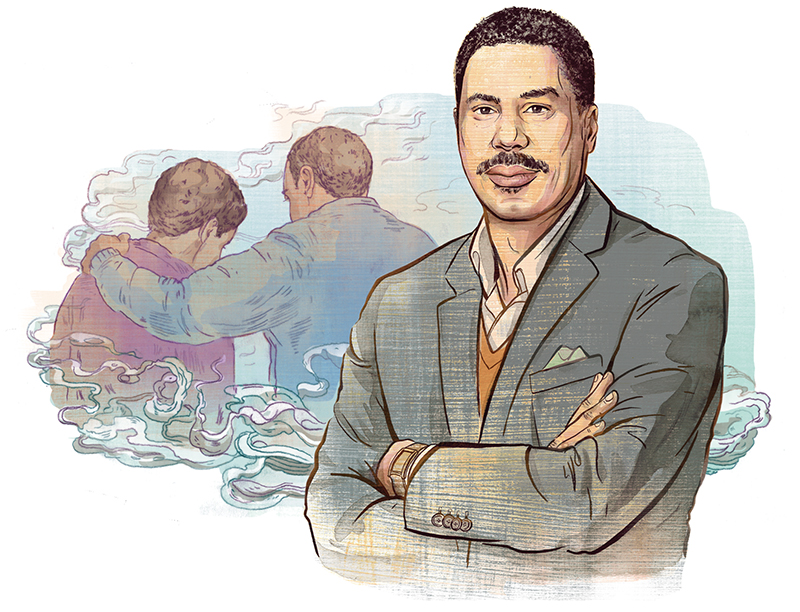 THE CONVERSATION could not have come soon enough.
I was 20 years old, a sophomore in college, spending the summer at my father's home in St. Louis. I walked in one night with bloodshot eyes, a condition that had become all too routine. On this night, for some reason, he confronted me.
Maybe he sensed that I was ready to talk about my problem. Maybe he worried my secret might spoil the sanctity of my sister's wedding in Michigan the following week. Maybe his hard talk was less about morals than concerns about upward mobility—knowing that the job market would favor the clearheaded over a pothead.
The details are hazy now, but on many occasions, I have shared what I recall over lunch or dinner with close friends in uptown Charlotte, or even work colleagues en route to a business meeting in SouthPark, or anytime I think someone might benefit from hearing about one of the toughest conversations of my life.
I'll tell them how my dad looked at me squarely that night and asked, What've you been doing? You look high. I was caught off guard. I lied. I went out with some friends and we had a couple of beers. He chuckled. I can smell the marijuana all over you. Just tell me the truth.
Walking past him toward my bedroom, I heard him say, It's OK. You're my son.
I paused and turned around, stunned by a softness that, frankly, I had never heard in him. He pressed on.
Your mother called the other day and asked how you are doing. I couldn't bear to tell her the truth, because it would break her heart. But you know and I know you're not doing well at all. In fact, when I look at you, boy, I feel sad.
Maybe his hard talk was less about morals than concerns about upward mobility—knowing that the job market would favor the clearheaded over a pothead.
His words cut deep. They angered me, because he wasn't supposed to see me so clearly. I was doing well. I was succeeding in college, wrote for the campus newspaper. I had good, smart friends. I wore preppie clothes. I was spending my summer working as a copy clerk at the St. Louis Post-Dispatch, a coveted gig for aspiring journalists. My façade had been well assembled.
Looking at you makes me sad, because I remember the kid you used to be, he went on. You laughed and smiled; your eyes were white. You were a happy boy.
My dad had not spoken so frankly to me in many years. Maybe he never had, and I was OK with that. I was OK, because he had no right to judge me.
He had left my mother, sister, and me when I was still a young boy who needed him. And yet suddenly, in this moment, I felt ashamed for failing him. I tried hard not to, but I wept as the man who I felt had abandoned me now peered into me.
You know what else makes me sad? When I look at you, I see myself. I see the mistakes in my own life, mistakes that I can't take back.
His jaw tightened. Man, look around here, he said. I got nothin'.
I surveyed the room. It was clean but dreary, sparsely furnished with remnants of his failed marriage to my mom—a bamboo sofa and table and chairs, little else.
His voice cracked. I lost everything being a fool. Your mother, you, and your sister—my family. I drank and gambled it all away. You don't want to be like me, son. You don't have to be like me.
I had been waiting a lifetime to hear my dad admit that he was wrong. But now, hearing him, I felt no triumph in his mea culpa, only sorrow.
A week after my dad confronted me, we drove to Michigan for my sister's wedding. I had resolved to make it through that event and the entire weekend without smoking. I failed then, and again many times after. But a few months later, when I was back in school, I called my dad one afternoon. I had had enough. I was ready to change. I was ready for a new conversation.
---
This article appears in the February 2016 issue of Charlotte Magazine
Did you like what you read here? Subscribe to Charlotte Magazine »
---