Last Call With Ron Stodghill: What I Learned from Plaid Trousers
After avoiding golf for years, a skeptic turns to the game to answer life's bigger questions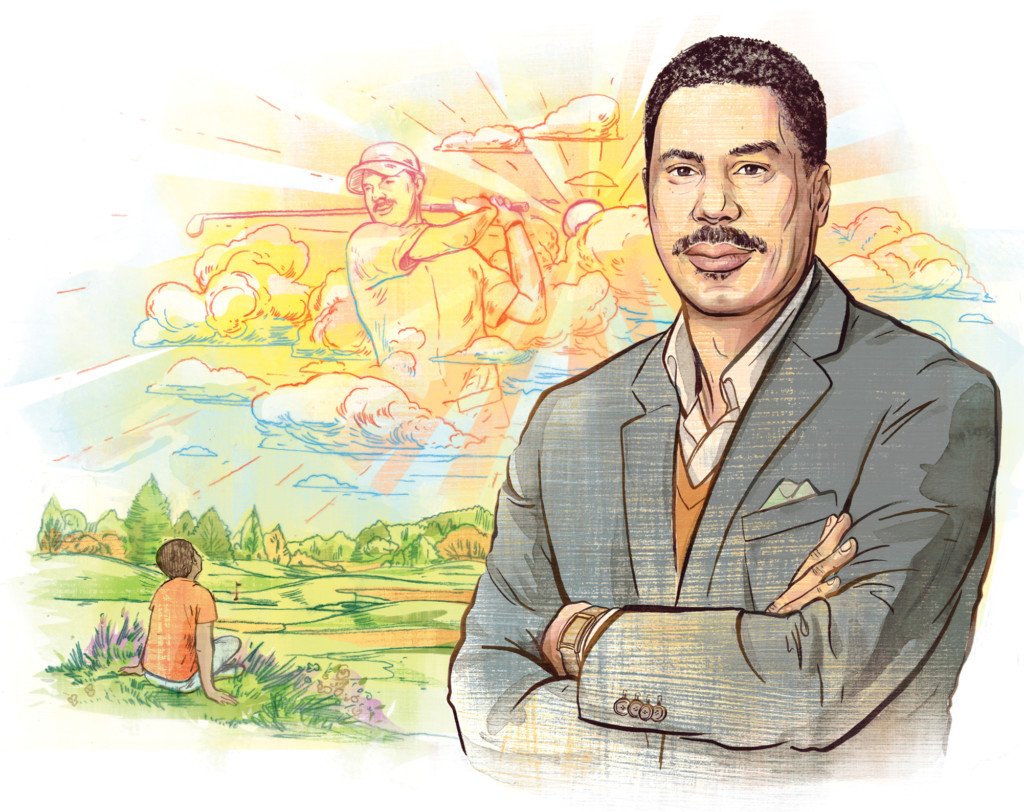 THE TINY WHITE BALL sat in the sand, solitary and expectant, like an egg waiting to hatch. I stepped down into the bunker, golf club in hand, eager to fly it out of there and onto the green. It was a hot Saturday afternoon in the summer of 2010 at Birkdale Golf Club. I was a cocky novice golfer miraculously leading our foursome by three strokes. I stood over the ball, looked up, and smiled devilishly. For effect, I said something like, There's a new sheriff in town.
But there on the par-four 15th hole, I would learn a hard life lesson. On my first swing, I brought the club down too steep and it swept through the sand, and I missed completely; on the second swing, I decelerated and watched the ball plop on the upward slope of the bunker and roll back down toward my feet; on my third and final sand shot, my club hit the ball thin and sent it careening across the green and about 50 yards back onto the fairway.
As I putted in, scoring a tragic eight, or four over par, my golf buddies looked on with a blend of pity and astonishment. They knew better than to try and console me, so they did something else: They laughed.
As I plopped down in the golf cart, spitting out the grains of sand in my mouth, I knew my victory had vanished. So too had my long-held belief that high hopes could somehow substitute for good preparation—an illusion I'd conveniently nursed for too long. Truth was, I'd never once practiced hitting balls out of a bunker—and now, it showed.
All golfers have a tale of that epic moment when they came face to face with their true selves, the part of them hidden underneath office cubicles and carpools and church pews. Golf teases, even thrusts, that other self out into the open. It lays bare one's strengths and weaknesses. I don't know of another game that so harshly punishes the ill-prepared, the unfocused, the braggart, and so greatly rewards the virtues of practice, patience, and civility. I think that's why, at middle age, I have grown to love the game. Golf is a kind of guru; if you're paying attention, it can lead you, in subtle and direct ways, to important truths about yourself and others.
I was about 12 years old the first time my stepfather invited me to play golf. I flatly turned him down. Golf, I sniffed, was boring, uninspired, for softies. Real athletes, the Dr. Js and Pistol Petes, the Alis and Fraziers, the Walter Paytons and Terry Bradshaws, didn't walk around in plaid trousers amidst chirping birds. I was in my mid-40s by the time I took him up on the invitation. By then, having settled into life as an ordinary working stiff, I was open to competing at something new—where the skinny or fat, brilliant or dim-witted, rich or poor all had a shot at winning.
I have grown to appreciate golf's merging of rules and randomness, of grace and grit; the brute who whacks the ball 300 yards (even if it's deep into the woods); the putt that catches a slope, picks up just enough speed, and drops magically into the cup; the beautifully hit iron shot that somehow finds the cart path and bounces skyward, never to be found again.
A few weeks ago, I witnessed a kind of miracle. My buddy Pete shot a 76, his best score ever. We were in Kannapolis at the Club at Irish Creek. Pete is a good golfer, but like any amateur, he is prone to blow-ups.
At one point, on a par-five, I worried for him. Late in his near-perfect round, he hooked his drive into the woods. But he never panicked. He walked into the woods, found his ball, pitched it onto the fairway, hit into a greenside bunker, flopped it onto the green, and putted in for par. It was a magnificent save. I have always viewed Pete as someone with a great sense of poise, an unflappable demeanor. In that moment, I saw it up close.
I'm a long ways from shooting my own 76. These days, I'm happy when I break 90. Like life itself, nothing about golf is easy—but on the whole, it tends to give back more than it takes. At least it has for me. Mark Twain is often credited with saying, "Golf is a good walk spoiled." I humbly disagree. A good walk is toward a golf ball, wherever on God's green earth it lies.