Last Minute NYE Plans
Celebrate the end of 2015 at one of many Charlotte eateries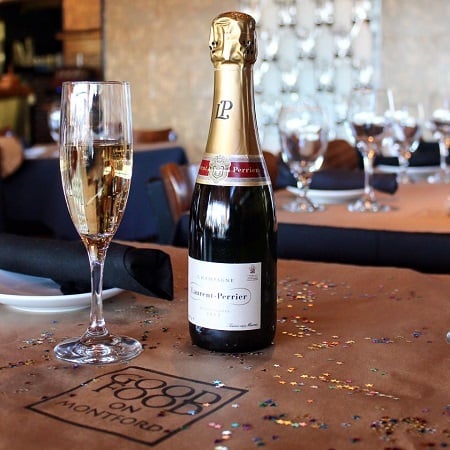 The new year is quickly approaching, and restaurants are booking up quickly. For those of you still looking for a spot to ring in 2016, we've rounded up a few for your viewing and eating pleasure:
5Church: The uptown spot wil host three seatings for New Year's Eve: $75 for seatings from 5 to 5:45 pm; $80 for seatings from 6 to 6:45 pm; $90 for seatings from 7 to 7:45 pm. For these three options, diners will have access to a four course menu including a half bottle of Champagne for parties of two; a full bottle for parties of four. For $120, diners can book their evening from 8 pm onward; this option includes the same four course menu, Champagne, AND post-dinner dancing and fun. Visit the website for more information or call 704-919-1322 for reservations.
____________________
Aria: The Italian eatery will be offering its full menu; three courses for $30 per person or $45 per person and you can enjoy a glass of Laurent Perrier Champagne to start, poured from the magnum tableside. Reserve your table via the website or by calling 704-376-8880.
____________________
Barrington's: Executive Chef Bruce Moffett is continuing a New Year's Eve tradition at Barrington's with a five course, prix fixe menu, including champagne. Seatings begin at 5:30 p.m. Price is $75/person. Call 704-364-5755 to make your reservation.
____________________
BLT Steak: For New Year's Eve, countdown to midnight while enjoying a prix fixe blackboard ($60) featuring sea scallops with American caviar and citrus fennel mignonette and a thyme basted NY Strip with jumbo crab, asparagus and black truffle hollandaise. The full a la carte menu is available and all guests who dine and ring in the new year with BLT Steak will receive a complimentary champagne toast. Visit the website for reservations.
____________________
Blue Restaurant & Bar: Enjoy live music by The Presley Group and a midnight countdown with complimentary Champagne toast and party favors. Reservations are available between 5 and 11 pm; $5 cover after 10 pm. Guests can choose for a three-course first seating offer from 5 to 6:30 pm for $34.95 per person and a six course chef tasting menu for $65 per person. For more details, visit the website.
____________________
Good Food on Montford: Good Food on Montford is accepting reservations for New Year's Eve. Executive Chef Larry Schreiber is offering Good Food's full assortment of small plates, with specials. Reservations will go fast, so plan ahead. Call 704-525-0881 to take advantage of this rare opportunity.
____________________
Stagioni: Toast to 2016 at Stagioni with a decadent four-course prix fixe menu for New Year's Eve, starting with amuse bouche and a toast of Prosecco. Executive Chef Drew Dodd will serve amuse bouche of chilled poached shrimp, followed by a choice of U.A.V. burrata, pork sausage tortellini or beef carpaccio for antipasto. The two courses to follow include house made pasta (sweet potato cavatelli or spaghetti with lamb sugo), and choices of grouper, porchetta or wood roasted NY strip. The meal will conclude with a traditional Italian dessert. Cost is $75/person, plus tax and gratuity. Stagioni is also taking reservations for bar seating on New Year's Eve. Call 704-372-8110 to make your reservation.
____________________
Village Tavern: On December 31, Village Tavern will host a masquerade-themed New Year's Eve party from 9 pm to 1 am Guests will enjoy the sounds of DJ Chase Morgan while sipping on drink specials and eating delicious appetizers. Party favors will be handed out and safe transportation will be available. The price is $20 per person. Please call 704-552-9983 for reservations.
____________________
Zebra: The stylish spot in South Park will host a NYE dinner with four courses for $79 per person. Courses include a jumbo crab cake appetizer with lime smoked creme fraiche; choice of entrees including a pan-roasted Scottish salmon with blood orange hollandaise, a lamb tenderloin "diablo" with chèvre Swiss chard, celeriac purée de pommes de terre, glace d'Agneau, and several other options. Call 704-442-9525 for your table.