Last Song for Reflection Studios
Inside the final session at the famous Plaza Midwood studio that once housed R.E.M., Whitney Houston, James Brown, Joe Walsh, and many more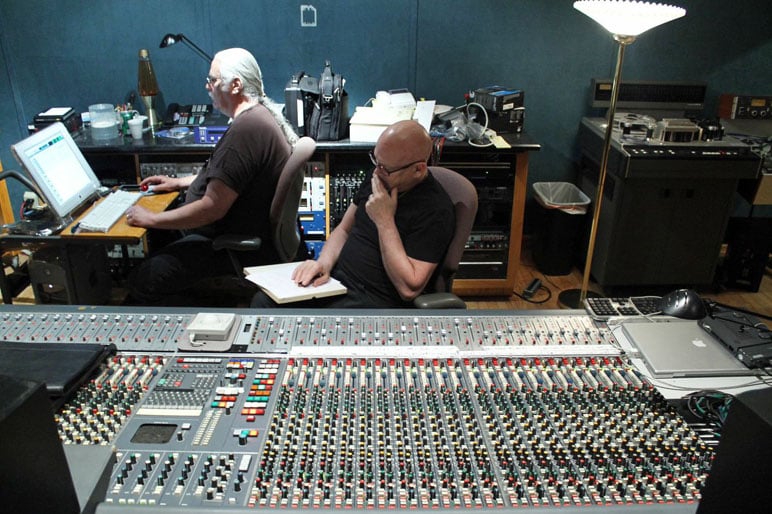 Just before the last recording session Sunday at Reflection Sound Studios, Wayne Jernigan hears the sound of Don Dixon singing. Dixon, a trim, compact 63-year-old in a black t-shirt, rounds a corner and strides into the expanse of Studio A, the main recording space. The men embrace.
"I feel more weird about it than I thought I would," Dixon says.
"Oh, I feel totally weird," Jernigan replies. "I didn't sleep last night, tossing and turning …" It's early, a little after noon. Musicians and sound engineers filter in, some of them carrying Bojangles' bags. A soft bossa nova tune plays over the PA system. It's by Marti Jones, Dixon's wife, who's recorded here since the early 1980s. People say hi, chuckle, joke. But a blanket of sadness covers everything.
Jernigan and Dixon are feeling it most. The two have known each other for more than 40 years. In 1970, Jernigan left his gig as Ernest Tubb's drummer in Nashville and decided, against all reason, to open a recording studio in Charlotte. He moved from South Boulevard to here, 1018 Central Avenue, in 1975.
Daniel Coston
Don Dixon (left) and owner Wayne Jernigan spent a lot of time reminiscing last weekend.
Since then, Jernigan and his longtime chief engineer, Mark Williams, have overseen recordings by such eminences as Whitney Houston, James Brown, Joe Walsh, Hootie & the Blowfish, and Tammy Faye Bakker (yes, that Tammy Faye Bakker). Dixon, as a producer and studio musician, worked on many of the studio's landmark sessions—most notably R.E.M.'s first two albums, Murmur in 1983 and Reckoning in 1984, which he co-produced at Reflection. "It's a place I grew up in," says Dixon, a native of Lancaster, South Carolina.
Now it's over. Jernigan has decided it's time to shut down and sell. Jernigan owns the property the studio sits on and much of the rest of the block. But an Atlanta-based real estate development firm wants to buy the land and build apartments.
For years, part of the marvel of Reflection Studios was its off-to-the-side location at Central and Oakland Avenue, where Plaza Midwood meets Elizabeth, just across Central from the Salvation Army thrift store. Until the 2000s, it stood on land not many people wanted.
Now, with apartment complexes sprouting up Central toward Plaza Midwood's heart, the bustling Metropolitan complex just past where Central turns into Kings Drive, and uptown just a few blocks away, the Reflection property is primed for development. And that coincides with the decline of large, expensive recording studios—nowadays, people are recording with Pro Tools in their dens—and the moment when Jernigan, 72, is ready to retire.
"The timing is right. Everything has a life span, and I've been here 45 years," Jernigan says. "I'm kind of humbled by it, to be honest. So much great music has been recorded here, and so many great musicians have recorded here when they could have gone anywhere else."
Jernigan says he expects the sale to close June 2, and the studio staff has taken out a Craigslist ad offering instruments and equipment for sale—which recently drew the attention of Billboard.com. In the unlikely event that the sale doesn't materialize, Jernigan says he may keep Studio A open for a while.
Daniel Coston
Don Dixon (left) and musician Billy Jeffords (a.k.a. Dip Ferrell) work some fun into the final recording session.
Let the record show that the last musician to record at Reflection was Billy Jeffords, a.k.a. Dip Ferrell, a pop and easy listening artist from Florence, South Carolina, and a mainstay at the studio since the 1970s. "Once he found out [the studio was closing]," Jernigan says, "he wanted to be the last."
The final session lasts two days, Sunday and Monday. The staff lays out a buffet and buckets of beer and wine and bottles of liquor for the band and any old-timers who want to drop in to say goodbye—and many do. Kelly Bright, Jernigan's daughter and longtime office manager, comes by and dispenses hugs. Steve Haigler, an engineer who's produced Natalie Merchant, Fuel, and the Pixies, swaps memories in the lobby with J.R. Branch, a grizzled, ponytailed industry veteran who now owns a studio in New Orleans. "Y'know," Haigler observes, "Tammy Faye, she was always very nice to me. I have nothing bad to say about Tammy Faye."
As they chat, Jeffords cuts take after take with the help of three horn players, a drummer, a guitarist, a piano player, and Dixon on bass. Williams surveys all from the control room. The scene is the same as it's been for decades: a band running through it, then running through it again, then again. But this time, everyone knows the end is near.
"This is a historic session right here," Jeffords says as they set up.
"It's sad," says Jernigan, the owner.
"It is sad," says Jeffords, the artist. "But it's kind of cool that we're the ones doing it."