Latest brewery releases from Sugar Creek, Unknown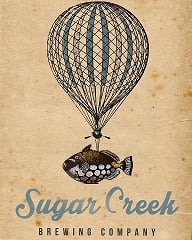 With the start of a New Year comes some new local beers you'll be able to get in local bottle shops and stores, with some available in local restaurants as well. Over the next couple of weeks I'll be highlighting these as they become available for release. This week's releases come from two of Charlotte's newest breweries, Sugar Creek and Unknown.
Sugar Creek Brewing
On the heels of an excellent grand opening a few months ago, Sugar Creek is introducing its first bottle, which is the brewery's Belgian Dubbel. This is one of Sugar Creek's flagship beers (8.2% ABV) and a great first bottle, as you'll be able to drink it immediately or save one to age. From the label, expect flavors of plum, raisin, spice, banana, clove, chocolate, brown sugar and cherry.
Carolina Beer Temple and Good Bottle Co. received early shipments of these bottles this week, and Sugar Creek is having a release party at the taproom today (Thursday) at 4 p.m. Bottles at the taproom will be $13 each.
Unknown Brewing Co.
Unknown's second can offering is the brewery's Silverback Stout. Originally released on tap last year, this 6.5% ABV American Stout quickly drew accolades from many. Based on that, owner Brad Shell said the decision was easy for Unknown's next run of cans.
"People have been asking for Silverback Stout ever since we brewed it," said Shell last month. "The initial thought was, 'Half the market wouldn't get to try this if it was only on draft,' since it's a seasonal beer. So we thought it would be a good release for what's traditionally a slower season in January-March."
Silverback Stout is brewed with entirely West Coast hops, and carries a roasted coffee flavor with dashes of chocolate. The packaging is great as well, featuring a sleek metallic design. Silverback Stout has been out for the last couple of weeks now, and you can find six-packs in local shops, as well as at the brewery.