Latin Cuisine: Beyond the Taco
You don't need a passport to explore Latin cuisine—just an appetite and a sense of adventure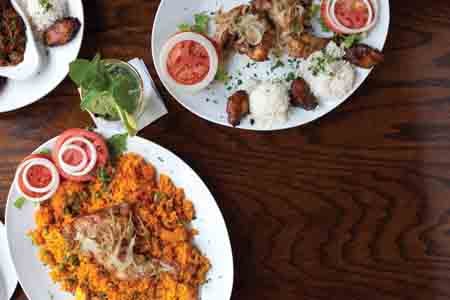 Latin food is a robust and flavorful cuisine that extends far beyond the taco and burrito: cachapas from Venezuela, empanadas from Argentina, pupusas from El Salvador, Mexican tortas—it's comfort food with a hint (and sometimes more than a hint) of spice. You don't have to wait for a festival or a special invitation, and don't be discouraged if you don't speak Spanish: most of the menus in Charlotte restaurants include English, and there's almost always a server ready to help explain unfamiliar food. When you're ready to fork into some authentic Latin American fare, start with these must-try dishes, whose provenance spans from Argentina to Ecuador, Honduras to Venezuela—and are increasingly becoming part of Southern culture. ¡Buen provecho!
For an authentic taste of a forbidden country, head south to A Piece of Havana in Steele Creek and order the ropa vieja, a popular Cuban braised beef stew. A generous portion of the tender, shredded beef arrives in a flavorful tomato-based sauce, along with two sides—opt for the arroz blanco to help soak up the sauce and the restaurant's crunchy, slightly spicy Cuban-style green beans. Then wash it all down with Ironbeer, a Cuban soft drink that tastes like a mix between gingery root beer and cream soda.
A Piece of Havana
A Steele Creek restaurant offers a glimpse into the food—and soul—of Cuba
Belkis Plasencia grew up in Cuba and came to the United States as an adult, first to Florida, and finally to Charlotte, where she wanted to open a family business. "But not something boring, like a dry cleaner's," she says.
Plasencia settled on a restaurant that would celebrate her heritage, and got to work making it the kind of place where she thought people would want to relax, eat, and take in a little slice of Cuba in the South. She called it A Piece of Havana and filled it with Cuban mementos: framed cigar leaves and beautiful images of her home country, plus a large mural on one wall painted by an artist from Havana. She chose everything carefully, from the bar, which was built by one of her partners, to the leather Cuban-style chairs stamped with the name of the restaurant. "I love this place from one end to the other," she says.
The food is another labor of love: the menu includes all of Plasencia's favorites from her native Cuba, such as churrasco Cubano, a Cuban skirt steak with chimichurri sauce, and rabo encendido, stewed oxtail. But her favorite dish, and the one she could eat every day, is camarones al ajillo, sautéed shrimp in garlic sauce—always with a side of plantains.
To give the restaurant a lighthearted, festive atmosphere, Plasencia also incorporates a few other Cuban favorites into A Piece of Havana. There's always live music on Wednesdays, Fridays, and Saturdays, and every November, to celebrate the restaurant's anniversary, the restaurant hosts a Cuban festival, complete with performances by Tropicana-style dancers and a pig roast.
"You have to love what you're doing," she says. —A. A.
A Colombian take on the fruit cocktail, salpicon is made with a watermelon-juice-and-water base and is mixed with a mishmash of fruit including pineapple, strawberries, and mango. Served that way, it's already as much of a dessert as it is a drink—but you can take it to a whole new level by adding a scoop of strawberry ice cream to the bottom and a drizzle of condensed milk on top. It's decadent, yes, but also refreshing.
This small Argentine/Uruguayan restaurant boasts an impressive offering of authentic selections—including a large variety of meats. Opt for the asado de tira y chorizo Argentinos, which includes Argentine-style beef short ribs topped with chimichurri sauce, and a mild, dense chorizo sausage that's a blend of beef and pork. Unlike typical short ribs, the Argentine version is similar to a thin, seared flank steak. The dish comes with two light sides: a salad of lettuce, tomato, onion, and a light oil dressing, plus ensalada rusa, a classic Latin American potato salad made with potatoes, carrots, peas, celery, onion, and mayonnaise.
¡Fiesta!
:

Next month, two annual Charlotte events showcase the diversity of Latin American cuisine.

Taste of the World (October 4) puts visitors on buses to explore restaurants—Latin and others—along Central Avenue and elsewhere in Charlotte's notably multicultural east side.

Festival Latino Americano takes over the elegant Symphony Park at SouthPark Mall (October 14) with a daylong program of music, crafts, and food that attracts more than 20,000 visitors.

The torta, a popular Mexican sub sandwich, is held together by a gooey concoction of mozzarella cheese, mayonnaise, and black bean purée. At Cocina Latina, it's stuffed between crusty slices of bread along with a generous portion of tender marinated steak (or chicken, pork, or chorizo), lettuce, tomato, avocado, and pickled carrots, plus jalapeño peppers and onions for a slight spicy kick.

Ancient Mayans built the city of Copán more than 1,500 years ago in what is now Honduras—it's a grand name for this modest Honduran restaurant in east Charlotte. Try the baleada, a fluffy, warm griddled tortilla wrapped around beans. Or even better, dig into the Honduran enchilada, which is not at all like Mexican enchiladas, but rather a crispy, flat tostada topped with ground meat, lettuce, cheese, half of a hard-boiled egg and a savory—not spicy—sauce.
Tasting Venezuela
El Arepazo co-owner Yanneth Rodriguez serves authentic food from her homeland
Although Yanneth Rodriguez came to Charlotte with her husband, Milo, in 1998, it wasn't until recently that the couple, along with some friends, decided to open a restaurant that celebrated their native Venezuela.
"Everyone was always saying I should open a restaurant because I love to cook and I enjoy serving people food," Rodriguez says. "I never had a mind to do it until some friends brought us the idea and said, 'Why don't we open a Venezuelan restaurant and do it here?'"
The result, El Arepazo, specializes in arepas, a flat, unleavened patty made with white cornmeal. Rodriguez says arepas are ubiquitous in Venezuelan cuisine, and adds, "You can stuff it with cheese, beef, chicken, tomatoes, fish—whatever."
It is from the arepas that the restaurant derives its name.
"It's like saying in Spanish, 'Come get a big arepa!"
Another of her favorites on the menu is the pabellón, which some consider the signature dish of Venezuela; it consists of white rice, black beans, shredded beef, and fried plantains. There is one thing, though, that Rodriguez says she just cannot reproduce from Venezuelan cuisine: the cheese.
"It's like nothing you've ever tasted before," she says wistfully. "We get our cheese from a distributor in Florida and we just can't get the same type of cheese we used to eat in Venezuela. The cheese there is very strong, very different—it's like going to Europe and eating the cheeses from France and Italy."
Absent the cheese, though, Rodriguez promises a taste of Caracas—or Maracaibo or Ciudad Bolivar—right on Charlotte's east side. —M. F.
Crumbly cornbread meets hearty chicken and queso in the cachapa, a popular dish frequently found at Venezuela's many roadside stands—and, more conveniently, at this little Venezuelan restaurant in east Charlotte. To make it, a blend of sugar, salt, and cornmeal is poured onto a hot griddle to create a thick, slightly crispy pancake, which is then folded around pulled chicken, pork, or beef and queso paisa, a mild white cheese similar to mozzarella.
El Pulgarcito de America | El Salvador
4816 Central Ave., 704-563-0616
The national dish of El Salvador is the pupusa, a thick, flat corn pancake stuffed with meat or beans and cheese. Doughy in the center and crispy on the edges, it's Latin America's slightly heartier answer to the savory (and delectable) French crepe. Order yours stuffed with pork and cheese, and you'll be reminded of Carolina chopped pork barbecue—especially when you fork into the curtido (pickled vegetables) served alongside, a close cousin of Carolina slaw.
Fonda Las Cazuelas | Mexico
5130 N. Tryon St., 704-509-1656
At Fonda Las Cazuelas, the tortilla chips are served hot and the salsa is fresh—but the entrées are the stars of the show. Try the pollo al chipotle, which offers tender slices of chicken, peppers, and onions in a creamy, slightly spicy chipotle sauce, served alongside rice and refried beans. Your server will ask if you want flour or corn tortillas to wrap around your chicken—opt for the thin, savory corn tortillas for the most authentic experience.
Hot Dogs Across the Hemisphere
If you doubt that every region has its own distinctive food culture, just consider the humble hot dog. Thanks to this region's tide of newcomers, the city's eateries offer the wonderful wiener in many manifestations. —T. H.
435 South Tryon Streeet #140, 704-333-3650
19732 One Norman Blvd #330, Cornelius, NC 704-892-5005
309 West 4th Street, 704-332-1786
Tucked at the back of an unremarkable shopping plaza on Independence Boulevard is one of our region's best Latino restaurants. Chef Duilio Macchiavello named Genaro's for his father, a member of Peru's large Italian population. Immigrants like Macchiavello's father added Italian and Asian flavors to Peruvian cuisine, but its bedrock rests on potatoes and corn—foodstuffs Peru gave the world centuries ago. Try the Papa a la Huancaina, potatoes swimming in a delicately spiced cream sauce accompanied by olives and boiled eggs. And be sure to get a glass of chicha morada, a fruit-juice blend with a deep purple color imparted by Peruvian purple corn.
Amid the sweet treats and heavenly smells at Las Delicias are a few savory delicacies, including corn-husk-wrapped and tender steamed tamales stuffed with cheese, pork, or chicken. All three arrive hot and ready to be devoured, but the chicken tamale, filled with shredded chicken and herbs, is the standout. Try one plain for an easy meal on the go, or bring home a handful and top them with your favorite green chile sauce—Las Delicias is takeout-only.
At this Colombian-run, French-style bakery and café, the Latin American culture shines through in the tres leches cake, a classic dessert. Made by pouring condensed, evaporated, and whipped milk over a homemade sponge cake, and topped with whipped cream, it's a moist, light cake with a flavor similar to vanilla ice cream. In the summertime, bakers often layer fresh strawberries or peaches on top. The cake is sold in sheets for parties—and slices for parties of one.
La Poblanita is known for its tacos and enchiladas, but try the pozole—a corn-based Mexican soup that dates back hundreds of years. Here it's served deconstructed: the bowl contains broth, hominy, and chicken (watch out for bones), and comes with four corn shells, half a lime, lettuce, and radishes. Crumble in the corn shells, add the veggies, and squeeze in the lime for a mixture of flavors and textures: hot and cold, soft and crunchy, citrusy and mildly bitter.
Tucked away in the far corner of the McMullen Creek Market shopping center, Los Paisas is a family-owned restaurant boasting authentic dishes that transport your taste buds to the Colombian coast. Order the arroz con mariscos: made-to-order and served piping hot, it features generous chunks of lobster, calamari, shrimp, octopus, and fish in a rich soup of heavy cream and chicken broth. The generous portion is recommended for sharing and comes with steamed white rice and fried plantains.
All in the Family
Pio Pio brings a taste of Colombian home cooking to Dilworth
Pio Pio is a slice of Cesar Vargas's heritage. His family started the restaurant, which offers authentic Colombian and Peruvian cuisine, in New York City, where there are eight locations across Manhattan, Queens, and the Bronx. But five years ago, when Vargas moved to Charlotte, he says he couldn't find the same quality of the South American food his family made in New York.
"All of the family is involved in our business," says Vargas, who opened Pio Pio in Dilworth with his sister and brother-in-law in 2008. "We have a restaurant in Orlando, too, owned by family."
Vargas says that his restaurant is unique because the family recipes and methods of cooking are authentic—yet the menu attracts customers of all ethnic backgrounds. A meal at Pio Pio is frequently a person's first introduction to Colombian cuisine. —H. T.
The sign outside of Pio Pio in Dilworth promises the "best chicken in town." The restaurant's name means "chick chick" in Spanish, so it's not surprising that the specialty here is rotisserie chicken, cooked daily in the restaurant's ovens after a rubdown of seasonings made in-house. The roasting process locks in the juices, and the chicken falls off the bone. Order yours with a side of tostones (fried plantains) to scoop up guacamole, and a glass of the homemade sangria with fresh fruit slices.
Latino? Hispanic? Which Is Correct?
Either term is OK. Both are used interchangeably, though they are subtly different, says Melina Monita-Pacheco, who heads the Latino New South Project, a newly launched effort by Levine Museum of the New South.
"Hispanic" was coined by U.S. Census officials in 1970 to refer to people of Spanish-speaking backgrounds. That can exclude Brazilians, since most speak Portuguese, and can also exclude native people who may not speak Spanish. And to make things even more complicated, it can also include people from Spain. "Latino" is an older term, coined by the French. It refers to all people from Latin America.
Be aware that both are new creations. In Latin America, people think of themselves as Mexican or Venezuelan or Salvadoran. It's only when they come to the United States that they get clumped together as "Latino" or "Hispanic." —T. H.
Punta Galapagos puts an Ecuadoran spin on ceviche, the seafood dish that's marinated in citrus juices and served cold—sometimes raw—by offering a heaping portion of cold (but cooked) shrimp mixed with diced tomatoes and copious amounts of cilantro, red onions, and sliced avocado. It's cool, refreshing, and flavorful. Optional on the side are razor-thin fried plantains and a salsa verde that's spicy enough to make your toes curl.
Located on the Pacific Ocean in western Mexico, Nayarit is one of Mexico's thirty-one states, and with 181 miles of coastline, it shouldn't come as a surprise that seafood is a regional specialty. You can find many traditional seafood dishes from Nayarit on the menu at Tres Pesos, including camarones zarandeados, featuring grilled shrimp coated in butter and a lightly spicy chili sauce, garnished with tomato, cucumber, red onion, and cilantro.
Baker-owner Maria Costa learned her trade in São Paulo, Brazil. Along with tempting sweets, she always has a selection of the warm, savory dough pockets on hand that Brazilians call salgados, cousins of Argentina's empanada. Look for sfiha filled with ground beef, deep-fried coxinha filled with chicken, empada filled with hearts of palm or cheese, and more.
Don't worry, we didn't forget about the taco: here's a list of 8 Great Tacos in Charlotte.