Lauded Chess Program Loses Funding
In May 2008, we published a story about CMS's lauded, successful chess program. A week before school started, it lost its funding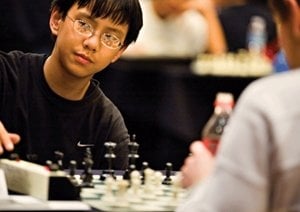 Just a month ago, with the school year approaching, Rose Yen had a nice problem on her hands—chess in Charlotte was getting more and more popular.
Yen is president of the Charlotte-Mecklenburg Scholastic Chess Association. Since the nonprofit started in 1985, it has grown to serve about 100 local teams, providing each with expert instructors who visit twice a month and sometimes once a week. Teams have numbered as high as 100 students. Over the summer, Yen says, additional clubs were asking for help, while existing ones wanted more time with instructors.
"That was kind of our biggest headache," she says.
CMS is one of just a handful of districts in the country to fund extracurricular chess, and the results show. As detailed in a 2008 Charlotte magazine article, in recent years Charlotte has consistently excelled at state tournaments and boasted some of the state's best young players. Joshua Mu of Myers Park High, who was the subject of that story, has since become North Carolina's top scholastic player.
Just a week before school began, though, Yen received a call from the district with bad news: the CMSCA will no longer receive financial support after a round of budget cuts.
In the short term, Yen says, the association will exhaust its savings to pay for this year's instruction, which will be dialed back to just monthly visits from instructors. Beyond that, things are up in the air. Charlotte's thriving and competitive chess scene seems very much at risk.
"It's like having a football team without coaches," Yen says. "There's no one really teaching them how to play the game properly and how to be competitive."
The CMSCA is seeking donations, volunteers, and sponsorships. Donations can be made at cmsca.org/donate.php, and Yen can be reached at president@cmsca.org.