Lauren Otis Goes to "The Edge"
A young actress makes her Charlotte theatrical debut in CAST's "The Edge of Our Bodies"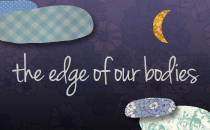 The regional premier of The Edge of Our Bodies (May 24-June 23) comes to CAST directly from the 2011 Humana Festival of New American Plays at Actors Theatre of Louisville. It's presented as almost a one-woman show. There's a walk-on by a character identified only as a maintenance man.
Sixteen-year-old Bernadette (Lauren Otis) begins by reading aloud from her journal. She is alone on the set of Jean Genet's The Maids, a mid-century absurdist work, at her New England prep school. Bernie is describing a train trip to New York City. Several men are looking at her on the platform in New Haven, and all enter the same car on the train. She distracts herself by thinking about her boyfriend in the city. Over the course of the play, she will reveal more (by way of her journals) and travel to visit her boyfriend to share some big news.
I spoke to Otis about the play and how she feels about starring in a one-woman show.
Revue: How hard is it to do a one-woman show? Have you ever done one before?
Lauren Otis: It's surprisingly easier than I thought it would be. And, no, I haven't done one before. It's a lot of work, but this is such a supportive environment. And I've discovered I am quite comfortable looking into the eyes of the audience and speaking directly to them. I have let go of any fears and doubts I had.
Revue: What guidance is [director] Michael [Simmons] giving you to help?
LO: Michael has been amazing. He has really embraced me, and he didn't even know me until the audition. I'm never gotten this much positive feedback from a director before. And his feedback comes from a really genuine place. He really cares about Adam Rapp's work and wants to do it justice.
Revue: What attracted you to such a dark play?
LO: I saw the posting online and was immediately interested. I related to the language. I may not be able to relate to all that Bernadette goes through, but her experiences are what many other teens girls have been through. She's very feminine, young, and ahead of her time. She's a writer. And I'm a writer myself, so I relate to her on that level.
This is definitely the darkest thing I've ever done. I've got a lot of musicals and dance in my background … This play is so intimate and so personal. But, I'm comfortable talking about my own life to others. I don't mind sharing; I'm unafraid to be honest. Bernadette's the same way.
Revue: Not to make you nervous — but everything rests on your shoulders! The dialogue (or monologue in this case) would have to be pretty incredible. Is it? How so?
LO: It is. Bernadette is so insightful. She spends a lot of time reading [to the audience] from her journal. She's very in tune with what's going on around her. She's funny and sarcastic, intuitive, and aware. She's observing her surroundings and sharing what she sees. She talks about a tree being withered and arthritic. She's painting a very clear, beautiful picture of what she sees.
Revue: I read that this was your first local audition and that you won the role in the face of stiff competition. Why do you think you got the coveted part?
LO: Well, I missed an email from Michael, so I didn't prepare what I was supposed to prepare. I was worried that, because of that, I hadn't done well. But after my audition, Michael and I talked about the play. I was really attached to it already and told him I was interested in being assistant director or otherwise being involved somehow even if I didn't get the part …
He said he liked my intuition and ability to hone in on a scene.
Revue: What's your background? Why did you choose to move to Charlotte?
LO: I went to college in Philadelphia. My long-term boyfriend and I decided we wanted a change of scenery. His family had recently moved to North Carolina, so we decided to join them here. It was scary, but it's been really positive for both of us.
Revue: Who do you think is the audience for this play? I saw on CAST's website that it's recommended for ages sixteen and up.
LO: Yes. There are some scenes with sexually explicit language. I don't want to say that women will relate to it more than men, because there are some male characters Bernadette describes. So there is something men can relate to. Bernadette is an intellectual and makes some obscure literary references. People who love literature will be interested in those.
Revue: Do you like Bernadette?
LO: I do like her. Like most sixteen-year-olds, she can be a little self-absorbed. But I was sixteen once and went through my first heartbreak, so I know how she feels. She's incredibly brave, smart, funny, and sexy.
Revue: Anything else people ought to know?
LO: Don't be afraid to laugh even though the humor comes from a very dark place. Bernadette has a good sense of humor. Also, chances are, I will make eye contact with you. Be ready.
I'm really excited about this play. In rehearsals, I've been talking just to Michael. I'm ready to have some new people to talk to.