Legion Brewing Adding Finishing Touches
Plaza Midwood Brewery to open by early November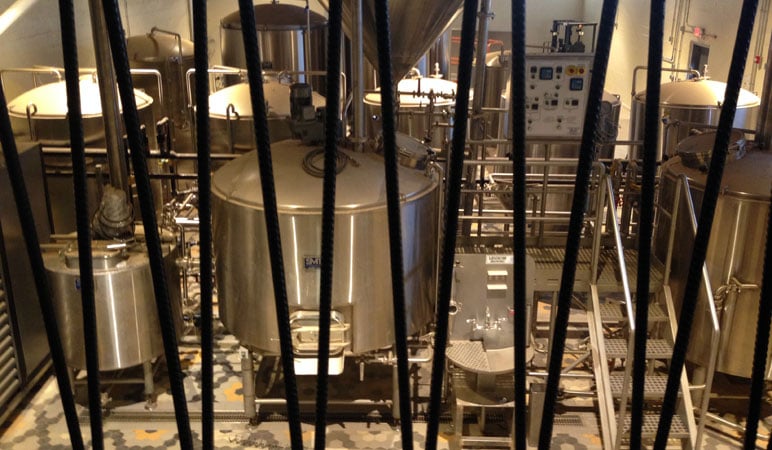 As Legion Brewing prepares to open this fall in Plaza Midwood, we're getting a better idea of what the brewery's personality will be. Since breaking ground in May, owners Phil Buchy and Newton Craver have been hard at work. They've even brought in family members to help, putting all willing hands to task to get the space ready to open as soon as possible.
Despite their desire to fill the tap room with people, it's evident that Buchy, who works in construction, isn't sacrificing details for the sake of speed. Stepping inside the former Brodt Music building from the Commonwealth Avenue sidewalk, you'll be greeted by a long bar built from reclaimed wood—some from the building, some purchased. A steel support beam taken from the old mezzanine is going to make a footrest along the bar, and the ceilings (pictured above, left) are covered in various-sized leftover pieces of wood, all stained the same color and attached piece by piece. French doors with handles made of railroad spikes were placed in the spot with the best view of the Charlotte skyline, and open to a deck along the sidewalk.
Patrons can buy a beer at the bar and bring it over to the new mezzanine to watch as Legion's beer is made. The mezzanine overlooks the production room with a drink rail along its edge. The Brodt signage that used to be out in front of the building will hang above the production room, where farmhouse ales will ferment. Buchy isn't sharing the names or types of beers he's planning just yet, but has already arranged a grain trade: they'll give the post-production grains to local farms, where it will be fed to cows, and get beef back in return. Buchy and Craver also plan to have a beer stand downstairs along the production area. A garage door can be opened into the parking lot, where a live music stage will be set up.
Depending on when NoDa Brewing Co. opens its new space, Buchy says Legion will be the second or third brewery in Charlotte to have a taproom with direct lines to the production room. The first is Olde Mecklenburg Brewery; Buchy oversaw the construction of the space near S. Tryon Street.
Some other fun touches to expect: Bathroom walls made of the tops of toilet tanks; wall art by family members, and a few TVs, which will only be on during big games (Buchy says they're a conversation killer). As a nod to the building's musical past, there will be a standup piano that anyone can play. Buchy and Craver already have one volunteer: the former music teacher at Brodt stopped by, and she'll be in to play the piano, they say.
And, of course, good farmhouse ales, which Buchy and Craver say will incorporate local, seasonal ingredients. They're still waiting for the city to hook up their water supply so they can start brewing, which has caused a delay in their anticipated opening date. The duo now expects to be open by early November.
"I'd like to start with 15 [beers], but if we have one, we'll open up," Buchy says.
Read our earlier Q-and-A with Buchy here.
Legion Brewing, 1906 Commonwealth Ave., legionbrewing.com.