Legion Brewing beginning construction
Plaza Midwood brewery will open late summer or early fall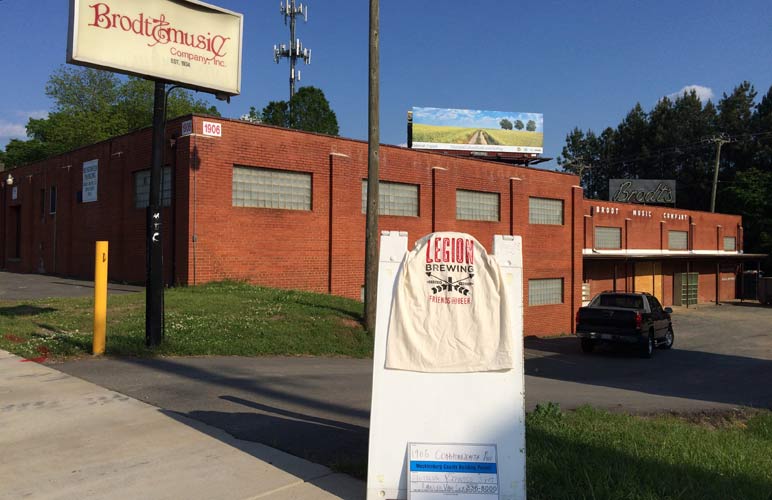 Phil Buchy has been back and forth with Mecklenburg County trying to get plans approved for his brewery in Plaza Midwood's Brodt Music building for months. Yesterday evening, the plans were finally approved, and construction for Legion Brewing Company is beginning. Now that the interior work can start, Buchy says he expects the brewery to open in late summer or early fall, with the end of August a very optimistic completion date.
Buchy owns the brewery with business partner and now-friend Newton Craver. He sat down with us to answer some questions about the brewery, like whether they'll keep the Brodt signage (they will—and expect some music-themed decor as an homage to the building's previous tenant) and what kind of food they'll serve (small dishes like Charcuterie, cheese, and salads; they don't want to compete with local restaurants). You can even bring in some fried pickles from the Diamond, if you'd like. Here's what he had to say:
Charlotte magazine: How did you get your start in brewing?
Phil Buchy: I lived in Colorado for a few years, went to the Air Force Academy for a few years, and fell in love with craft beer there. When I moved home, I went to a bottle shop to buy some more craft beer. They had a little box up there above all the beer. I was like, "What's that?" They said, "Oh, you can make your own beer from that." I was like, "Say what?! I am in. Give me five!" So that was the start. That was 16 years ago, it was a while ago. I've been brewing every since. That was in the late '90s I started brewing; I was always obsessed with it.
CM: When did you decide to open a brewery?
PB: Right before the recession hit, I (thought), "It's time to open a brewery." I got my business plan together, and started looking for investors. Then the market crashed, and it killed all opportunity to raise capital, so that drug out forever, trying to raise capital. And I just couldn't do it—no one was giving away money a few years ago. But the entire time, all my friends were like, "Keep going man, your beer is awesome, it would be so cool, you've gotta do it." So I kept on going.
CM: Where does the name Legion Brewing Company come from?
PB: It's from the grassroots support that everyone's always been giving me. So that's my legion of friends, who support us and this dream.
CM: Why did you pick Plaza Midwood over more established beer neighborhoods?
PB: I always wanted to put it here in Plaza Midwood. I've been coming to Charlotte—I was originally from Virginia, but I've been living here for a long time—and this is where I'd come out, and I (thought) this is the perfect spot for it. Which is why I got on that planning commission to release the zoning restrictions, so I could put one here. I was open-minded, I had my eyes on other neighborhoods, too, but my first choice was Plaza Midwood because I wanted to be where the people were. I wanted people to be able to walk to a brewery instead of drive across town.
CM: What kinds of beers will you be brewing?
PB: What Newton and I are going to do here is, we're not going to be a brewpub. We're going to be a production brewery. But since we're in a neighborhood, we can be more like a brewpub where we can have a lot more offerings. Someone out in an industrially-zoned (area), they'll have people come to their taproom, but they have to focus on their core brands and selling across the city. Here, I'd like to think I've got more of a taproom presence, so I can get more creative and have more offerings. There will be a focus, but not a "here's our three beers" kind of thing. I'm going to have at least 15 right out of the gate, a wide variety. But if I had to say what I would be known for, I love American farmhouse beers. So we'll have a good selection of those.