Leo Soto Reinvents the Classics
The Charlotte Symphony's principal timpanist is stylish on and off the stage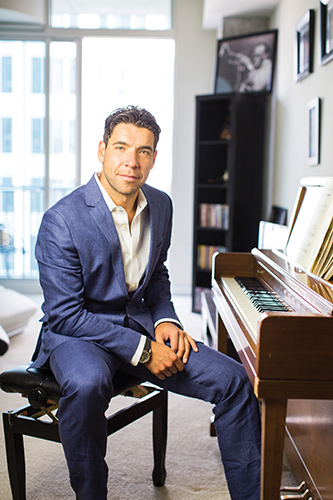 Leo Soto is regrouping from a weekend in Chicago with friends. Wearing a blue linen suit, crisp white shirt, and suede driving loafers, he's about to head out the door for coffee at Amélie's Petite bakery on South Tryon Street, a quick walk from his uptown condo.
Soto, 38, is the principal timpanist for the Charlotte Symphony. Born in Chile, the son of a Santiago musician, he has called Charlotte home since the fall of 2009, when he moved here to play with the symphony. Although his seat behind the kettledrums puts him farthest from the crowd, Soto is a familiar face to concertgoers. "Before every concert, I'm usually the first person there," he says. "I like to do my warm-up, and then I go to the lobby and talk to the audience coming in."
Here, he gives us a glimpse of his stylish home.
---
Art // This metal sculpture by Charlotte artist Randy Chapman was a gift following the 2013 Ulysses Festival, "Brave New Worlds: Technology & Art," in which Soto was the featured musician in a Charlotte Symphony concert conducted by Jacomo Bairos. "That's supposed to be me on the drums," Soto says with a grin.
---
Skyline // The marble coasters—a Christmas gift from a colleague—are from Paper Skyscraper in Dilworth. The Charlotte skyline art was a collaboration between co-owner Ron Wootten and a Rhode Island manufacturer. "I told them a little about what we wanted," Wootten says, "and they commissioned the artwork for us."
---
Tennis // An avid tennis player, Soto has a stash of Babolat rackets—the French company invented natural gut strings in the 19th century. Soto takes his rackets to Tour Tennis, a shop on Piedmont Row Drive, whenever he needs them to be restrung.
---
The Chaise // The "Slinky" chaise lounge from By Design makes a double appearance: one in black and one in white. The neutral color scheme is simple, continued by the black, glass-topped drum table, a birthday gift from a friend.