Les Provocateurs
Meet twelve artists and creatives who are shaking up Charlotte's cultural scene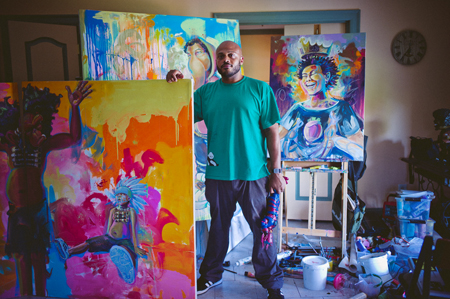 John Hairston Jr., 32
At an evening art opening inside the comics shop Heroes Aren't Hard to Find, a stocky African American man hurriedly brushes paint onto a large canvas. Pretty soon, Spider-Man comes into view.
For artist John Hairston Jr., who created the paintings in celebration of Marvel Comics' fiftieth anniversary, this isn't an unusual weekend night. He can often be found painting live during benefit concerts, openings, or multimedia events. "It's all about me beating my times, like a video game player," he says.
It took Hairston some time to find his role in the local art scene. At gallery shows, the pop culture themes of his work didn't fit in. "There were vivid colors, but the subject matter was off," he says. "I felt like what I was doing was more silly. These others were more distinguished, like art my grandfolks would buy." In 2005, he helped create underground arts group GodCity Collective so that like-minded artists could come together to stage their own events. Today Hairston teaches at Central Piedmont Community College and focuses on commissioned album covers, concert posters, and flyers, as well as comic book projects with former Creative Loafing editor Carlton Hargro and fellow GodCity artist Marcus Kiser. —C. D.
What the scene needs: "The higher-brow art scene misses out on a lot of the more grassroots-based artists because they're looking for the next thing to come from out of town. As local artists, we have to perform miracles out of town to be considered anything back at home."
Role in the Scene: "I'd like to be the George Clinton of the Charlotte art scene. Real funky, real crazy. I'd like to be that for the world."
---
Kevin Beaty, 22 & Scott Lazes, 23
Last year, after learning that Charlotte had been chosen to host the DNC, Kevin Beaty (right, below) and Scott Lazes, who met at Hopewell High School and went to film school at Boston University and Rutgers, respectively, launched Charlotte Video Project, an ambitious plan to produce a hundred short documentary films about the city.
Using a fly-on-the-wall style of filmmaking, the duo portrays Charlotte as a vibrant, culturally diverse, and progressive Southern city. "Our films show an engaged community on many different levels," says Lazes. "No singular point of view captures the city's soul; we're sharing a perspective beyond national media sound bites."
Subjects have included the food-truck scene, "third space" hangouts, Common Market, and birds of prey on the mend at the Carolina Raptor Center. Many of their films are featured on the DNC Host Committee's website and are available for use by local and visiting media. Several are also featured at www.charlottemagazine.com/video
"What has impressed me most," Beaty says, "is the real sense of pride people have about Charlotte and the hotbed of activity we have going on here. Charlotte today is more than a sleepy banking town." —M. S.
Role in the scene: "I often say that we really don't create anything; we just point the camera at creative things that are happening in the community," says Lazes. "If anything, the creative work in Charlotte simply needs more exposure."
What the scene needs: "More centralized open space for impromptu performances. New York City has Central Park—we really don't have that kind of space," says Beaty.
---
Crista Cammaroto, 43
With an artistic past that spans from installation and performance art to earth art, Cammaroto intends to do a lot more than deck the walls as curator and director of galleries at UNC Charlotte. "We're always doing a lot of work to kind of push the envelope—not just meaning-wise, but also in defining what art is for this town," she says. "Because I think people have needed to learn that art isn't just something that you hang on the wall—it's an experience."
Her current show, E Pluribus Unum, runs through November 1 at Projective Eye Gallery (closed to the public during the DNC). During the DNC, UNCC is collaborating with the Quasimodo Project to project a five-story installation on the side of the UNC Charlotte Center City building. Look for looping animation, videos, and photographs. —L. G.
Local artist love: Jennifer Marie Wallace and Malena Bergmann. "They have continued to create exceptional work in craft and concept despite the lack of understanding and support for performance art and installation in the Southeast."
---
Faron Franks, 49 & Manoj P. Kesavan, 41
Faron Franks and Manoj Kesavan are architects in their professional lives, but they spent the summer as affiliate artists at the McColl Center for Visual Art. The two have long worked together on Point8, a forum for artists and creative types, and Pecha Kucha, which offers a stage and an audience to people with ideas. Their latest effort, catalyzed by the DNC, is called the Quasimodo Project. Named for their bell tower studio space at the McColl, Quasimodo brings together local artists and community partners to animate Charlotte's streets and parks with a variety of forms of creative expression. The duo says that their democratic approach has been a worthy experiment. "Artists are participating in ways they otherwise wouldn't," Franks says.
During the DNC, keep an ear out for Sound Salon, a recording of live conversations during the convention at salons and barbershops across Charlotte that will be fed into center-city listening stations. Also, look for The Mile Long Gallery, a smart phone app providing descriptions of public art along Tryon Street; and daily performance art at 7th Street Public Market and Packard Place. —M. S.
Role in the scene: "As facilitators, we work to assist people to have conversations that move the creative process forward," says Franks.
What the scene needs: "There needs to be more critique and questioning of artistic work in order for true innovation to occur," says Kesavan.
---
Michael Simmons, 58
In 2009, Carolina Actor's Studio Theatre's (CAST) performance of Mary Zimmerman's Metamorphoses was set in an onstage swimming pool that contained four thousand gallons of water. For this past spring's Floyd Collins, the stage was constructed to look and feel like a cave. For most shows, ushers are in costume, ticket takers are in character, and the lobby is transformed into an extension of the set. As for the work itself, longtime director (and member of CAST's board of directors) Charles LaBorde says "CAST also has a commitment to truth … that is unmatched by any theater in town."
Ed Gilweit founded the organization that became CAST in 1992. After a series of mergers, Michael Simmons became a cofounder, and when Gilweit died in 2002, Simmons, already a perfectionist and workaholic, became obsessed. "CAST is my legacy, too," he says. CAST's only regular paid employee, he says the organization operates on "minutes, money, and manpower. I need enough of any two to produce professional theater." Often, it's been items number one and three on which Simmons and CAST's volunteers, including his wife, Victoria, rely.
Actors and directors know that doing a show at CAST is demanding, and Simmons admits he's likely to edit a script through closing night. The effort is paying off. CAST moved into a new, permanent home in NoDa last season and has received sustainability grants from the Arts and Science Council and the Knight Foundation. But don't think for one minute that Simmons is satisfied. "This is just the beginning of what we're capable of," he says. "We don't know what our limits are." —P. L.
Role in the scene: "I'm a servant. That's my job—to find art that is entertaining and has a message and offer this message up to the public. We want to produce art that initiates the conversation—that's what I live for."
---
Jon Lindsay, 30
Charlotte's music scene has sputtered along over the years, but Jon Lindsay is doing his best to inject some energy into it. He hosts quarterly live music and art variety shows at Petra's Piano Bar and performs several times a year locally with both the Catch Fire and his own band. He cofounded Machine Theater with Matt Cosper, composed the music for its debut production Thom Thom (If That Bird Won't Sing), and is beginning work on another.
Lindsay's second album, Summer Wilderness Program, bears a classic pop sound along the lines of the Beach Boys or Elvis Costello and was released in June on a label called Bear Heart Fox, which was launched by a Detroit imprint, with Lindsay as its flagship artist. It's easy to imagine Lindsay as a cartoon octopus, managing all of his projects with his tentacles clutching a microphone, instruments, contracts, pens, and more.
All of this is not to say he's made it. He admits there are still nights when he plays in front of a couple dozen people. "Those low-turnout nights are the ones that I'll go in and play it like its Madison Square Garden," he laughs. —C. D.
What the scene needs: "We don't benefit from a major university campus located in the heart of our center city, where the performance venues are located. We have some world-class talent here, and we have great scene enthusiasts and venues. But what we've always been missing are the sheer numbers of culture-thirsty youth descending on the areas where culture happens."
---
Antoine Williams, 33
Antoine Williams didn't grow up poor, but while sitting in class at UNC Charlotte a little more than a decade ago, he was struck with a thought: "I was sitting next to white kids from middle-class families, and I realized that I knew kids at home who sold crack who were smarter than some of these kids," he says.
His concerns over class inequality eventually found their way into his artwork. After graduating from UNCC, he helped start GodCity Collective, a group of African American artists that staged events anywhere they could hang art. The idea was to cultivate community and spark ideas. Today he makes colorful, large-scale, and often provocative paintings that juxtapose violent images and beauty. He often focuses on working-class characters and issues in the black community.
Williams entered grad school for studio art at UNC Chapel Hill this fall and describes his art as closer to therapy than making a statement. If something in politics or society bugs him, he addresses it with acrylics. "If I make a painting—it's there. I don't have to be in your face. This is my addition to the conversation." —C. D.
What the scene needs: "More money and street art. Graffiti is not the end of world. Graffiti is way more democratic than public art. It shows the lifeblood of our city."
Local artist love: John W. Love Jr. "I want to be him. It's not that we have that much in common artistically, but he's so confident."
---
John W. Love Jr., "ageless and ancient"
Love has raised eyebrows on the local scene ever since the opening of his 1990 one-man show, Picture perfect images from the mocha regions of a chocolate boy's reality at the Afro-American Cultural Center (now the Gantt Center). Some regard his provocative and profane closing performance at the 2010 Charlotte TEDx conference as a defining moment in Charlotte's countercultural history.
More recently, Love has interviewed local underground personalities for the online culture magazine Charlotte Viewpoint. Sample questions: "Whose funk smells good to you?" and "Who's got a mind you'd describe as plush and juicy?" Next spring, Love unveils FECUND, an interdisciplinary work including performance art, a gallery installation, and a workshop. As for the DNC, Love supports those finding inspiration, but for him it's business as usual. "I may decide to perform during the convention," Love says. "I'm open to an invitation." —M. S.
His role in the scene: "Show up unabashedly."
What the scene needs: "The arts scene needs to change the relationship it has with adventure and vibrancy—be less concerned with politics and offending people."
---
William Puckett, 33
A muralist, painter, and self-proclaimed storyteller, William Puckett brings art to the people. "More than 90 percent of the everyday people who pass by my murals will never go into a gallery or museum," he says. "When they pass one of my murals, whether they realize it or not, they are addressing art and often times history and the local culture."
His Matheson Bridge mural in NoDa—a whimsical interpretation of the story of the Mecklenburg Declaration of Independence—jumps off the wall, daring passersby not to notice. "I tend to paint a big picture and speak softly," Puckett says. "I tend to stick to the local stuff that I know about and try to affect the change that I can there."
Up next? A new dad with a second daughter on the way, Puckett says fatherhood has inspired a series of portraits he's looking to put together into a show in the next couple of years. —L.G.
Local Artist Love: John Hairston Jr. "Cause he's got the hustle and the flow."
Up next: His Cordelia Park mural, a collaboration with the Park and Rec department, was recently completed.
---
Matt Cosper
The ten-year Charlotte theater veteran not only talks about what our theater scene needs, he puts his nonlinear, experiential avant-gardism where his mouth is. Cosper founded Machine Theater in 2009, one of two companies in Charlotte that performs only their own original works. While he's made great strides with his troupe to expose audiences to nontraditional theater, he'd like to see more artists and more new works in the mix—and that means more money going to artists.
"We need buildings and administrators, but we more desperately need artists," he says. "While there are some very talented people working in Charlotte, on the macro level we consistently see a brain drain, where artists leave here or never come in the first place because it is a very difficult place to make a living as an artist."
Cosper and the Machine are currently developing a new play, Bohemian Grove, scheduled to premiere in Charlotte next spring. In an increasingly insulated world, Cosper sees the live event and the shared experience becoming more rare, making them even more important. "And so we need to be pushing those boundaries," he urges. "We need to be exploring exactly what theater can be." —L.G.
Local artist love: Alan Poindexter, artistic director at Children's Theatre of Charlotte, and actor/director/artisan Peter Smeal, who, Cosper says, is "criminally underused."
Up next: During the DNC, Mum's the Word, a one-act play blending comedy and dance reworked as late-night pop-up performances around the city.