Leslie and Zach
May 3, 2014: Sinkland Farms, Riner, Virginia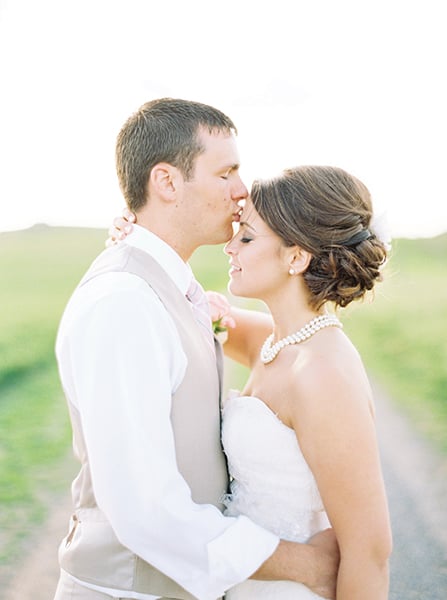 Photographs by Allison Kuhn Photography
Zach Earles, a sales manager for Xerox, and Leslie Sink, in advertising sales for Townsquare Interactive, were engaged at her family home turned wedding venue, Sinkland Farms. It was the perfect site to bring loved ones together for a big party. The bride and groom wrote their own vows and were married by their friend and mentor, Gary Mewell. With sweet and sentimental rustic signs and the bride in her late father's ostrich cowboy boots (so that he could still walk her down the aisle), they created a wedding both romantic and profound.
While guitarist Kat Mills played during mocktail hour, guests played giant Jenga, Connect Four, and cornhole and sampled caterer Mikie's 7th's passed hors d'oeuvres. Friends and family sipped lemonade from beribboned Mason jars before digging into stations with flank steak and barbecue.
Jonah Pearl of Split Second Sound played the couple's first dance song, "I Do" by Matthew West, and kicked off the dancing at sunset. The couple cut a tiny raspberry and buttercream cake by The Mockingbird Café, tasted macaroons and salted caramel brownies from Amelie's French Bakery, and enjoyed a dessert bar stocked with mini pies, cupcakes, chocolate cake, and pumpkin muffins. As their friends waved sparklers and they ran to their waiting limo, Zach had a surprise for his bride—a dazzling fireworks display to send them off on their St. Thomas honeymoon.
After trying on a hundred dresses, Leslie happened across a Jim Hjelm mermaid gown in lace with a sweetheart neckline.
---
To match the theme, Zach and his groomsmen wore tan khaki vests and trousers with white shirts by Saddlebred. This self-proclaimed "shoe guy" added a pair of tan and burlap wingtips from Johnson and Murphy, which did justice to his bride's fancy footwear.
---
Mockingbird created macarons in the bride's signature pink shade.
---
For rustic romance, the bride chose burlap and pastel pink with silvery mercury glass.
---
The small raspberry and buttercream cake came from Mockingbird Bakery.
---
Bridesmaids chose their own dresses in matching pastel pink.
---
A dessert table overflowed with mini pies and pumpkin muffins, and salted caramel brownies from Amelie's French Bakery.
---
The rose and pittosporum boutonnières were made by Pam Burgess of Sinkland Farms.
---
Reception decor included turquoise glass bottles suspended in painted frames.
---
A vine and rose arbor welcomed guests to the ceremony.
---
The ceremony overlooked the pond, with vintage rose urns and columns by Sinkland Farms.