Let the Beer, Wine, and Champagne Flow
From a Christmas market to a Champagne dinner, the holidays are already peeping through our food events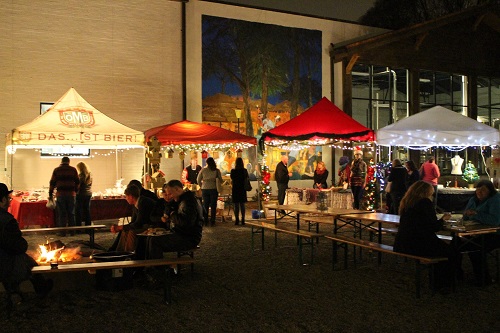 Tis the first weekend in December, so, naturally, it's time to get festive for the holiday season. We've rounded up all the foodie events going on around the Queen City this weekend.
Vin Master: Today, Thursday, December 3, from 6-8 p.m., head to Vin Master for the monthly tasting event; this month's theme being Bubbles Bonanza. Each table features at least two sparkling wines and cost is $15 per person. ​
________________________
Olde Mecklenburg Brewery: Tomorrow, Friday, December 4, and Saturday, December 5, head to Olde Mecklenburg Brewery for the 6th Annual Weihnachtsmarket – the brewery's version of a traditional, German-inspired "Christmas Market" with open-air booths selling gifts and baked goods from local Charlotte vendors. Winter seasonal beers will be on tap, too.
________________________
The Fig Tree: On Saturday, December 5, from 9 a.m. to noon, head to The Fig Tree Restaurant for a pancake breakfast for charity. The minimum $10 donation (cash/check) for each person (OR you can donate a new child's winter coat) will go toward Assistance League's Operation School Bell Program which provides clothing for children in need. There will be pancakes, eggs, sausage, coffee, juice AND Santa Claus will make an appearance!
________________________
Aqua E Vino: On Monday, December 7, beginning at 7 p.m., Aqua e Vino will host a wine dinner spotlighting La Serenissima, featuring the wines and cuisine of Veneto. Diners can enjoy five courses paired with wines by Marco Laico from Vino-Vino. Cost is $85 per person. Dishes include chicken liver crostini and crispy crab polpettine as hors d'oeuvres; risotto with radicchio and sausage and guinea fowl in casarolle with turnips au Gratin for dinner; and sandy cake with sabayon for dessert. Call 704-364-4445 for your spot.
________________________
Foxcroft Wine Co.: On Wednesday, December 9 at 7 p.m., head to Foxcroft Wine Co. for the annual Pinot Noir tasting with James Corbin and Grapevine distributors. There will be more than 10 wines and heavy hors d'oeuvres for $45 per person. Call 704-365-6550 to make a reservation. On Thursday, December 10, head to BAKU for the Anderson Conn Valley Wine Dinner, beginning at 6:30 p.m. with a Champagne reception. At 7 p.m., the six course dinner will begin, including dishes like espresso shoyu with chai spiced lamb shanks and forbidden rice; Kind Salmon with black cherry teriyaki; and panna cotta with burnt yuzu peel and pickled bing cherry. Call BAKU to make you reservations 704-817-7173.
________________________
Blue Restaurant & Bar: Head to Blue in uptown on Thursday, December 10 for a Moet & Chandon Bubbles and Food Pairing event. Beginning with a reception at 6:30 p.m., diners will head in for dishes including mini lobster rolls with with truffle duck fries; pan-seared pheasant breast stuffed with melted leeks over foie gras potato puree; and much more. Cost is $75 per person, excluding tax and gratuity. Call 704-927-2583 for your spot – be sure to reference the event when you call for a reservation.
________________________
Bistro La Bon: On December 15 from 7 to 10 p.m., head to Bistro La Bon for a collaboration between Bistro chef Majid, Chef Luca of Passion8, and Chef Suppa of Vivace. Liberate Your Palate, as the event is being called, will offer guests six full size signature cocktails and delicious amuse-bouche from all three chefs. There will also be a jazz band. Tickets are $50 per person and cocktail attire is required. Visit the website for more information.