"Let the Haters Be Your Advertisers"
QCTC's "The Most Fabulous Story Ever Told" has gotten a certain contingent a little upset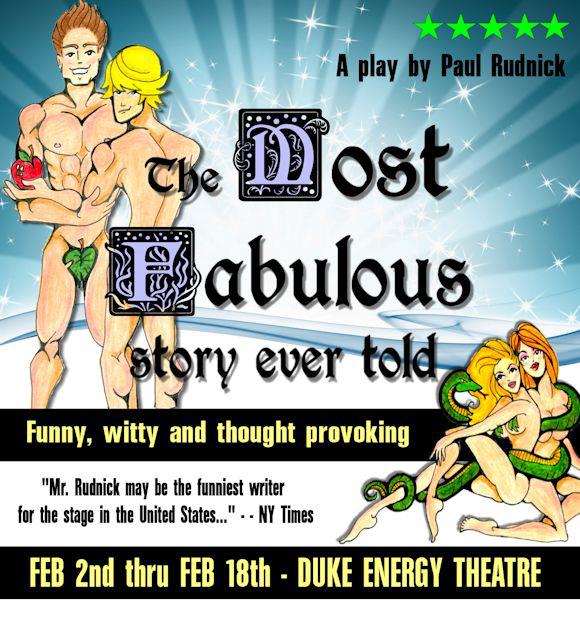 I haven't heard hatred and fear, tinged with homophobia, like this since Rev. Joe Chambers went off about the Charlotte production of the Pulitzer-winning "Angels in America" in 1996. (AIDS was among the themes of that play, and there were a couple of seconds of full frontal nudity. Male nudity — the scary kind.)
Queen City Theatre Company (QCTC) is preparing for the Feb 2 opening of Paul Rudnick's The Most Fabulous Story Ever Told, a retelling of the Book of Genesis with gay characters. Some religious conservatives have gotten wind of it and are trying to have the production shut down. QCTC has gotten more than 20,000 emails in just two days from fundamentalists that contain, according to the thespians, "insults, verbal attacks, and threats of massive protest [that] are based on a misinterpretation of the work." The group's press release goes on to say, "QCTC confirms that the communications directly attack the LGBT community."
As one of QCTC's Facebook fans said, "Let the haters be your advertisers." Controversy, in this case, should translate into ticket sales.
QCTC presents edgy works. "You will not find shows like South Pacific or Our Town on our season — not because these aren't wonderful pieces of entertainment, but because they are not relative to the world we live in now," said QCTC Artistic Director Glenn T. Griffin. "In the 21st century, we are faced with different situations and with different experiences, and we need different plays to help us try and understand even a little of the world around us."
Griffin continues: "The Most Fabulous Story Ever Told is about man's search for God or at least an understanding of God. As Paul Rudnick says in his introduction to the play: 'I wanted to, however comically, research the roots of faith: Why do we need to believe? What terror or transcendence leads to either the invention or the discovery of a god? Act I of Most Fabulous follows two couples' adventures in creating civilization. [It is] written in broad strokes, befitting the tumult of society's beginnings, and the characters don't age as they hurtle from the Garden of Eden to slavery in Egypt and beyond. In Act II, I wanted to trace the modern day results of Act I, to see where faith has landed in contemporary Manhattan.'
"When it comes to my own relationship with God, these are questions that I have asked myself many times," Griffin said.
He goes on to say: "I was raised a Catholic and still have my faith and my beliefs in God. I have a belief that I am strong in, and with this strength, there is nothing that can sway me from it. There is nothing I would ever see, hear or experience that would take my relationship with God away from me. My faith and belief in God has led me to an understanding that we need to question, we need to explore and we need to celebrate the worlds many viewpoints and positions."
"I am saddened that there are people who wish to protest the production of The Most Fabulous Story Ever told in ignorance. Of the many emails I have received, there is not one person who can properly explain their viewpoint without misrepresenting the work. People claim that the QCTC production has male nudity …maybe other productions have had this, but ours doesn't."
"This production will not be stopped out of fear or pressure. I invite you to attend this production with an open mind and an open heart. You might find yourself laughing, crying, thinking, and you just might also find yourself comprehending what it truly means to be human."
See for yourself. Details here.