Let's address Charlotte's image problem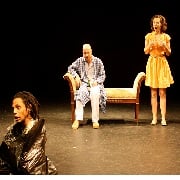 If you haven't had the pleasure to read Matt Cosper's pitch perfect take on Charlotte's theater scene on Charlotte Viewpoint, do so now.
Go on. I'll wait.
Great right?!?
Cosper, the artistic director for the theater company The Machine, takes apart nearly every venue and examines its strength and weaknesses and comes away with a Queen City State of the Arts address. And I have to say it's spot on from his look at the larger venues with the major touring productions to the DIY stages being built in the backs of bars.
Charlotte has always been a city struggling to find its identity. We were once bankers to the world, but, after the near collapse of the world economy at the hands of the bankers, who wants to be known for that? You could really see this identity crisis on display during last year's Democratic National Convention. Commentators on every network talked about the beautiful trees and cute downtown eateries, but the takeaway was a little bland. I once tried to explain this coverage to someone unfamiliar with the town as a "Yelp review for a 3 star bed and breakfast." Good but not sure if you'll ever come back.
I bring this up not as a slight. I grew up in this town. I remember a much different place when I was a kid and I like the city we've become. But I think it's time for us to take a serious look at the image we project onto the world and I think Cosper's article is a good place to start the conversation.
Take for instance, South End. I remember that area as a kid as being a bit dreary and boring. I only went there to visit my dad's office, and I was completely fine leaving after our lunch. But in the past decade South End community leaders dedicated themselves to finding the center of what made that area interesting and exploiting that. The answer they came up with an upper end artistic chic. They embraced their community creators and the area has thrived. Pop-up art galleries and cool little shops filled with items designed with flair flocked to that area.
Charlotte is lucky in that we have a theater scene that has a financial underpinning. Our big theaters like the Blumenthal Performing Arts Center have backing from major corporations like Duke Energy. This is a big win for us. We have the stability to turn these venues into rallying points for the community. Where local art is made, perfected and appreciated.
I am a bit biased in this area. I work with a comedy troupe that produces a new show every month from a very hip bar in NoDa called Wine-Up. It's been fun watching the owner, Michael Ford, find his bar's niche as a theater venue. But bars across Charlotte are holding theater nights and open-mic poetry or stand-up nights. This isn't karaoke. This is serious, full-on theatre with well-trained actors and overwrought writers and set designers.
I do believe however it's time Charlotte leaders start taking notice of these events, help nurture this growing artistic community and in the process improve Charlotte's national image.
We're better than a 3-star bed and breakfast.