Let's Go…Hornets?
As the Bobcats stumbled to the worst season in NBA history, a group of true, um, Bee-lievers mounted a campaign to reclaim the Hornets name. But will nostalgia really make Charlotte love pro basketball again? Or will it just beget more nostalgia?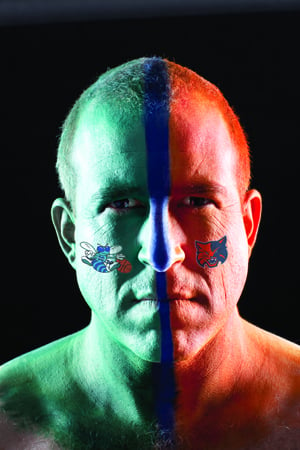 John Morgan was pissed off. He paid $75 for a seat a few rows behind the Bobcats' bench and nobody down there was excited. He walked up to section 229 at halftime, up to the $15 seats at the top rim of the upper deck, and decided to stay.
"I was trying to cheer and s—, and it's not happening," he said. "They're either Knicks fans who have dropped their month's salary sitting where they're sitting, or they're just apathetic."
Morgan bought the $75 seat to try to get on TNT during the Charlotte Bobcats nationally televised whimper of an ending to the 2011-2012 season. He wore a hideous white tuxedo and a teal T-shirt. This was supposed to be his night. This was the second edition of "Swarm Time Warner." He had pleaded with people to buy cheap tickets in section 229. He asked them all to wear Charlotte Hornets gear. The idea: if they were loud enough and visible enough, they'd get on national TV, too. It would show people that Charlotte wanted the Hornets name back.
Things were not going well. At the first Swarm, more than a hundred energized fans showed up. At this one, a few dozen Swarmers sat politely in their seats. Then there was the game. The Knicks were dunking at will. Morgan was not smiling.
That's when his co-organizer Evan Kent showed him the tweet saying that The Charlotte Observer's Rick Bonnell talked to NBA deputy commissioner Adam Silver, who was in the arena for the game. Silver said he expected to have a conversation with the Bobcats about changing their name back to the Hornets.
"It's everywhere," Kent told Morgan. "The fact that they're that deep in the conversation means it's happening."
Morgan let out a loud "ooh." His face lifted. He looked around section 229. "What are we doing right now?" he asked. "I say, let's get cheering, man."
He stood. He cupped his hands around his mouth. He screamed as loud as he could.
Char-lotte Hor-nets. Clap. Clap. Clap-clap-clap.
The people around him in teal and purple stood and joined in.
Watch as Charlotte Hornets fans befuddle Bobcats fans at Swarm Time Warner

:
John Morgan is a thirty-year-old elementary-school art teacher with long brown hair that he sometimes pulls back into a ponytail. He grew up in Charlotte. His dad's company had Hornets season tickets. He remembers the three-pointer Alonzo Mourning hit to knock Boston out in Charlotte's first trip to the postseason. "Zo's shot against the Celtics?" Morgan says with a smile. "We were from here to that trash can from that."
The trash can was about twenty to thirty feet from where Morgan and I were sitting in the shadow of Time Warner Cable Arena. I first met Morgan on a warm March day, warm enough for him to wear a purple "We Beelieve" T-shirt without getting cold. He explained to me how Swarm Time Warner came from a Facebook page that he set up one Friday night in 2010, when he had been feeling a little bored. It existed for two years, mostly as a sort of Hornets historical society. He would occasionally post pictures or memories. In late February, the buzz around the sale of the NBA-owned New Orleans Hornets started to heat up. Maybe if the team moved or got a new owner, it'd drop the name. Maybe, Morgan thought, we could get it back.
With his Facebook page at close to 1,000 likes, Morgan started a Change.org petition to ask the Bobcats to change their name. In its first day, nearly 500 people signed it. They flocked to the Facebook page. Morgan asked them to contact the media. They did. Three days after Morgan put the petition online, the Observer's Tom Sorensen (skeptically) mentioned the movement in a column. Morgan found himself as the ringmaster, the man feeding from the energy, furiously posting pictures and inspirational messages. On its sixth day online, the petition hit 1,000 signatures and Morgan gave his students an art project. They used crayons and watercolors to create their own teal and purple interpretations of Hugo the Hornet.
Morgan started talking with the Kent brothers: Scotty, a teacher in Greensboro, and Evan, a student at Appalachian State. The Kents had created Bringbackthebuzz.com, a sappy site also designed to get the name back. All three teamed up to create and promote Swarm Time Warner in the nosebleed seats at the Bobcats-Nuggets game on March 30. There were a lot of Larry Johnson and Alonzo Mourning jerseys. One of the Kents showed up wearing a purple robe and teal sash, looking like George Shinn's personal wizard. Morgan wore the white tux. He let his hair down. He screamed. The game was bookended by bar crawls, which is like the most Charlotte thing ever.
The Swarmers at the game were strikingly alike. Most were in their mid-twenties to mid-thirties (most Facebook fans are between eighteen and twenty-nine years old, which Morgan calls "a marketer's dream"). Most were rocking old-school Hornets T-shirts, jerseys, Starter jackets, and snapback hats. Many were hoops hipsters. And from way up in the cheap seats, they could see Hoops Hipster Nirvana. If somehow the Charlotte Hornets reemerge, then they, in some way, are responsible for something no other major league city has done: luring a departed franchise name with all of its built-in nostalgia back to its original town. The Minneapolis Lakers? No. The New Orleans Jazz? Nope. The Charlotte Hornets? Yes.
Watch an exclusive interview with John Morgan at Swarm Time Warner

:
It's not as if this hasn't come up before. In 2010, in his first press conference as the Bobcats new owner, Michael Jordan answered a question about the team name. Would it change? No, he said. The Bobcats had commissioned a study and found little support for a new name (Although, as the We Beelievers point out, Hornets wasn't an option at the time). Last year, local media gadfly Jon Wilson tweeted on April Fool's Day that Jordan had filed paperwork to change the name. He let it simmer. Some people were overjoyed. A sports radio station picked up the report. Wilson finally came clean. It was a fake. A collective sigh went out on Twitter.
It was always a hypothetical: Wouldn't it be nice to be the Hornets again? rather than We will be the Hornets again. And then, in mid-April, New Orleans Saints owner Tom Benson bought his city's NBA franchise. First order of business? Changing that Hornets name. "We'd like to change it tomorrow," he said.1 Suddenly, the hypothetical turned to Holy s—, this could actually happen.
The movement turned from a cutesy underground push to a somewhat legit operation. Morgan started popping up on television and radio. Sorensen, who had been critical of a name change, changed his mind and wrote that it might not be a bad idea. The Observer ran an online poll. More than 7,500 people voted. Close to 85 percent wanted the Hornets name back. Felix Sabates, a minority owner in both the original Hornets and the current Bobcats, told the Charlotte Business Journal that he'd like the old name back. "I think it would bring tremendous interest," he said. "It's an expensive proposition. On the other hand, your souvenir sales would go way up."
At the end of May, nearly 6,000 people had signed Morgan's petition.
Is this a whole movement based on nostalgia? Of course it is, says Morgan, and that's not a bad thing. "If you can't be nostalgic and weepy eyed about the tradition and the colors and the bug," he says, "then life is not as rich as it could be."
When Muggsy Bogues tells you about the birth of his son, he'll tell you a story about a basketball game. This was back in the early 1990s, and the Hornets had taken the Golden State Warriors to overtime. With the clock close to zero, Allan Bristow, the coach, drew up the final play on the sideline. Bogues knew it wouldn't work. He looked toward the other guy in the Hornets' backcourt, Dell Curry, and decided to improvise. "Dell," he said. "Be ready." Moments later he kicked the ball out to Curry, who hit a three-pointer that would put Bogues and the Hornets ahead to stay.
Later that night, his son was born.
At five-foot-three, Bogues is the shortest player in NBA history. Sports Illustrated once said that his knuckles scraped the floor when he dribbled.
Fans loved him. Kids loved him. They used to come to his house in Charlotte and ask his wife if Muggsy could come out to play.
He's talked to John Morgan. "I told him I can see why a lot of people would want the Hornet name back in the city of Charlotte," he says. But when I talked to Bogues, he stopped short of outright support. You get some tradition, he said. You get some history. "But the last thing you want is to be reminded of something in the past."
But if you live in Charlotte, and you love the NBA, don't you wish you could go back in time?
If you look around long enough, you can still see signs of the Hornets' prior life here. The crown-emblazoned seats from the old Charlotte Coliseum now make up some of the seats at the Charlotte Motor Speedway (the Coliseum was imploded in 2007 to make room for townhomes, offices, and stores that never materialized). Hornets posters are still on the walls at some bars and restaurants. And if you drive around town long enough, you'll eventually see someone wearing a Hornets hat, shirt, or jacket.
The past is in the pictures and the memories and the numbers. And in those numbers, over the first four years, the time when expansion teams typically writhe and gasp for breath, the Bobcats were actually a better team than the Hornets. The Bobcats won 109 games. The Hornets? Just 96.2
But look at the attendance stats. Over those first four seasons, the Hornets sold out nearly every seat. Of every game. For four years. Over the Bobcats' first four seasons, the stands were, on average, about three-quarters full.3 Times were different, though. Until the Panthers arrived in 1995, the Hornets were the only big game in town. Former Chicago Tribune reporter Sam Smith said their success proved one thing: there was nothing else to do in Charlotte.
So what will work now? A lot of people say the cure to what ails the Bobcats is winning. Start winning, and the support will come. The fans will come.
Muggsy Bogues isn't so sure. You have to do more than win these days, he says. "It's all about serving. People love winning. But they also have to love how the team treats them." He likes what Jordan and the Bobcats are doing, even if they're not winning.
There's another ingredient: Family. The Hornets felt like a family. Charlotte is a family town, says Bogues. Charlotteans love a family atmosphere.
"That's the kind of town this is," he says. Most of the time. If you screw up, Bogues says, "They can be downright rude to you."
The Charlotte Hornets came into being in 1987 as the obsession of George Shinn, a businessman and motivational book author from Kannapolis, who figured that if Charlotte was going to spend all of this money to build a 24,000 seat coliseum to lure the ACC Tournament, it might as well try to get an NBA team, too. So Shinn put together some investors and on April Fool's Day, David Stern called him at home to tell him that he'd won the franchise. Charlotte was no longer a mid-sized town where two interstates cross. It was a major league city. The arrival of the Hornets was a defining moment that kept the rest of the country from seeing Charlotte as a larger version of, say, Greensboro.
To Shinn, the name had to mean something. British general Charles Cornwallis called Charlotte a hornet's nest of rebellion during the Revolutionary War, so Shinn went with Hornets. He also insisted on Charlotte being on the jerseys and in the name of the coliseum. In his 1995 book, You Gotta Believe!, Shinn cited the California Angels as a team without a real identity. "In my opinion," he wrote, "the people who chose the name would have been better off had they identified with one city or metropolitan region and built on that name and history."
Hornets was never on the front of the team's Alexander Julian–designed jerseys. Charlotte was. That was the most important thing for people to see, Shinn wrote. "When the fans see our players, they see Hornets all right—they're the monsters on the court jamming the ball down the other team's throat! But their jerseys say Charlotte."
The Hornets got a warm welcome. The fans loved them. Guys who would have been nobodies in other NBA cities (read: Tim Kempton) became beloved. The city threw them parades. The media went easy on them.4
Things would change.
In 1999, George Shinn went on trial after a woman said he sexually assaulted her at his home in Tega Cay. Shinn got out of it, thanks in part to his lawyer, Bill Diehl, who dropped lines like "If she ain't bitin', she ain't fightin'." Then Shinn asked for a new arena. The city told him they wouldn't build it if he were still the owner. Rather than sell, Shinn moved his team to New Orleans in 2002. By that time, a lot of people had stopped going to the games anyway.
Charlotte was so invested in the Hornets that some people are still bitter about what was. With the Bobcats, on the other hand, they have a hard time getting invested in what is.
Why?
Think back to when you were a kid. You probably had a favorite team. And there's a good chance you still pull for that team today. Psychologists have a term for this: the reminiscence bump. It applies to music. It applies to movies. And it applies to sports. Whatever team left a strong first impression on you as a child is probably still the team you love today. And the people who grew up in the warm and fuzzy era of the Hornets are the same people who showed up for Swarm Time Warner.
"That initial identification is like your first true love," says Dr. Susan Whitbourne, a psychology professor at the University of Massachusetts who has written about sports fans for Psychology Today. "It's hard to change." Second-time expansion teams have it tougher, she told me. "The average fan is going to take a wait-and-see attitude before they let their emotional consensus form."
Whitbourne points to research that shows that fans who care the most about their team also look at their team more objectively. They see things for what they are. When the NBA rushed to put another franchise here after the Hornets left, many fans didn't blindly glom onto the fresh new franchise. They knew the Hornets. These guys weren't the Hornets.
The Bobcats have never been good, but it didn't help that they were a special kind of terrible last season—the kind of terrible that lost all but seven games, the kind that lost twenty-two games by at least a twenty-point margin. They finished with the worst winning percentage in league history. If the Charlotte Bobcats were a Bobcat, they'd be Jamario Moon.
They play in an arena that, as any duty-sworn Internet commenter will tell you, was paid for by taxpayer dollars even though it was voted down in an election. They drafted Adam Morrison. They traded Gerald Wallace. They're hideous at covering the spread. In March, the New York Daily News ran a report about how Jordan was thinking of selling the team in a few years, only to have MJ reply by saying he was 100 percent committed, only to have former coach Sam Vincent (who was fired after one season for being as wobbly as a shopping-cart wheel) slam MJ for not really caring about the franchise. Then former coach Larry Brown ripped MJ. Jordan fired back.
They have issues.
Some people are still pissed off at Bob Johnson, the former owner who loved the fact that the Bobcats were sort of named after him. Fans didn't like Johnson's entitled attitude: that you should be happy to spend your hard earned money, and a lot of it, to go see the mediocre team he had created. When people by and large weren't, he blamed businesses for not getting behind him. Many people responded to all of this by staying away from games. Last season, they finished twenty-sixth out of thirty in attendance.
Even at their best, the Bobcats squeaked into the playoffs in 2010 and promptly lost all four games in the first round. During the series, the team started games with a video montage that showed a clip from one of the Hornets' playoff runs. The crowd roared.
So if many fans aren't over-the-top invested in the Bobcats, why not go back to the teal and purple that Charlotteans once loved? For one thing, it takes time and money. Silver told Bonnell that a name change typically takes two years. There are signs to order and new uniforms to design and so on, and by every estimate, it costs millions of dollars. Guys like John Morgan seem to think that the cost could easily be covered by the sale of new Charlotte Hornets gear. The Hornets gear that's out there now is still easy to find and selling well.
But no matter the uniform, these guys aren't the Hornets.
The jerseys give you your identity, Bogues says. The colors are nice too. Thing is, he never really put too much stock into all that. Most of the things he wore during his Hornets days—warm-ups, shorts, and jerseys—are gone. One of his Hornets jerseys hangs in his dad's barbershop. That's about it. "It becomes just a uniform," he says. "Those were my work clothes."
John Morgan is full of theories. Here's one: some of the Jordan Brand apparel out there? Teal and purple. That might mean something. In May, the Duke Energy Center was lit in teal and purple. Morgan posted a picture of it on his Facebook page. It's gotta be a sign, he wrote.
Morgan speaks with an inner confidence, as if he goes to sleep every night with visions of Super Hugo trampoline-dunking over him. This is more than just an excuse to get dressed up. The longer you listen to him, the more you're drawn in. The more you start to believe in We Beelieve.
Morgan knows the Hornets name is not a cure for all of the Bobcats ills. But he thinks it will help. Sure, a lot of people in Charlotte are out-of-towners who brought their sports loyalties with them. But Morgan thinks the original Hornets fans are still here today. "There's not a lot of people who left," he says. The Bobcats should get $20 million a year once the NBA implements its new revenue-sharing plan. Surely some of that money could go toward a name change, Morgan says. He admits: paying millions of dollars just to change the name is a silly thing. But so is paying millions of dollars to a guy to play basketball for a living, he says. "We're talking about a bunch of giants in neon tank tops chasing a neon ball around. The whole thing is pretty silly when you think about it."
Then he gets serious. "I happen to think it would be a lot more than just a superficial thing." Just imagine, he says. Jaws would drop.
At the Bobcats season finale, Fan Appreciation Night, jaws were not dropping. Morgan was upset that the biggest swarm of fans seemed to be pulling for the Knicks. Yeah, a guy in a Glen Rice Hornets jersey got some airtime on TNT, and that was good. But Morgan was irked that more people didn't come out for the second edition of Swarm Time Warner. "I mean, I knew the [NFL] draft was tonight, but good Lord."
The Bobcats lost their final game by twenty points. That night, everything in the team store was marked 30 percent off. The Bobcats, it seemed, didn't really want their work clothes anymore.
There was only one curtain call that night. Late in the game, in the lower bowl away from the Swarm, some fans started lovingly chanting a name. It caught on. It got louder. Finally, the target of the chanting got up from his seat on the Knicks' bench. He turned around and waved to the fans. It was Baron Davis. A former Charlotte Hornet. The crowd cheered.
At the first Swarm Time Warner, something curious happened. I sat among the hoops hipsters. The Bobcats were wearing throwback jerseys from the Carolina Cougars5, an old ABA franchise that played in Charlotte, Greensboro, and Raleigh. They were playing the Nuggets. At halftime, my friend Brandon leaned over to me. "Let me get this straight," he said. "We're watching the Bobcats, playing the Nuggets, dressed as Cougars, and we're sitting in the Hornets section."
Over the first three quarters, the Swarmers seemed to coast on nostalgia. They laughed about original Hornets such as Kelly Tripucka and Kurt Rambis. They admired each other's jerseys. The gaudiest hats got the most attention.
The nostalgia couldn't sustain them, however. In the fourth quarter, the Swarmers went back to basketball. They cringed at fouls. They sighed at missed shots. They weren't rooting for the Bobcats, the Cougars, or the Hornets. They were rooting for the home team.
But that wasn't the curious part. In the next section over were six or seven kids in Bobcats jerseys. They were all seven or eight years old. And they could not have been more confused by the teal and purple. One of them replied to each chorus of "Let's go Hornets!" by shouting that the Hornets were New Orleans's team. Then, they started a "Let's go Bobcats!" chant to counter the Swarmers. They were angry.
"You weren't even here when the Hornets were here!" said a forty-something-year-old woman sitting next to me in plaid Hornets shorts.
A few minutes later, a kid replied. "Go buy a hot dog so we don't have to listen to you." Boom.
And then it hit me: in twenty years, if the team changes its name, are those kids going to show up at games wearing Bobcats jerseys? Are those kids going to set up some bar crawl and show up in the stands screaming, "Let's Go Bobcats!"? Who, exactly, are they rooting for here? Muggsy Bogues isn't going to put on a jersey again. Rex Chapman isn't coming back. Anthony Davis, the allegedly transformative number one draft pick, isn't coming here. He's going to be a Hornet. A New Orleans Hornet. A name change would make a lot of people excited. It would sell a lot of jerseys. It would tap into that warm-and-fuzzy nostalgia. But nostalgia can only take you so far. The question is: if the Hornets come back, would that create more fans? Or would it just create more hoops hipsters?
That night, the Bobcats lost by eleven, but the swarm of teal and purple wanted to make its cause known. They came down from the upper deck in a long, happy stream. They chanted "Let's go Hornets!" on the escalator. People stopped and stared at the big loud mass in the center of the atrium, still cheering for a team that left town ten years ago. They took pictures. They smiled. They joined in. And for a moment, they all felt something that has been missing from the arena for a long time.
Hope.
Jeremy Markovich is a writer and television producer in Charlotte. Follow him on Twitter at @deftlyinane.