Let's Hear It For The Boys
The scoop on three new local menswear lines: House of Abbeydale, Ole Mason Jar, and Colsen Keane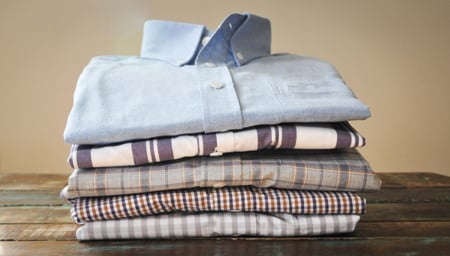 Colsen Keane
Where: Make an appointment at the studio on 1318 Central Avenue or order online at colsenkeane.com.
What: Hand-stitched leather goods including leather satchels (starting at $395), belts ($75-$195), and custom cases for Apple products ($45-$160). Add your initials for $15 extra.
How: Each product is made to order by one of four leathersmiths, including founder Scott Hofert. Hofert handpicks most of the hides and inspects each item that leaves the shop.
Why: Necessity. After traveling the world for 25 years, Hofert developed a love for high-end leather products that could weather his lifestyle, age well, and tell a story, but he had a hard time finding them. He decided to create them for himself and realized that other people were looking for the same thing.
Inspiration: Family history. Hofert's father, grandfather, and great-grandfather were jewelers. Hofert never felt drawn to the family business, but when he first sat at a workbench to create a leather piece, he felt that handcrafting was in his DNA. "It's really a full-circle experience for me," Hofert says.
House of Abbeydale
Where: A new retail space at 116 W. Fourth Street. In uptown and a soon-to-be-opened e-commerce site at houseofabbeydale.com.
What: Custom-made shirts ($175-$225), jackets ($750-$2,000), and accessories.
How: The process begins when founder David Watkins sits down with a client to discuss the client's wardrobe, lifestyle, and what he would like to get out of the experience. Next he'll take all essential measurements, pick fabrics, buttons, linings, stitching colors, and more, and then send that information to tailors in California and New York who create the custom garment.
Why: "Simply put," says Watkins, "longevity. All of our jackets are full canvas, which means they are hand-stitched [rather than glued]. This alone should extend the life of one's suit for twenty-plus years."

Style icon: "My grandfather. I remember him always being so pressed and clean even when he was not in the best of health. The effort was there. I hope to see more men give the same effort."
Ole Mason Jar
Where: olemasonjar.com
What: Handmade button down shirts, T-shirts, and leather accessories.
How: Button-down shirts ($99) are hand-sewn in small batches before the founders of this Charlotte-based company, Bradley Rhyne and Filipe Ho, inspect and press each shirt and then send them to customers. Ole Mason Jar's T-shirts ($32) are made in North Carolina from cotton grown outside Greensboro, and the brand's leather accessories ($14.95), handmade in Asheville, receive the same attention to detail.
Why: Says Rhyne: "We started in Charlotte because we both grew up in North Carolina and know that there is already a great market and a bustling interest in the menswear movement for modern gentlemen."
Most important style rule: Know what fits you. "One of the hardest things for a man is to know what actually fits his body type," Rhyne says. "Someone with a larger build can tend to gravitate towards something that is oversized, and someone with a muscular build can tend to wear something that is too tight. Putting an ensemble together should be effortless if you have the right fit."