Let's Roll
Nigiri, sashimi, maki, tataki, tempura—as new sushi menus continue popping up around town, Charlotteans are quickly becoming fluent when it comes to ordering their favorite rolls. Now, the hard part is deciding where to go next to show off your chopstick skills and indulge in your newfound love of unagi. We think we can help.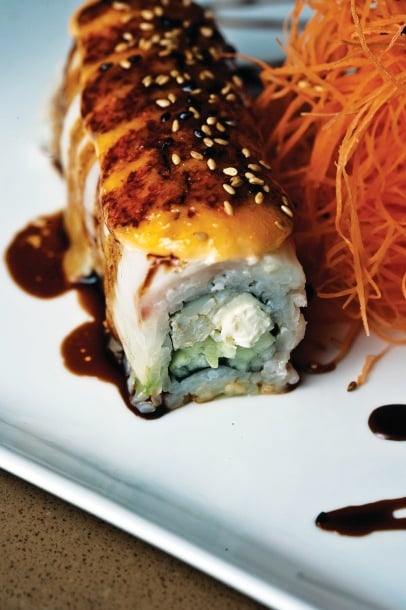 Cyros Sushi and Sake Bar
The Vibe: Tucked in the same building as Rooster's Wood-Fired Kitchen, this SouthPark restaurant features high ceilings and cozy booths. Large windows on one end brighten the small space.
The Sushi: Cyros gets creative with its sushi including a Kobe Brazilian roll with seared Kobe beef, a Tree Hugger roll featuring beets, and even a Sushi Pizza, with edamame hummus.
The Roll: Cy's Baked Roll ($12). Yes, it's flash baked and there's cream cheese. But even if this roll has been Americanized, its combination of lump crab, cucumber, and whitefish makes it a delicious option.
The Price: Specialty rolls range from $8 to $18.
To Know: Each table comes with a soy sauce spritzer, which means less soaking up the salty stuff, but still plenty of savory soy flavor.
6601 Morrison Blvd.
704-919-1881
cyrossushibar.com
Enso
The Vibe: Located on the bottom level of the EpiCentre nightlife complex, this is the city's sexiest sushi bar. The lounge décor, house music, and stylishly dressed patrons give the Asian fusion restaurant a sophisticated urban feel.
The Sushi: The menu features a variety of rolls including tataki, tempura, and maki. However, the creative—and sometimes overwrought—
specialty rolls (there are more than twenty) draw the crowds.
The Roll: 007 ($13). Cucumber, spicy tuna, and shrimp tempura are wrapped in white rice and then topped with crab, avocado, and spicy mayo for a slightly spicy and totally decadent roll.
The Price: Specialty rolls range from $11 to $18, while maki ranges from $4 to $8.
To Know: Crowds at EpiCentre make reservations a must on weekends.
201 E. Trade St. (EpiCentre)
704-716-3676
ensocharlotte.com
Pisces Sushi Bar and Lounge
The Vibe: Tucked between Vivace and Dressler's restaurants in midtown's Metropolitan complex, Pisces seems relatively innocuous from the outside. Inside, the high-ceilinged lounge offers private booths down a quiet hall or a buzzing dining area with views of the street.
The Sushi: The extensive menu includes twenty-five nigiri and sashimi options, twenty-two maki rolls, and twenty-six house specialty rolls among other sushi offerings.
The Roll: Yellow Submarine Roll ($8.50). A shrimp tempura and cream cheese roll is topped with thin slices of mango and eel sauce.
The Price: House Special rolls range from $7 to $12.50 and nigiri ranges from $2.50 to $7.
To Know: All-you-can-eat sushi is available every weekday from 11:30 a.m. to 3 p.m. for $9. The menu features some nigiri options, as well as all of the maki choices.
1100 E. Metropolitan Ave.
704-334-0009
Press Wine & Food
The Vibe: The street-side patio, with views of uptown's skyline, draws in passersby, but it's the extensive wine list, overstuffed couches, floor-to-ceiling windows, and intimate café tables that keep diners coming back.
The Sushi: Press offers plenty of traditional rolls (spicy tuna, salmon, and eel, to name a few), but under what it actually calls "Traditional rolls" you'll find unusual—and unexpectedly delicious—ingredients like potato chips, apples, and beets.
The Roll: Press Signature Roll ($10). Tuna, crab, and avocado are wrapped and topped with spicy aioli, then sprinkled in crispy garlic and shallots, giving the roll a perfect mix of creamy and crunch.
The Price: Traditional rolls range from $9 to $13.
To Know: There are options other than sushi on the menu, so bring along your not-into-raw-fish friends.
333 W. Trade St.
704-370-3006
sonomarestaurants.net
Soul Gastrolounge
The Vibe: Exposed brick walls, wood beam ceilings, and lamp-lit lounge areas give this Plaza Midwood restaurant a cozy feel. But the long bar, skyline-view patio, DJs spinning nightly, and hip crowd gives it serious style.
The Sushi: Skip the sashimi and head straight for the Soul Originals rolls. These may be some of the most dramatically presented rolls in town, with stars like Sushi Fondue ($9), featuring bright red splashes of roe, and the hamachi with jalapeño ($8).
The Roll: Soul Roll ($9). Spicy salmon, cucumber, and jalapeño are rolled in rice and topped with slices of white tuna, wasabi aioli, chili, and spicy mayo sauce. Even the tender tuna and cool cucumber can't cut the spice of this flavorful roll.
The Price: Rolls range from $5 to $12.
To Know: This is a small restaurant, so there's usually a line. Want your sushi now? You can order it at the bar while you wait.
1500-B Central Ave.
704-348-1848
soulgastrolounge.com
Room 112 Modern Asian Cuisine
The Vibe: This quiet restaurant with dark red and black hues and patio seating may be uptown's best-kept secret. Rarely full on weekends, those in search of appetizing sushi without a side of loud nightlife should look no further.
The Sushi: Sure, there are some creative rolls, but this place is for the traditional sushi lover, with plenty of sashimi and even the maki rarely having more than three or four ingredients.
The Roll: Cherry Blossom Roll ($10.95). Perfectly fried shrimp, tender spicy tuna, and avocado are wrapped in soy paper and topped with a spicy-meets-sweet combination sauce.
The Price: Maki ranges from $3.50 to $12.95.
To Know: Not in the mood for maki? In addition to sushi, Room 112 offers a varied Asian fusion menu featuring dishes like a Kobe burger ($11.95) and foie gras and scallops ($28.95).
112 S. Tryon St.
704-335-7112