Letter from the Editor (April 2016): A Game of Chance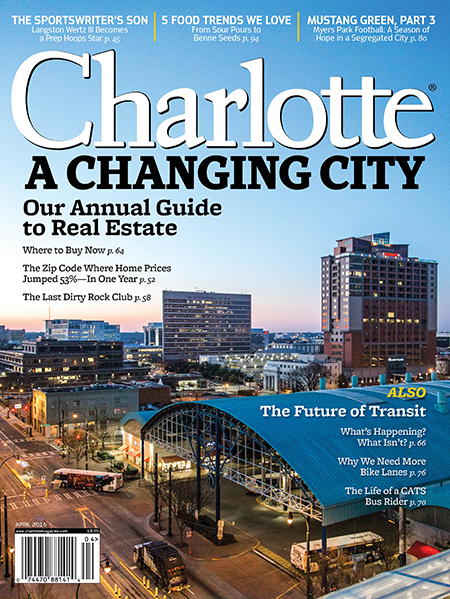 A FEW HOURS before my first interview for this job, I ate a turkey sandwich at Common Market with one of the two people I knew in Charlotte, former Charlotte magazine back-page columnist Jeremy Markovich. I'd worked with Jeremy for a few years on stories he'd written for Our State magazine when I was a senior editor there. I asked him to tell me everything I needed to know about the man who'd be interviewing me, publisher Richard Thurmond.
"He's tall," Jeremy said.
Fully informed and prepared for the interview now, I must've made a half-decent showing, because a few weeks later Rick brought me back for another interview, and a few weeks after that he hired me, and a few weeks after that I was driving through Plaza Midwood looking for a place to start a Charlotte life. It was one of those glorious, April spring days: 80 degrees, azaleas and dogwoods blooming, people out running and walking, cankerworms dangling. I shot a quick note to the other person I knew in Charlotte, writer Tommy Tomlinson, and asked if the weather was like this all the time.
"Every single day," Tommy wrote back. "It's like Honolulu."
Fully informed and prepared to move here now, I pulled out my phone and scrolled through one of those real estate apps with a map. I planned to rent instead of buy, living by the same cliché many people live by when they move to a new place: "I just want to learn the city first."
It seems crazy to think this now, but three years ago, there were lots of for-sale signs in Plaza Midwood. Most homes were comfortably in my price range. Tempting, but still, "I just want to learn the city."
Here's what I learned. Rick will always be tall, Charlotte is not always like Honolulu, it's easy to make more than two friends here, and home prices changed, man. By the time my first lease was up, they'd gone up just enough to make me feel uncomfortable. Now, in 2016, prices are double what they were in 2013, and I still rent a warm condo with hardwood floors a block from Central Coffee. I love the place, but whenever I talk to my home-owning neighbors, I envy their glow
I'm 36 now, older than a few and younger than a few, at the point where you start to see the collection of the chances you took and the chances you didn't. I've taken plenty: I jumped out of a plane, rode shotgun in a racecar, got married and divorced, and, yes, bought my first house in the Triad at that swell time just before the housing market bottomed out.
Charlotte is exploding, but nobody's forgotten the crash of 2008. You've probably talked about it at some point: When's the boom going to stop? Is another recession coming?
We asked a few experts those questions for our real estate package. They say we're in good shape for the foreseeable future and that home prices will go up at least through the end of this year. That's good news for investors. It means nothing to Ken and Margot Wells. They've lived in the Newell community in north Charlotte for 30 years, and no matter how much change the new LYNX Blue Line Extension will bring, they say they'll never leave.
Langston Wertz Jr. is experiencing changes of a different sort. He's covered prep sports for The Charlotte Observer for nearly 30 years, and now he's watching his son, Trey, grow into one of the best basketball players in the city. The Q&A the Wertzes did with Jodie Valade is one of my favorite reads of the month. It's fun to watch a reporter on the other side of an interview.
In the three years since that lunch, Jeremy and I have done our own role-reversal. A year ago, he called to tell me we'd have to find a new back-page columnist; he was leaving Charlotte to take a new job as a senior editor at Our State. He was moving to Greensboro, and a little nervous about the new life. He'd met his wife in Charlotte, got married here, had a son here. He'd also never worked fulltime in magazines, having spent his time here as a producer at WCNC. But he said he was excited about the change. He asked me to tell him what I knew about his new job and town.
"It's north," I told him.