Letter from the Editor: Originals, Remastered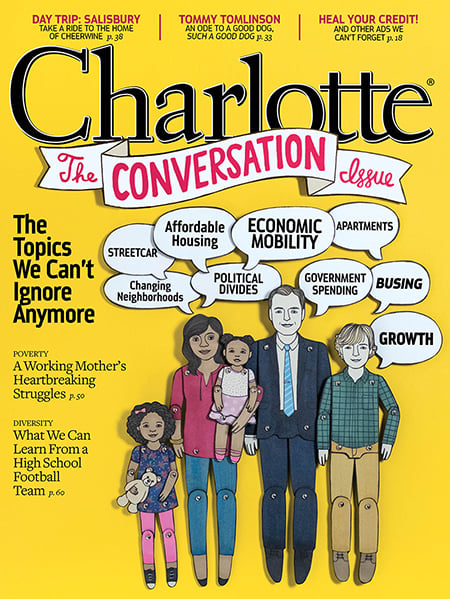 THE CRAZIEST MAN in Charlotte in 2005 opened a record store the day after Thanksgiving.
Here was Scott Wishart, living in a city that was booming, and his grand plan was to open Lunchbox Records, a store in which the main inventory, the very thing in its name, was obsolete?
The frustrating thing about a record album, everybody else knew, is that you have to flip it. You actually have to walk to the player and turn it over to hear the other side. Don't have to do that with CDs. Don't have to do that with iTunes. Dust doesn't twirl around on a Spotify playlist, piling up on the needle until you have to stand up and pick it off again.
In his first year, 70 percent of Wishart's music sales came from CDs; 30 percent came from records.
Then came 2009. His customers lost their jobs at the same time Apple released new devices and new ways to kill his business. He almost didn't make it. But he's stubborn, so he kept the doors open when many other music places quit. Two or three years ago, people came back. Only this time, they didn't want CDs. They wanted vinyl.
Lunchbox Records has been so successful lately that it needs more room. In late 2015, Wishart signed a lease on a building that will give him nearly three times the space. The new spot is about a half-mile away from the current one, just down Central Avenue, near the bridge over Independence Boulevard.
What's driving all the growth? Well, CD sales have been flat for years, but now they make up only 20 percent of Lunchbox's music sales. Records make up 80 percent.
"A lot of it is, there's so much digital stuff out there," Wishart told me in early January. "People want something tangible they can hold on to."
Remember when the internet was going to kill everything from music to books to conversations? Remember when everybody said "social media is making us less social"? People, it seems, are smarter than that. In 2016, we're fighting to limit the internet's possession of our lives. We're longing to take trips where we can tuck our phones in our bags. And especially in Charlotte, we're talking more than ever now, Martin Rickman writes his story, "Can Conversations About Charlotte Actually Help Charlotte?"
That's good. We have much to talk about. Take this: A child born into poverty in Charlotte has only a 4.4 percent chance of becoming wealthy in her life. What an unbelievable burden for a mother to carry, as you'll read in the story of Kisha Dawkins, an illuminating piece by articles editor Lisa Rab. We offer solutions to the economic mobility problem, and we also tell the story of the 2015 Myers Park High School football team, a team with 35 black players and 32 white players. That one's long, about 15,000 words in all. It'll run as a three-part narrative, continuing in March and April. We considered running one excerpt this month and putting the rest online. But we thought we'd give it to you to hold instead.
A story that went the other way is Tommy Tomlinson's essay on his old dog, Fred. Tommy published a version of the piece—actually, it was two pieces—on his personal website last fall. It was wildly popular online, and people from all over the world saw it. But Tommy, who wrote for The Charlotte Observer for years, wanted it to run in print. We merged the two pieces and adapted them a bit, giving him something to mail to his Mama in Georgia.
The internet can give you lots of things. It can give you great stories and great music. But it will never be a substitute for a good conversation, and it will never be print, and it will never be vinyl.
"They have all these algorithms that say, 'If you like this, you'll like that,' " Wishart told me. "But I think the success rate for me is like one in 20,000. A few years ago, everybody was saying they could download all these albums and all these books. Now people are like, 'Hey, I like an actual book and an actual record.' "
My family gave me a turntable for Christmas. I bought nine records in the first week and 28 within the first month—all albums I had owned in CD form at some point, all albums I have on some digital playlist behind some "forgot password" screen somewhere. It's nice to know where my music is again.
You know what else is pretty nice? Getting up to flip a record album over.