Letter from the Editor: The Other "Ch-" City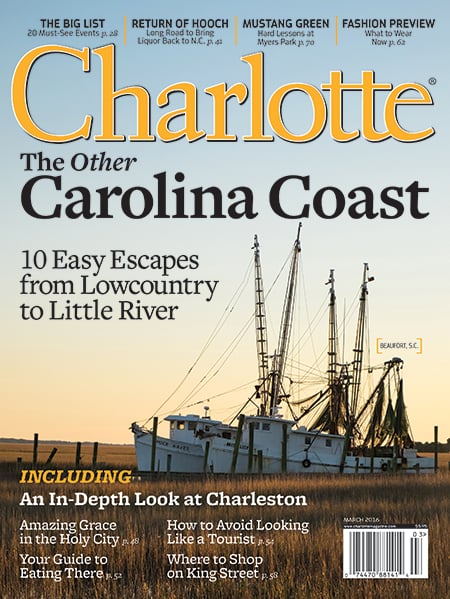 AFTER THE LAST encore song on a warm Saturday night in January, I walked the streets of Charleston. I'd spent the evening in the third row of Charleston Music Hall, watching the city's homegrown husband-and-wife duo, Shovels & Rope, perform 24 songs on the third of three sold-out nights there—a remarkable accomplishment not just in terms of music but also in terms of marriage.
I'd planned to be back in Charlotte the next morning to tailgate for the Panthers' playoff opener against the Seahawks, but something about seeing an energetic show in a 165-year-old brick house of music will make you want to stay up awhile. I stepped onto the crowded streets of a city that's seen wars and fires and recoveries for centuries, and just walked.
I'd just read the first draft of Brad Willis's rhythmic essay, "Grace in the Holy City." I'd heard the thoughts and perspectives on Charleston from our staff as we planned and reported this month's travel package on the South Carolina coast. Some love the city. Some don't.
We waste very little time deciding whether a city is this or a city isn't that. Charlotte gets this all the time. Charlotte is friendly. Charlotte is too corporate. Charlotte isn't doing enough to protect its history. It's why cities have tourism and marketing departments; they know they only have a day or two before you've decided whether you're coming back.
The common criticism of Charleston is that it's not real, whatever that means to you, and that all those awards for friendliest city are just masking the city's issues. Charlotte tears down its history, people say, but Charleston hides its past. Many criticisms are founded in truth and amplified by jealousy, and yes, Charleston has a lot of problems past and present, but yes, it also has a lot going for it.
The truth, of course, is that no city is one identity or another. Every city is a mix of blotches and shiny spots, troubles and victories. You can't know a place by what you've seen in marketing materials, or in staff meetings, or with one walk around town, or even by living there. Because someone else will always know that same city in a different way.
About a quarter-of-a-mile away from Charleston Music Hall is Emanuel A.M.E. Church, or Mother Emanuel. I walked from one old building to the other that night. When I turned left off Meeting Street and walked a few steps and saw the white stucco siding and narrow steeple, my chest thumped. I kept walking, looking up and to the left, past the steps and the door, and my throat got tight as I imagined him walking into the church on a warm and dark night, imagined the sound of gunfire where it shouldn't be. And I imagined that in those few moments before the sirens and the news alerts and the aftermath that Brad writes about in his essay, in the very instant of the worst moment in Charleston's history, the street would've been quiet and dark, and nobody outside would've known what was happening inside.
I walked for a few hours that night, past the quiet shops and rowdy bars, right and left and just far enough that I lost all sense of direction. Then, around 2 a.m. in a city where horse-and-carriage rides are still a thing, I pulled out my phone and tapped Uber to come find me.
The morning after, I didn't wake up in time to make it back for the tailgate. I rolled into Charlotte at about 1 p.m., five or so minutes before the big game. I was driving north on Interstate 77 and pulling into the exit lanes for 277 when I looked up and saw two fighter jets screaming over the stadium. I imagined what those pilots saw as they looked down—a city at the center of the sports world, loud and proud and pounding. The next morning, though, I went on a run before sunrise, and when I went past the stadium, there were no jets or cheers. Everything about the city that those fans and workers and pilots saw that Sunday was different from the city I was seeing on Monday morning, and the big stadium with the championship team was just a quiet, empty building.