Levine Children's Hospital Chapel: A Place of Hope
Inside Levine Children's Hospital is a small room with a tear-stained floor, an altar, and a bowl of smooth stones. The interfaith chapel is a respite amid the sickness, a side of the hospital that few people know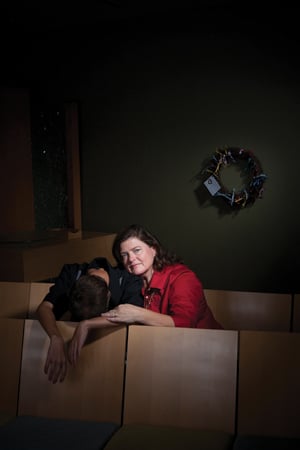 The most depressing place in Charlotte?
Jim Sonda winces at the thought.
As chaplain at the Levine Children's Hospital, he's witnessed enough suffering to know that all the bells and whistles at the state-of-the-art hospital cannot soften the reality. Kids come here sick. Not all of them go home. As their loved ones wait for this journey to end one way or another, many make their way to the chapel on the second floor to pray, think, rest—to try to let out what has been building inside them since the doctors first shared the news. Sonda remembers looking down at the wooden floor of the chapel one day and noticing a mark left by water, too indelible to be erased by a mop, or time.
"Teardrops," he says.
But Sonda and the loved ones who come to the chapel will not allow it to be thought of simply as depressing. Faith, doubt, and having a twelve-year-old with cancer—when it all converges, life is far too complicated to capture in one word. So while a tear-stained floor speaks to the sadness of the chapel, especially this time of year, the voices of those who go to the chapel speak to the comfort and hope they find there. A place they can go to wrestle with life's hardest issues, they say. A refuge.
Levine Children's Hospital has commanded the city's attention since it opened in December 2007, in part because of the support of two of Charlotte's most prominent families. A $10 million gift from Leon and Sandra Levine helped bring to life the $85 million complex, off South Kings Drive with the exterior panels that change color depending on the time of day. NASCAR team owner Rick Hendrick and his wife, Linda, gave $3 million. The pediatric and cardiovascular intensive care unit is named for their son, Ricky, who died with nine others in a plane crash on the way to a race in Martinsville, Virginia, in 2004. He was twenty-four, older than most of the children who are rushed to the ICU that is named in his memory.
Kimberly Hicks's son Corson, fourteen, was diagnosed with bone cancer one day after he started high school. She visits the chapel at night to catch her breath.
The 234-bed, twelve-story hospital was built, of course, to care for the Carolinas' sickest children—more than 28,000 inpatients in its first five years. But it was also built to stand out, from the changing colors of the façade visible to thousands of passersby each day to a rooftop garden offering families a dazzling view. Not exactly soaring rhetoric, but Levine President Martha Whitecotton shared the deeper meaning of the amenities when the hospital opened: "We believe the very ambience of the building promotes a healing environment that supplements the impact of cutting-edge technology and experienced medical staff."
Then there's the chapel.
Located a few yards from the second-floor elevator, it's easy to miss if you're looking for the larger family resource center, where loved ones can research the illness that brought them here. Inside the chapel there is little to distinguish it. That bare wooden floor, with a tearstain or two. Soft lighting. Chairs rather than pews, the kind you'd find in any nice waiting room. There's a Bible on an altar up front, a concession to the Judeo-Christian demographic of the Carolinas, though the chapel is meant for people of all faiths. Someone once ripped out the page with the
Twenty-third Psalm. It came back months later, bent and creased from use. There are a couple of special touches in the chapel, but you have to look carefully to notice them in the soft light. There's a glass bowl, for example, filled with heart-shaped ceramic stones, smooth to the touch. The idea, Sonda says, is for people to pick up a stone, roll it around in their hands and release to it the feelings they are ready to let go of—anger, fear, emptiness. The hope? Unburdened, at least for the moment, they can go back upstairs to be there for their children.
There's also a notebook in which people can put their prayers in writing. Some ask for God to touch a failing lung. One writer notes that it has been ten months since arriving at Levine. A few write in Spanish, though the expressions are often universal. "Gracias, Padre," one person writes.
Jim Sonda has been chaplain of Levine Children's Hospital's chapel (left) for four years. He lost a twin brother at birth, and his younger sister died at age twenty-one. He pushes back against a theology that would have him say "Everything is going to be all right."
No one knows how many people go to the chapel—families, staffers who grow attached to their patients, a patient from time to time, though many are too sick to make the trip to the second floor. There's no sign-in sheet. It's never locked. Many moms and dads who spend the night at the hospital for weeks or months at a time escape to the chapel in the middle of the night. While there are enough chairs for everyone, the culture of the chapel is such that when you open the door and see someone inside, you come back at another time.
Numbers, even if they could be calculated, do not measure the chapel's success. It's the stories, the ones that people bring with them to the chapel.
When their son, William, was battling bacterial meningitis for two long months, Kim and Jesse Cates needed a place to escape the hospital's incessant noises. "The beats of the machine, people coming in and out of his room, the lobby," Kim Cates says. When it all became too much, she and her husband would steal a few minutes of quiet in the chapel, one at a time so one of them was always at their son's bedside. "I'd stay five or ten minutes," she says. "I was more antsy. I wouldn't feel good about being away from him too long." In those moments, she'd talk to God more than pray to him, less about cosmic matters than practical ones. What do I need to be doing? Am I making the right decisions?
"I'd always leave much calmer," she says.
After three surgeries and eight days on the critical list, William recovered. He's studying culinary arts at Central Piedmont Community College. When his parents look back on those two months in 2009, they remember the noises of the hospital, but also where they went to escape.
Kimberly Corson Hicks goes to the chapel to catch her breath, often in the middle of the night, when fourteen-year-old Corson is asleep in his room on the eleventh floor. She'll turn out the lights, put in her earplugs and sit there. But not just sit there, for her son finished one day of high school at Independence before the doctors told them in August that he has bone cancer. There's a lot she needs to talk about with God—"From give me strength and support to, in the next moment, I'm asking, 'How could this be part of humanness?'"
Hicks will pick up one of those ceramic stones and rub it, trying to mentally let go of the anguish of watching her child struggle. She'll pick up the Bible. Her favorite verse comes from Psalms: Be still and know that I am God. As she walks back to Corson's room to spend another night—many parents at Levine sleep by their children's sides—she'll relish the quiet. At least until morning comes.
And if they must spend Christmas at Levine, Hicks says, she'll turn to the chapel. And put up a Christmas tree for her son if the hospital will allow it.
There are some very personal reasons why chaplain Jim Sonda calls this his dream job—why he
relishes sitting and praying with the families of sick children, spending Christmas walking the halls ("The illness doesn't stop for the holiday"). One day he baptized a child moments before death while chaplain Andrew Bernard (who is also a Jewish cantor) softly sang a prayer in Hebrew. Sonda, forty-one, was born prematurely and not expected to live. His twin brother, Christian, died at birth. His younger sister, Georgiana, was adopted, a decision by his family that rescued her from an abusive situation. She died ten years ago at age twenty-one, having suffered an all-too-brief lifetime of complex medical issues. Georgiana's best times in life before she was adopted, Sonda says, came when she was in the hospital. That's where she was showered with love.
And so Sonda has spent the past four years at Levine Children's Hospital, listening to the chapel door beside his office open and close, open and close, hoping that those who step inside feel the love his sister felt. He brags on the chapel as if it were a child of his own. He shows off the glass bowl with the ceramic stones as he pushes back against a theology that would have him pat people on the head as if to say, "It's going to be all right." These families who come to the chapel, their children are in rooms upstairs—some with less severe issues but others with cancer, asthma, limbs broken in wrecks, lives ravaged before they could gather speed. It may not be all right, Sonda says.
So he welcomes them to the chapel with the soft lights, everyday chairs and Bible up front, and he tells them to take all the time they need as they search amid the quiet for the strength to go on.