Levine Exhibit Puts Focus on Justice
Photos highlight key moments in Charlotte's civil rights history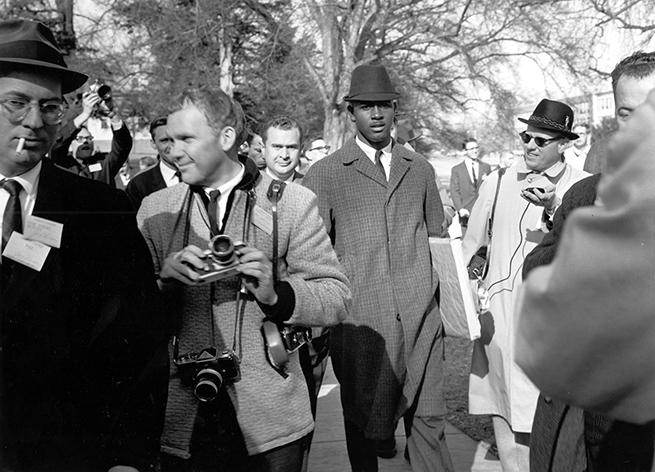 Johnson C. Smith University students staging a nonviolent sit-in at a "whites only" lunch counter. Ku Klux Klan members protesting the integrated cast of the film Island in the Sun outside the Visulite Theatre. Dr. Martin Luther King Jr. speaking at what is now the Grady Cole Center, giving one of his first speeches using the "dream" metaphor.
These were key moments in Charlotte's journey toward civil rights. Longtime residents may know the story of the peaceful integration of the city's restaurants in 1963, when black and white businessmen went out to lunch together.
But the city also had its share of conflict in the 1950s and 1960s, and local photographers documented the turmoil. Their images are part of the Levine Museum of the New South's exhibit Focus on Justice: Carolina Photographers and the Civil Rights Movement.
Curated by photographer Byron Baldwin, the exhibit includes 24 large-scale, black-and-white images of the regional civil rights movement. Freelance photographers Bruce Roberts, James Peeler, and Cecil Williams have work on display, as well as longtime Charlotte Observer photographer Don Sturkey. Baldwin combed through archives at the Charlotte-Mecklenburg Main Library to uncover some images that he's "sure have never been printed."
Among the more recognizable photos is a striking picture of Dorothy Counts, the first black student to attend Charlotte's Harding High School in 1957. Counts looks straight ahead as she walks into school, surrounded by photojournalists and heckling students.
Then there is a photo, taken by Cecil Williams, of a young architecture student, "the first black student to attend Clemson," Levine museum staff historian Tom Hanchett says. "And you can see [the student] comfortable in the spotlight and making history. His name was Harvey Gantt, and he became the first African American mayor of Charlotte."
The exhibit, part of the Levine's two-year series of programs and exhibits about the legacy of the civil rights movement, runs through January 26. Tickets cost $5 for kids, $6 for students, and $8 for adults. Call 704-333-1887, or visit museumofthenewsouth.org.