Levine Museum President to Retire in November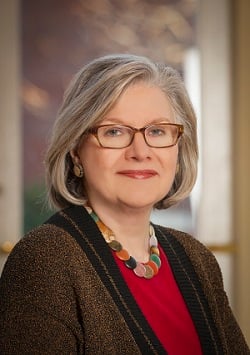 After 20 years, Levine Museum of the New South's Emily Zimmern announced her upcoming retirement Friday. Zimmern has led the museum since 1995, the same year the Levine moved into the former Clark Tribble Harris Li at 200 E 7th St. Her official retirement date is set for Nov. 1 of this year.
Zimmern's two-decade tenure has seen several changes for the museum, including a major renovation, the installation of the permanent exhibit Cotton Fields to Skyscrapers: Charlotte and the Carolina Piedmont in the New South, grants from the Knight Foundation and Foundation for the Carolinas, and dozens of awards. March 13 officially marked Zimmern's 20th year with the Levine, one day after her 66th birthday.
In a release, Zimmern said it was time for a "next chapter," seeking more time with her family and a slower pace. "I leave the Museum in very capable hands with a board and staff ready to manage the transition and take Levine Museum to new levels of relevance and impact," she said.
Chaired by Andrew Plepler, the museum's board of directors is creating a search committee to find Zimmern's replacement. It will be a national search. On Nov. 1, Levine Museum COO Steve Bentley will step up as interim president, taking the helm until the position is filled.
Levine Museum of the New South was established in 1991 as "Museum of the New South." It officially states its core values as "Scholarship, Education, Collaboration, Inclusion, and Fiscal Responsibility." Current exhibits: Looking Forward/Looking Back (through March 30) highlights the public art planned for the LYNX Gold Line. New Orleans artist Nancy O'Neil combines documents, photos, and graphic art from the city's past and present. And the Struggle Continues (through July 12) follows the Southern Christian Leadership Conference after 1968, connecting present fights with the past.