'Life is a Cabaret': Charlotte Shows Teach Us About Politics and Art as 'Escapism'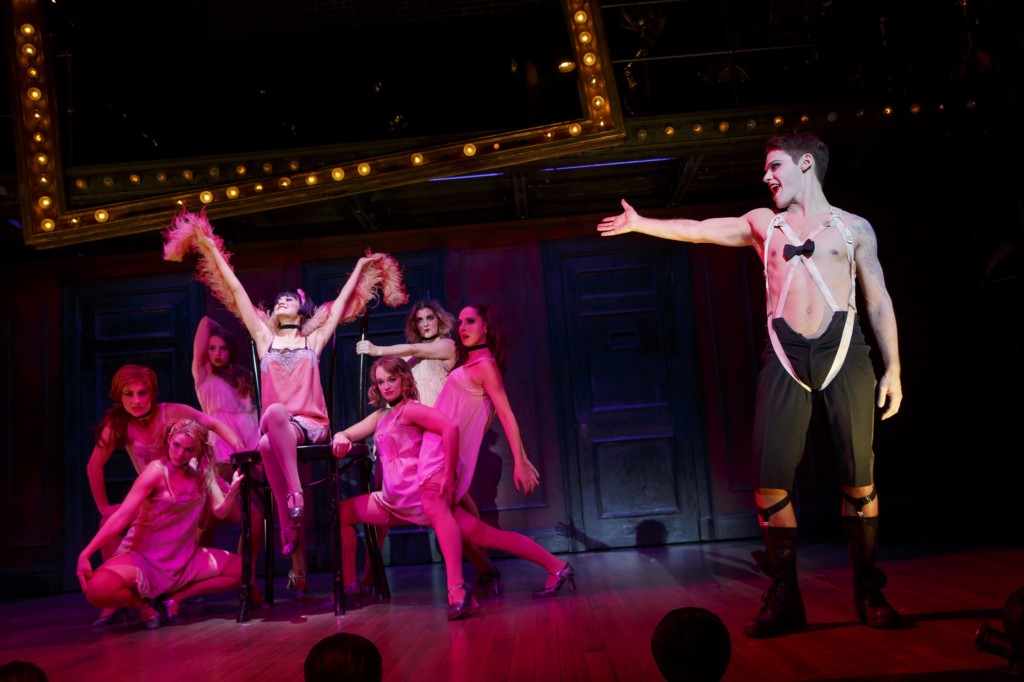 THE CAST OF CABARET mills about the stage as the audience enters the Belk Theater, stretching and occasionally telling showgoers that cameras aren't allowed. It's part of the show: A disarming way of welcoming you to a packed theater inside the fictional, seedy Kit Kat Klub. We're not at a typical show; this is the Sam Mendes/Rob Marshall revival of the pre-World War II-set musical, in which the themes of sexuality, greed, racism, and in a more subtle sense, what we expect from art, are at play.
It's an odd way to spend the night of the 2016 general election. As curtains open, polls are closing on the East Coast. But as the night progresses, it's also an absorbing, barbed reminder that art isn't all escapism. The character Herr Schultz, an older, Jewish fruit vendor, sees Nazism as a political threat that won't harm him because he's a German-born man. When debating whether to cancel his impending marriage to another character, he meets her concerns about what could happen with, "So, what? We just wait until the next election?"
I'm sure that's not a line that typically gets the raucous clap break it garnered on Tuesday night, while polls out west began to close during the musical's second act. The election is what made the Kit Kat Klub's fall into ruin more harrowing, the bleak omens of what was about to happen to 1931 Berlin something far stranger. It's not that any of us think that the U.S. is headed toward Nazi Germany. It's that our knowledge of what will happen to the characters of Cabaret reminds us of the uncertainty of politics, the mystery of their implications. Not many shows end like Cabaret, in which an ear-piercing snare roll results in the emcee character revealing a concentration camp uniform under his coat and a silent, ominous current call.
Yes, many of the themes of 2016 American discourse are shared with Cabaret, with all of its talk about money, sexual liberation, and convention. Its gender-bending, engrossing flamboyance and humor make Charlotte theater-lovers proud to have this production in our glistening, sterile uptown.
Cabaret shows how theater isn't intended to be just an escape. Sometimes, theater bounces our haunting questions off its walls and back into our laps.
***
A WEEK AGO, the first show in the 10th season for On Q Performing Arts, the city's only theater company that focuses on reflecting the African-American experience, is a double-header. The program begins with Day of Absence, a Douglas Turner Ward story of a nameless Southern town in the 1960s that finds horror in the disappearance of all of its non-white residents. The truth becomes clearer as we get deeper into the narrative: The white citizens of the town are petrified of what will happen now that so many of the societal and occupational roles occupied by non-white residents are vacant. They're left without housemaids, nannies, or workers to mop their floors and shine their shoes.
By the end, even the Ku Klux Klan members express dismay at the situation. When one is interviewed by a TV reporter, asking why he isn't elated, he responds by saying that the African-Americans were supposed to leave at a time determined by the white men, not on their own accord.
In a stroke of brilliance, On Q pairs the theatrical classic with KMBA 2, a variety show-esque, sardonic program that's full of video parodies and sketches. Though this side of the show doesn't have the nuance and literary touch of the Ward-penned classic, KMBA's highs sail far above its lows. Reality TV is parodied; Tyler Perry is lampooned. Yet, its most daring and emotional moments come in the final 30 minutes.
A fictional app bridges all of the KMBA 2 sketches, with its programming crafted to appeal to African-American audiences. In the final moments of the show, the app begins to glitch out. It forces head-on confrontations with the reality of being African-American in the U.S., with actors reciting the names of those killed by police in America. They encircle the makers of the app onstage, and the lights dim.
Just like Cabaret, the audience exits in silence and solemn reflection.
***
DOWN THE ROAD, the Toxic Avenger is tearing a cat's head off.
Actor's Theatre of Charlotte recently had some issues while trying to prepare its new West Side home to host shows. The first production of its 28th season, The Toxic Avenger, is a musical adaption of the schlocky B-movie that's full of gore and lowbrow humor. A week before curtains open, the theater troupe scrambled to find another venue to host this run, starting Oct. 26 and ending this weekend, on Nov. 12.
General Manager Martin Kettling walked 50 feet to the neighboring Movement Center, a hub for faith-based nonprofits and the new home of Center City Church, who had moved in earlier in the month. David Docusen, the church's pastor, not only gave the surprising reply of "yes" to Kettering's question—he let them stage the show in the space for free.
So between each Sunday service for the past month, the stage at Center City Church is adorned with barrels of toxic sludge and smoke machines. "It's really an incredible step to help us," Kettling said ahead of opening night. "They're literally saving an entire run for us. We couldn't have asked for a better scenario, given these circumstances."
The Toxic Avenger, even while slyly tackling issues of environmental protection, is more of your classic "escape" than any other theatrical production in Charlotte right now. It's goofy, vastly entertaining, and a reminder of why we enjoy the kitsch of B-movies: There's fun in submitting yourself to the silly.
The most profound aspect of the show, though, is how it came to be. That a church, a bizarre candidate in hosting a grimy, sometimes-juvenile show, was the organization that filled a need, fostering community without political concern.
We find that Charlotte theater, with all of its own issues and political interworkings, continues to forge unlikely partnerships and challenge us. It's impossible to actually leave your problems at the door, as commanded by the Emcee character in Cabaret. What you can do is use art to create new dialogue around these issues, reflect on them in new ways, and sit with thousands of people in the same theater and try to look in the same direction: forward.