Life Lessons: Allison Latos of WSOC
The WSOC anchor on her hard trek from one episode of loss and grief to another—and the meaning of resilience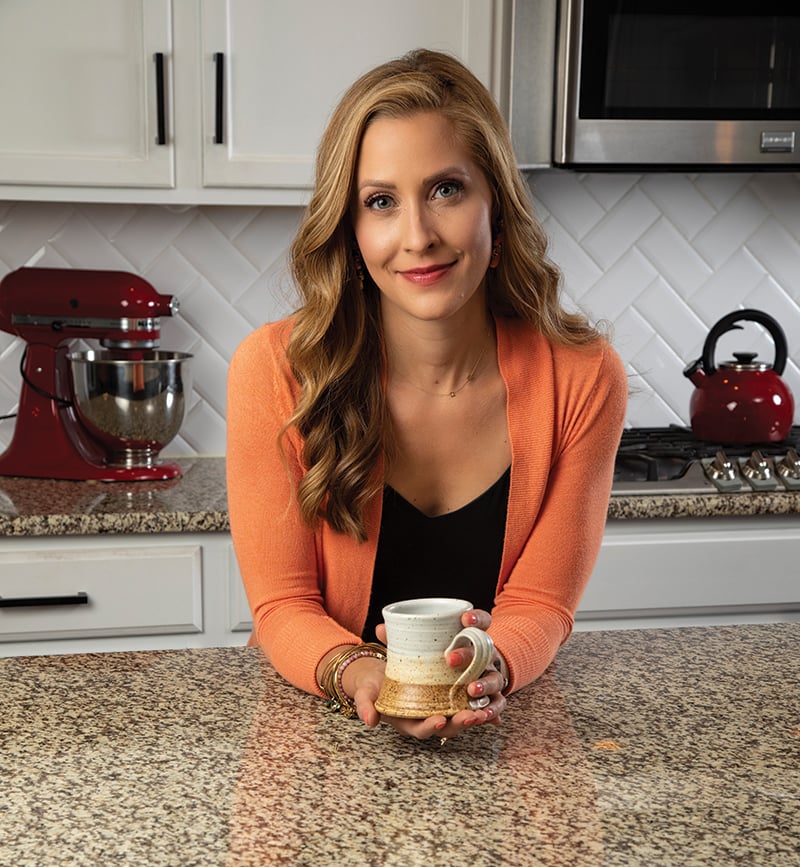 Allison Latos is an Emmy award-winning journalist who anchors the midday and evening broadcasts for WSOC-TV Eyewitness News. The 36-year-old West Virginia native also does investigative reports on topics like online sex trafficking and the opioid epidemic, and she's been a passionate supporter of infertility awareness ever since she and her husband, Josh, struggled to conceive their daughter Hope, who was born in 2018.
Last year, when Latos was 34 weeks pregnant with her second child, doctors discovered that the baby had developed a dural arteriovenous fistula, a rare, inoperable connection of a vein and artery in the brain, and determined she wouldn't survive. Hannah Joy was born May 13, 2020, and lived less than two hours. Just two months later, after a viewer spotted a lump in her neck, Latos discovered she had thyroid cancer. She completed radioactive iodine treatment in September, but in January, a scan revealed the cancer had metastasized and spread to her lungs. A follow-up scan in May showed no growth progression or new spots; there's no cure, but doctors hope the illness can go into long-term remission.
Today Latos continues to work, exercise, and "live life between scans." She still runs to raise money for the Bundle of Joy fund to help couples afford fertility treatments, and she savors her time with 3-year-old Hope. She credits Hannah for leading her to the cancer diagnosis—and for reminding her to find joy in the really tough moments. Her words have been edited for space and clarity.
---
I GREW UP in Wheeling, West Virginia. I have a brother and a twin sister. It was a pretty typical childhood—I went to Catholic school and was involved in sports. I went to West Virginia University and majored in broadcast journalism, which was out of left field for my family. Both my parents and siblings are in health care, so I strayed from the pack.
UNTIL WE HIT INFERTILITY, I had a really easy life. I had no medical challenges. I was very blessed and hadn't faced something that didn't work the way I expected it to. I'd planned it all out, and I was ready to start a family. It was the first time I recognized that I'm not in control. I needed other people to help me, and that's hard to accept. We were lucky that we conceived Hope in a little under a year.
WE KNEW WE WANTED a second child, so we went back to REACH (Reproductive Endocrinology Associates of Charlotte), thinking we'd start again on the same path. They told us we had to hit pause because my hormone levels weren't back to normal. I went back a few months later to get baseline lab work to start the next round, and the doctor called to tell me I was pregnant. We were shocked.
MY PREGNANCY WAS GREAT. The 20-week anatomy scan was perfect. Then, around 33 weeks, I started itching uncontrollably from head to toe. I had cholestasis (a liver condition common in pregnant women that slows or stops the normal flow of bile from the gallbladder). They said I might have to deliver early, and I'd need weekly ultrasounds. I had an ultrasound scheduled for 34 weeks, so I went to the appointment thinking I'd get to see the baby.
The tech commented on how large the baby's head was, then said she needed to do something and left the room. Josh was on FaceTime, trying to talk me off the ledge. Then another doctor came in and told us there was a mass on the baby's brain that wasn't there at the 20-week scan, and I was carrying way more amniotic fluid than was normal (a condition called polyhydramnios, which can put both mother and baby at risk for complications). They sent me to maternal fetal medicine to get an MRI of the baby's brain.
AT SOME POINT in her brain development, a vein and an artery connected, so the artery was pumping blood into a tiny vein that expanded like a water balloon. It was likely not survivable, and even if the baby survived the birth and they wanted to operate, surviving the operation was unlikely. The doctor used the word "vegetable." In 24 hours, we went from a normal pregnancy to finding out the baby was going to die. Because I was 34 weeks, I wasn't far enough along to deliver. I was still dealing with cholestasis, so I couldn't sleep from the itching, and I was so big from the pregnancy. From a physical standpoint, I didn't want to be pregnant anymore. But as long as I was pregnant, she was alive.
AT 36 WEEKS, I had elevated blood pressure, so they sent us to the hospital to deliver that night. We didn't know if the baby would be alive when she was born. But we heard a cry, and they put her on my chest. We just held her and told her we loved her a million times. She was with us for an hour and a half. She died in our arms, wrapped in a blanket my grandmother crocheted.
WE HIBERNATED for about a month. I just disappeared. I'd get calls and emails from viewers, and it got to a point where we had to share her story. I've been on TV for years, but I've never shared my personal life. But I've realized through this that everyone's got their stuff, and this is my stuff. I'm hurting, and I can't pretend I'm not.
A VIEWER named Karen Goodman had called me back in January when I was pregnant. Her voicemail totally stunned me. She said, "Jesus put it on my heart to call you." She saw a lump in my neck and said I should have it checked. I called my OB who checked my labs, and my thyroid was functioning fine, so we assumed it was just big because I was pregnant. Fast-forward to that summer—we were at my sister's house, and my brother said he could still see the lump. At this point I worry about everything, so I called my primary care doctor. My ultrasound detected suspicious nodules, and a biopsy confirmed papillary carcinoma of the thyroid.
I HAD MY THYROID REMOVED in August and did radioactive iodine treatment in September. In January, I had my first checkup post-surgery. They did blood work to check for tumor markers, and my numbers hadn't gone down like they should have. More scans showed it had metastasized, and now it's in my lungs. Doctors are optimistic about the long-term prognosis, but there's no cure. The recommendation is to just watch it. They told us the spots are too small to warrant chemo, so that's good.
I HAVE MOMENTS OF "WHY ME?" all the time. I'm mad about it. After we lost Hannah, a part of me assumed that was our tragedy. Why did I have the audacity to assume that? This likely isn't going to be what takes me, but you hear the word "cancer," and all the worst-case scenarios run through your head. I've been told, "You're really healthy. You just have cancer." I feel fine, I exercise every day, and I chase a 3-year-old. So I'm just trying to live life between scans.
I'VE ALWAYS FELT a responsibility to report difficult stories in a respectful way, but this has made me a more empathetic person; I can appreciate and share in the rawness of life. Whomever I'm interviewing, I always remember they're a person first. Reporters often show up on people's worst day, so I try to remember they're a person before they're the "get" or the "breaking news."
I'VE LEARNED IT'S OK to not be OK, to feel low or sad or angry or frustrated. I feel all those things every day. I used to just power through. Now I'm OK having those days where I spend the 20-minute drive home replaying Hannah's birth in my head. In those really hard moments, her name is somewhat of a prayer for us. Hannah means "God's grace," and Joy is because we were so elated to see our family grow. I pray for the grace to get through those moments and the ability to find the joy in them.
THE WEEKEND my brother pointed out the lump in my neck again was supposed to be Hannah's memorial. My family wouldn't have gathered that weekend had it not been for her. Pregnancy probably enlarged my thyroid and tumor, so we wouldn't have found it had it not been for Hannah. I know that in my bones.
I DON'T want to survive anything else. I just want to be boring or have a period where we're just going through the motions. At the same time, I don't think I would stop and see what's in front of me as much if everything was easy. It's been like cold water to my face; it's woken me up. Today, I feel good. I've got a funny 3-year-old and a husband who's my rock. This little family that I have is my reason.