Life Lessons: Blumenthal President Tom Gabbard
As Blumenthal Performing Arts turns 25, its president and CEO looks back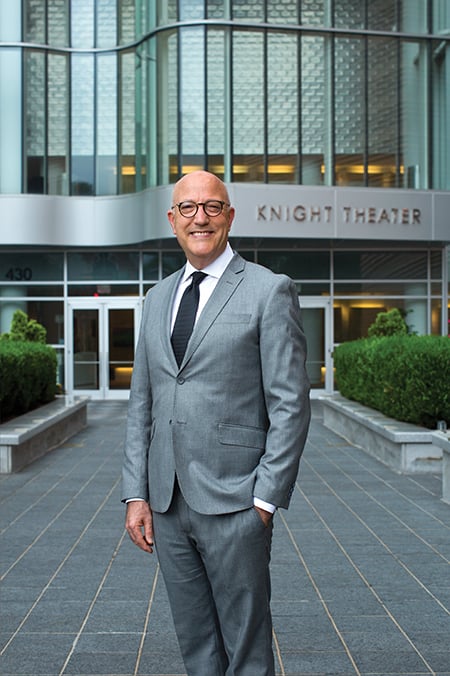 TOM GABBARD CHUCKLES when he remembers one part of his first interview with The Charlotte Observer as president and CEO of Blumenthal Performing Arts. It was 2003, and Tryon Street was known as a "dirty, dangerous place to be," he says. At the time, a hermetically sealed skywalk on the College Street side was the preferred way to enter the center. Gabbard told the newspaper that he was determined to make Tryon Street the Blumenthal's "new front door."
Soon, the box office moved to Tryon Street, sending a message that under Gabbard the Blumenthal would be accessible. "Now it's hard to imagine that area being any other way," Gabbard says.
Gabbard brings an outsider's perspective to Charlotte, a place he now considers home. He developed an early interest in the arts as a child in the San Francisco Bay Area. When he graduated from Pepperdine University, he realized he was a better manager than performer. That put him on a path toward leadership positions at organizations and arts projects in Malibu; Denver; Green Bay, Wisconsin; and Charlotte.
He's on the executive committee of the Tony Awards. Throughout the year, he leads six theaters and manages 1,000 shows in Charlotte, while regularly flying out to produce shows on New York City's Broadway and London's West End. He's a friend to Lin-Manuel Miranda, architect of the game-changing musical Hamilton, which arrives here in 2018. Heading into the Blumenthal's 25th anniversary season, Gabbard sat down with this magazine to talk about his personal history with the arts, what the city has taught him, and how the organization fits into Charlotte's cultural ecosystem. Here he is, in his words, edited for clarity and space:
My pivotal moment was fourth grade, going to the San Jose Civic Auditorium and hearing the U.S. Marine Corps band. That's when I decided that this was going to be my life. I, as a kid, was one of those really rabid arts guys. At 10 years old, I snuck backstage at a Peter, Paul, and Mary concert at that same auditorium because I wanted to meet them. It was a sweet thing, many years later, when I presented them and was able to have dinner with them and recount that I was that precocious 10-year-old.
In high school, I would see those big Broadway shows in San Francisco. I remember a few years ago, when Tom Hanks was in New York talking to a group of (us) Tony voters and talked about growing up in the Bay Area and seeing a production of Good News. He said, "Now I can't remember who (was in it) … " and I said, "It was John Payne and Alice Faye!" Because he and I are about the same age and we were both precocious kids in that same balcony (in San Francisco) and watched these shows.
I was one of these kids who had a great appetite. And I was lucky to have great parents who didn't necessarily understand it but were absolutely supporters and enablers. They understood that passion for it came from within.
In the '70s, the major foundations decided that the best thing they could do for arts organizations is train up a generation of arts managers with traditional business skills. I was fortunate to get a Hewlett Fellowship, and they paid for me to go to graduate school in San Francisco and graduate with an MBA. It was at that point that my alma mater, Pepperdine, (hired me) as a founding director of their new center for the arts in Malibu. Malibu's not a bad place to work.
My relationship with Broadway began in Green Bay. The Broadway program there was bigger than what Charlotte had at that time. The Phantom of the Opera had the most successful leg of its tour ever there; it sold out for eight weeks and I only had an advertising budget of $45,000. The budget is usually $100,000 a week.
The success I had in Green Bay brought me a lot of attention in New York. I joined the board of the Broadway League within four years of arriving in Green Bay.
Then my friend Judith Allen told me she was retiring at the Blumenthal. The same press release that announced her retirement announced my being hired. It was a very thoughtful transition.
I was lucky to come into an organization that was really healthy. My predecessor had built the place and operated those first 10 years. I came in right after their 10-year celebration, with the opening of The Lion King. Knowing that sometimes my friends come into these jobs and inherit a real mess, I was really glad to come into an organization that was stable.
Bigger ideas are ultimately possible. Look at the Levine Center for the Arts. In other cities, those facilities would have happened as one-offs and individual projects. It was hugely difficult, and Mayor (Pat) McCrory at the time was not a fan of it. He said, "Can't you break this up? This is too much to look at that." It's to Charlotte's credit that we did this.
We've really tried to listen carefully to find niches that were not represented or underrepresented and embrace those things. A good example of that is the spoken word and slam poetry program. We didn't set out to create something like that; it happened organically. We were hosting the national tour for Russell Simmons' Def Poetry Jam from Broadway. In advance of playing that show, we did a series of six different poetry slams around the community. From that, I came aware of this group of artists that was unseen and unheard by many and said, "This is really neat. How do we encourage that?" And we began partnering with them. We just let these artists do their thing and we are there just to support nurture that.
And then there's the Blumey Awards, the high school musical theater awards. Seven years ago, I went to the very first national high school musical theater awards, called The Jimmy Awards. Twenty minutes into it, I realized local kids couldn't participate because we didn't have a local program. Now, since I'm chair of the national organization, I can say it: It's one of the leading programs in the country. We've also revamped the education program within Blumenthal. The fact is that if students don't grow up coming through those doors, they'll think they're not welcomed here.
What we have trouble overcoming is a sense of fear in the arts community. Anything we do makes a big wave. But I'm not sure people in the arts community fully appreciate how we try to use that wave for their benefit.
Hamilton is one of those watershed moments that changed the industry profoundly. Other shows in their own unique way were big deals. But Hamilton stands alone in how it changed our perception of diversity and what people can do together. These were real Broadway guys who made this. They're real people who grew up with a passion for the arts. And they were just trying to create a real Broadway show and tell the story with the tools they had, and in the process, redefined the art.
Broadway is in a golden era of creating lots of great shows. At Blumenthal, we have a history of any musical that has won a Tony Award for "Best Musical" coming to our stage.
ANDY SMITH is the digital editor and arts editor at this magazine. Reach him at andy.smith@morris.com