Life Lessons: Cary Bernstein of Spay Neuter Charlotte
On helping pets, helping people, and helping people help pets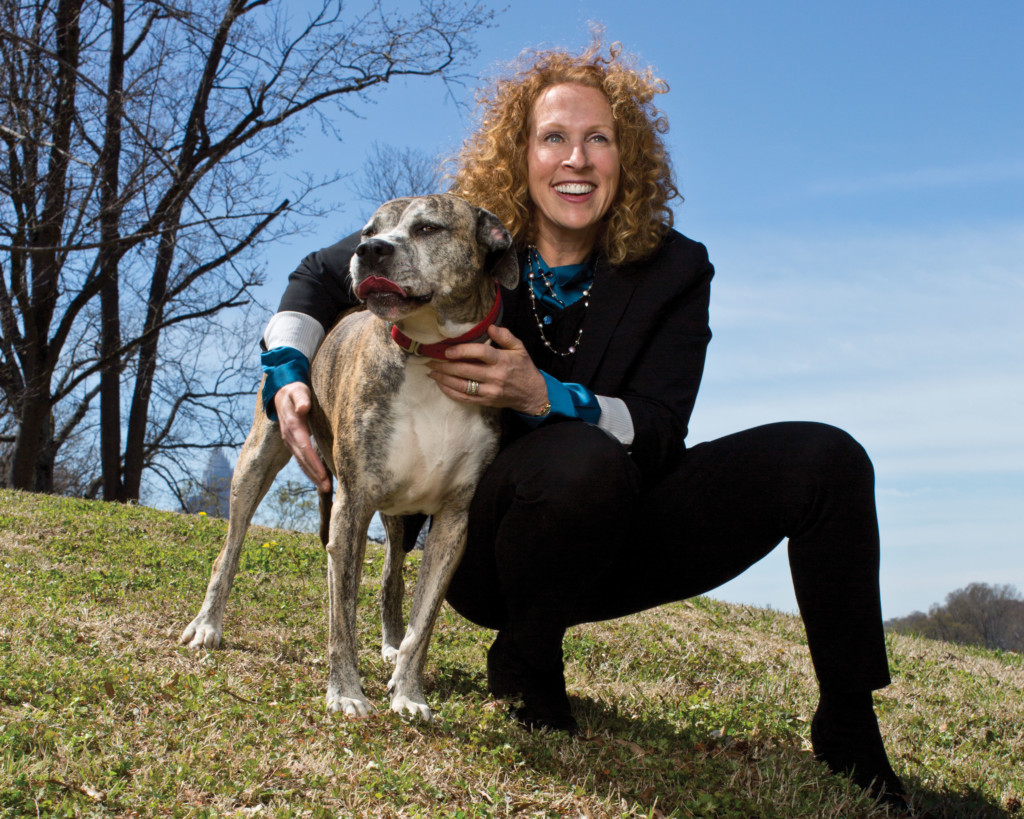 WHEN CARY BERNSTEIN opened Spay Neuter Charlotte in 2011, more than 12,000 animals were euthanized each year in Mecklenburg County. The number shocked and angered her—overcrowding at shelters has been solved in several other cities, such as Asheville, with spay and neuter programs, which prevent unwanted litters from taxing shelter systems. The clinic opened with funds from donations and a grant from PetSmart Charities, and uses service fees and fundraising to help cover costs for those who can't afford care. Spay Neuter quickly expanded to provide more service after it became apparent there was a need for it here—starting with basic veterinary care such as shots and treating skin conditions. Combined with a growing number of rescue groups, as well as changes at Charlotte-Mecklenburg Animal Care & Control, the number of animals euthanized each year since has been nearly cut in half.
Spay Neuter Charlotte now has locations in Pineville and Mooresville, and the original NoDa practice was scheduled to move to North Tryon Street this month. A group of investors purchased the new, larger building for Spay Neuter. Its goal is to provide a broader range of veterinary care, including surgeries, and Bernstein hopes to one day increase kennel space for rescue groups and low-cost obedience programs.
Bernstein sat down with Charlotte magazine in March, about a month before the new clinic was scheduled to open, to discuss dogs, cats, and how we can be better humans. Here she is in her own words (edited for clarity and space):
---
I am not one of those people who from age seven said I am going to have a career working with animals. For me, I saw this really horrible, inhumane thing going on that if an animal happened to end up at the shelter on the wrong day, regardless of what kind of a dog or cat you were, you weren't going to make it out.
In the beginning of my career I tried the corporate America route, and I wasn't well-suited for it personality-wise. I'm a little bit of a renegade, and in the corporate world, you have to toe the party line.
I started doing development work at the Jewish Community (Center), then did it at the Foundation For The Carolinas, then I worked at the Charlotte Ballet for two years. I started doing some consulting work, and I also started to get involved with the Humane Society as a volunteer on their board. Little did I know, that was going to be the left turn that took me down this path.
In Asheville, there's this group called the Humane Alliance. They're one of the preeminent spay/neuter organizations in the country. They have a mentorship program. So I drove up to Asheville and I sat down with their director and said, "Here's what I'm thinking; what do you think?" And she's like, "Do it."
As people started to come through the door, we realized, "Oh, my. These are people that don't take their animals to vets." Nobody had a rabies shot, and rabies shots are required by law in the state of North Carolina.
These were folks who took on a pet. They didn't buy it. None of these people bought animals. There was a dog on the street, or the neighbor left a dog behind, or the neighbor couldn't care for the dog, so they took it, or someone left their apartment and they left the cats, so they took them on.
I started out with this idea in my head, which I think most people have: If you don't have the money, why do you have a dog or cat? And what I've come to understand and wholeheartedly believe, everybody deserves the opportunity to have a pet. Having limited financial resources should not prevent you from that experience: I have financial resources so that when my dog tore her ACL, I went and got her ACL fixed. I didn't do without groceries because of that. The people we serve make conscious decisions about doing without things because they want to provide for this dog or cat.
I have this incredible medical director, Elizabeth Welch, who came out of private practice to be my medical director. About 18 months into it, we started doing shots one day a week for people. You could come in and do shots and that was all we charged you for. Then we thought, well, sometimes someone needs to speak to a doctor. We added office visits. Then we started treating ear infections and skin issues, and it's just slowly evolved into us doing as much as we could do with the limited amount of diagnostic equipment that we had.
We do not prequalify anybody. We want to make it as easy as possible because the easier we make it, the more likely we are to get the person in the door. And it's not just to get their dog or cat fixed. We can say, are you giving your dog heartworm? Do you know what heartworm is? Did you notice your dog has fleas? Are you giving your dog anything for fleas? Can we help you with that?
We want to be accessible. How good would you feel if you wanted to make an appointment and my response was, "Can I see your tax return? Are you getting food stamps?"
Last October, there was a guy who had a dog. The dog had something called a pyometra, which is basically if you don't spay your female dog, the uterus of the dog can get infected, and it can become a systemic infection and the dog can die. He couldn't afford to go to a private practice vet. Someone at the vet's office told him to call us. The dog was really, really sick by the time we saw it. And we just said, "We can try. We can't guarantee that there will be a good outcome here, but we'll try."
The dog came in and we fixed her. She was still in very bad shape by the end of the day, so we sent her to our emergency vet for her to stay overnight. We paid the bill, because we wanted to make sure she was OK. She recovered beautifully and now she's just great.
We fixed 132 animals on Tuesday. There was a time when we didn't fix 132 animals in a month when we first started. That's nuts.
If you look at 2011, when we first opened, the number of animals euthanized at Animal Care & Control was somewhere between 12,000 and 14,000. That number is now down to (about) 8,000. Now, we're not wholly responsibly for that. Animal Care & Control has done a lot to move the dial forward. The Humane Society has done a lot. There's a whole rescue community here. It's like a perfect storm of a lot of things. But you cannot deny that by fixing 50,000 animals in five years, we have made a dent in the supply side of that problem.
I lived in a bit of a bubble. I had my little path that I ran, and I worked for the ballet—that serves a certain market—and I worked at the Foundation For The Carolinas, and that serves a certain market, and I worked at the Jewish Community, that serves a certain market. I meet people every day that I would never have met in my other life. My whole perspective about a lot of things has changed because of our clients.
I swear, I thought I'd have one clinic. I'll have one clinic, and I'll run that clinic, and we'll do as much as we can. It never even occurred to me back in 2011 that in 2017, as of today, we would've done 49,923 spays and neuters. Tuesday, we will cross the 50,000 line. Who could have imagined that we would do that?
KRISTEN WILE is senior editor for this magazine and editor of Charlotte Home + Garden. Reach her by email at kristen.wile@charlottemagzine.com or on social media: @kristenwile on Twitter and @kristen_wile on Instagram.