Life Lessons: Cheryl Pletcher of Carolina Comfort Coalition
The founder of Serenity House tries to bring dignity to dying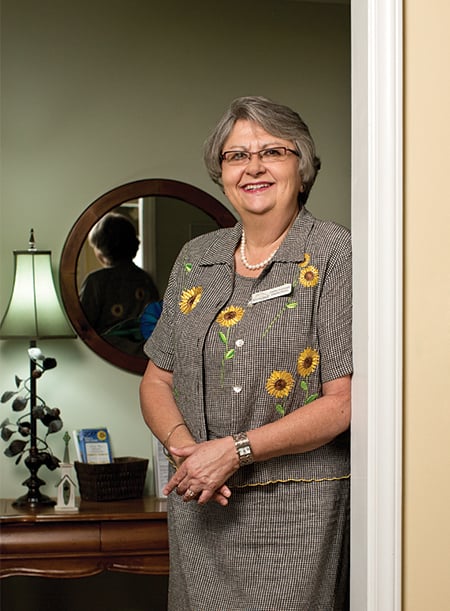 AS EXECUTIVE DIRECTOR of the nonprofit Carolina Comfort Coalition, Cheryl Pletcher created and runs an organization which helps terminally ill people who want to live their last days in a home environment. Pletcher has been involved with hospice nursing for about 30 years—first in upstate New York, then here in the Charlotte area since 2001. She's worked in a variety of health care settings, including hospitals, nursing homes, and home hospice care.
She was in New York when she became aware of the concept of a comfort care home, which bridges the gap for families that find themselves in the difficult spot where their loved one needs more care than they can provide, but does not need to be in a hospice facility. She was surprised to find out that nothing similar existed in Charlotte. She created the first Serenity House in Mooresville in 2007, and the organization established a second house in Huntersville in 2014.
Everybody admitted to Serenity House is receiving hospice care, which oversees the medication component of their care. Serenity House doesn't have ventilators, needles, or equipment (other than oxygen). At a hospice facility, patients are in the final stages of dying and in need of intense medical management to handle their pain and/or breathing issues. The residents of Serenity House are at the point where they do not want any further medical interventions, but they are not in an acute situation where they would need to be inpatient. They can stay here for up to three months. It is their desire to spend their remaining time in a loving, caring, home-like environment.
Pletcher sat down with Charlotte magazine and talked about the role Serenity House plays in the region, and what she's learned from patients and families along the way. Here she is, in her own words (edited for clarity and space).
---
When I worked in a nursing home I had 28 patients. I couldn't get to everyone. It was physically impossible to give enough attention to everyone.
As a hospice nurse I found out about families' struggles with end-of-life issues. I would talk to them about the hard time they were having. Emotionally, physically, financially. There are so many stressors.
It wasn't my intent to start a comfort care home in North Carolina. I thought they were in every state, but nobody here had heard of it. As a hospice nurse, I kept running into situations like these, and it would break my heart.
We serve between 45-50 people a year. Last year we got 123 referrals. We couldn't take everyone. Nineteen died before we could help them. The need is there, but we can only take certain people, and people die while they are waiting.
People that come here want a natural end. Everyone here has a "do not resuscitate" (order). We have a waiting list, and when we have an open bed, we investigate the patient's needs to make sure it's a good fit. We can't take people on ventilators, or tube feeding, nothing with needles.
They have to have a prognosis of three months or less. The average stay is 30 days. We've had people spend as short as a few hours, and we've had people stay as long as 90 days.
Sometimes, there are people who are alone. Maybe they're living in a boarding house or something like that. They go to the hospital at the end, but they can't stay there, they can't live there. We are a vital option.
When they die, there's nowhere to send their stuff, which is so sad.
We've seen incredible things. Some people have anger and bitterness they drag around their whole life, and it's great if they can let go of some of that. We've seen it. We've seen amazing reconciliations.
We don't allow fighting over someone's bed. If a family has a problem, we work with the hospice social worker to address it.
In a hospital the focus is on fixing. If a patient or family says they only want comfort measures, that patient won't get enough attention. And families don't have any idea what their loved one should be getting.
What value do we put on dignity? Being left at the end of a hall in a hospital, where you press the call button and nobody comes. That is not dignified.
We don't charge for any of the care we provide. We walk to the mailbox to see what comes in. Our yearly budget is $360,000. We rely on grants, donations, and our fundraisers.
Insurance doesn't cover what we do because it's considered a family responsibility. We are the best family care a person can have. When there are loved ones, they are involved and do what they can. We welcome them.
We have some volunteers who are college students who plan on going to medical or nursing school. They see how precious we treat people, and they see the kindness. They see how death can be beautiful and are transformed by it.
People see the "volunteers needed" sign outside and ring the bell. They say they just feel drawn to it.
It was not my idea to become an expert in nonprofits, but I've had to learn about payroll, fundraising, background checks, staffing. There's a lot of moving pieces to manage, and this is life and death.
If end-of-life care isn't your specialty, people tend to be kind of clueless.
We wait on patients hand and foot. Rub their back, hold their hand. We do laundry, cooking. We do anything a family member would do.
There was a man with cancer who would live each week with one of his three kids. They all used up all their time off from work. When we got the referral, he was staying in his grandchild's bedroom. He didn't want to die there and leave that legacy.
He was able to walk in when he came here. So we took him, and his family stayed until about eight that night. Later that night, he started to bleed. He died that night. But we contacted the family and they were able to arrive in time to see him.
I've seen people hang on waiting for someone who's flying in. Others wait to go until the family leaves the room.
This is about life. People are alive when we take care of them. They still have hopes, although maybe smaller ones. They don't want to be alone.
If you're here for 30 days, you'll have 60 new friends. Maybe someone's been home alone, and now there's someone offering them a popsicle, feeding them a little ice cream. You see a special look in their eyes.
At the end, the breathing begins to falter. The hands and feet cool down because the body is conserving the vital organs. We have an idea when the time is getting closer, but we don't know exactly when it will be.
We've seen people look up at corner of room or reach out. And they say, "Don't you see?" But they're not frightened. I think we're in a body carrying us through this experience, but I think we do go on. Someone is calling your spirit, not your body.