Life Lessons: Dianne Chipps Bailey
Faith and courage mark an attorney's quiet influence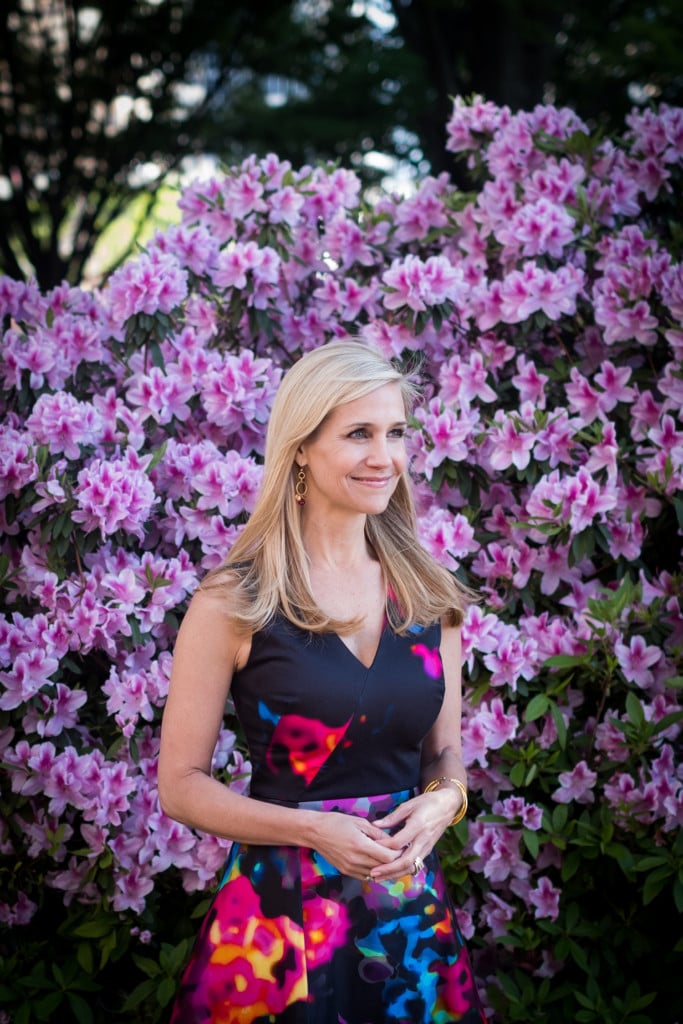 ON ELECTION NIGHT last November, Dianne Chipps Bailey stood in a bar near uptown with her hands pressed together in front of a smile, watching a candidate accept victory. This time, it was Braxton Winston, elected to city council just 14 months after he was a leading protester during the demonstrations that followed the police shooting of Keith Scott. But over the course of her 20-plus-year career working with nonprofits, political campaigns, and civic leaders, Bailey has been there to celebrate many other proud moments.
An attorney with Robinson Bradshaw who oversees the firm's nonprofit organizations and foundations practice group, Bailey has become one of the most influential people in the city. She helps nonprofits by counseling them on the technical aspects of forming and managing a 501(c)(3). More than that, she understands Charlotte's nonprofit and fundraising scene as well as anyone, and her office on the 19th floor of the Independence Center has become a busy spot for people who want to
get involved.
That's how Winston arrived there in the spring of 2017. After a conversation, Bailey challenged him to run for office. Soon, she was helping to assemble a formidable campaign team consisting mostly of women, and he won the second-most votes in the at-large race.
Bailey also worked on Anthony Foxx's successful mayoral campaigns and was a member of the host committee for the Democratic National Convention here in 2012. She and her husband are together in part because of politics, too—after graduating from Georgetown University Law Center in 1995, she was a volunteer on Bill Clinton's re-election campaign, while Brian worked with Erskine Bowles in the chief of staff office. They'd met before on a blind date that didn't go well, but shortly after the second encounter, they married in April 1997.
They moved to Charlotte in 2000 and had two kids here—Kate is 15 and Brad is 12. They're members of First Presbyterian Church. Bailey is also a founding director of the Women's Impact Fund and a former chair for Discovery Place and Women Executives.
She was born in Texas, and raised primarily in Sacramento, California. In her social media bios, she calls herself an "unapologetic optimist." Here she is, in her words, edited for clarity and space:
The film Lady Bird nailed it. I always described Sacramento as a city that defines itself by reference to other places—45 minutes from Napa, two hours from Lake Tahoe, an hour and a half from San Francisco. A character described it as the 'Midwest of California.' Growing up in Sacramento in the '80s was, I think, very much like growing up in Charlotte at the same time. Just smaller.
I came up through the Catholic Church, the Episcopal Church, and then I picked a Presbyterian church for myself as an adult. I was baptized as an infant, first communion at seven. But confirmation when you're 12 or 13 is where you claim the faith for yourself. I was in confirmation classes asking a lot of questions. Maybe it was the budding lawyer in me. It was hard to imagine that I would be combative, but I think I had to have been, because they asked me to leave. I got kicked out of confirmation class.
In their defense, what they said to me was, 'You're not ready.' And they were right. That might be the only time I've ever flunked out of anything. Well, singing lessons. And dance lessons.
Fast-forward, I went to Cal Berkeley (class of 1992) and I went to Georgetown Law, not by accident. I had lived in Washington, D.C., three summers.
I was working at Georgetown after I graduated, trying to avoid the practice of law. A colleague invited me to join him for a seminar on campus called 'Prayer in Daily Life.' I was a Christmas and Easter Christian. I had this vague notion of a higher power. I said yes, on a whim. The challenge was: Commit to reading scripture and being in prayer twice a day. I remember sitting at my dining room table, a newlywed, candle lit in front of me. I had no way to navigate the Bible at that point—it may as well have been the dictionary. The challenge was, invite God into your heart. It was a conversion experience in that moment. And I've never turned back. You want to talk about liberated? Have the faith of a child.
My optimism comes from a place of courage, which is informed by my faith. If we don't cling to optimism that our world can and ultimately will be more humane, how can we have the strength and resilience to persevere? Faith offers courage, but optimism fuels the fight.
My optimism grows from my privilege. I'm increasingly aware that my optimism is propped up by my white privilege and reinforced by the life I enjoy—this life where I'm well-educated, healthy, employed, in a stable family environment. If any one of those things were to unravel, there would be enough other things in place that I'm still going to be safe. And I know that not everybody enjoys that place of privilege.
When I was a sophomore at Berkeley, I was part of a program at Stiles Hall. They handpicked a dozen or so student leaders that came out of silos. I was the white sorority girl. They brought people from all different racial and ethnic and socioeconomic backgrounds. They were trying to help us understand each other's stories. That happened, thankfully, when I was 19 years old. I'm so glad I'm not processing that right now, at an age that I will not disclose. But I sat in that room and I remember weeping because I felt so burdened and guilty.
I'm thinking a lot these days about blind spots. We all have them. And we need to give people the benefit of the doubt. That's what they say about being soft on people and hard on systems.
I sit in this unusual place, where I have the expertise that people need to get the golden ticket and the 501(c)(3). What I love the most is when you can align the missions into movements and not have people spinning in their different silos. That's where we're going to see real change in our community.
It is civic literacy to have read and have a dog-eared copy of the Opportunity Task Force report. The part that speaks to me is the bold, honest, difficult truth around the 400-year problem that we have here in our city around the lack of racial justice and barriers to economic mobility.
In order for us to move forward, some of us are going to have to step back. I've gotten to the place where I'm comfortable being in an active and supporting role and finding tremendous joy in watching other people lead.
That's not to say we don't need new nonprofits. We need that energy, and we need that creativity. But I would want every nonprofit founder to dig deep on their motivations. Is your priority addressing a social issue, a cultural issue, an educational issue, an environmental issue? Or, is your priority self-actualization?
With Braxton, I felt a strong sense of calling. It goes back to the Opportunity Task Force report—that insistence that every time we make a decision, whether it's in government, corporate America, faith community, nonprofit, our own homes: How does this affect people who lack economic mobility? And I knew he would ask that question every time.
Two days after the demonstrations began—I was then president of Women Executives—we had a lunch. I wrote and delivered a prayer. Part of the prayer was: How can we live in a world where some children see a police officer as a hero—certainly, that's how my children experience the police—and other children of the same age in the same city view that same person, that same uniform, that same badge, as a threat to their very life?
I certainly talk with my kids about the needs of the community, and I drag them where I volunteer. They moan about it sometimes. But it does inform their value system. I think proximity builds compassion.
Sunny Hutchinson passed away in February. Forty-three years old. (Hutchinson, a well-known community member and daughter of developer Johnny Harris, died unexpectedly.) Snatched by the angels, I choose to believe. I know that she loved her children enough for their whole lives. Just like my sister-in-law Susan Law, who passed away from breast cancer seven years ago, and I see her children thrive, and I know it is true that she loved them enough for their whole lives. Sunny did, too. I want to make sure I don't leave that to chance. My goal is to be sure that no matter what might happen to me, Kate and Brad always know and feel that I've loved them well.
If I model anything for my kids, it's trying to model a good and healthy marriage. We go back to the audacity of that vow. Being in a relationship that endures decades, there are highs and lows. And to model for children that it's all to be celebrated.