Life Lessons: District Attorney Spencer Merriweather
After sweeping the primaries and running unopposed in the general election, the D.A. gets another four years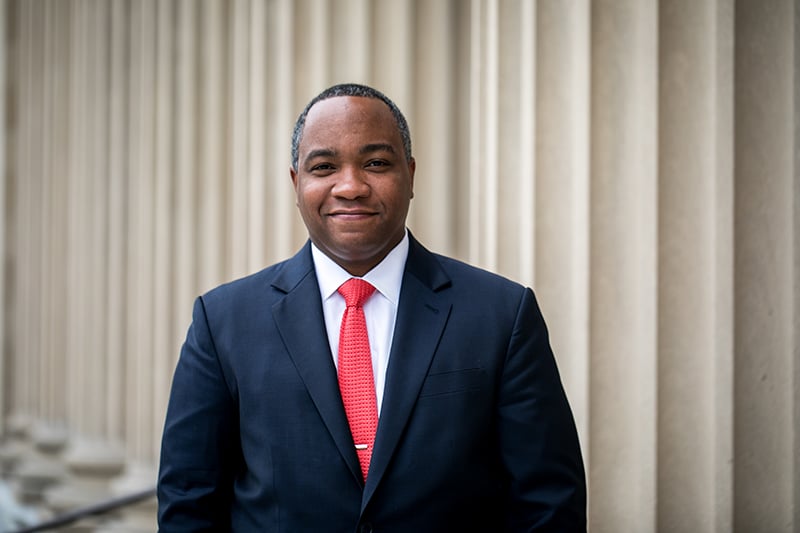 Spencer Merriweather is talking about a project that's important to him—working to establish the CharMeck Family Justice Center, which would provide victims of domestic violence and sexual abuse a central home for resources—when he reaches into his pocket.
"Let me make sure the world's not blowing up," he says, pulling out his buzzing phone. "Oh, it's LaWana Mayfield. I better get that."
Unexpected calls from city council members and other elected officials are regular occurrences these days for Merriweather. Last November, the governor appointed him Mecklenburg County's district attorney, and six months later, voters gave him four more years in the office by sending him to an overwhelming victory in the Democratic primary. He has no Republican challengers in this month's general election.
The 40-year-old Alabama native certainly has the résumé—10 years as an assistant district attorney, law degree from UNC Chapel Hill, and undergraduate degree from Princeton. But in his first year on the job, he's realized that it comes with things you don't learn in school. He's the first black D.A. in Mecklenburg's history, a fact that brings added pressure at a time when upward mobility for black communities is a priority in Charlotte. Few people see more young, black teenagers in positions in which their futures hinge on a court case.
Merriweather has a wealth of personal experiences to draw upon when making those kinds of decisions, dating back to being a teenager in the rec centers his dad managed. He's also married to Lila Riley, an Elon Law graduate who works for the City of Charlotte, helping youth find their career paths.
In a recent conversation with Charlotte magazine, Merriweather talked about family, how he approaches difficult cases, and why he thinks one of the most important parts of his job is connecting people to resources. Here he is in his own words, edited for clarity and space:
---
I was born and raised in Mobile, Alabama. Lived in the same house from birth until the day I left for Princeton.
I grew up with generations of my family that said, 'Yes'm,' and, 'No'm.' I didn't say that to my parents, but I said that to my great-grandparents.
My parents met when they were teaching at a segregated high school, Mobile County Training School. After desegregation, my mother went to a rural white high school, where there was still advertising for Klan meetings on the wall.
I'm an only child, which is supposed to mean I'm rotten, but my parents grew up with seven and eight brothers and sisters apiece, so they weren't having it.
My dad had two jobs. He became a principal, but his other job was a parks and recreation director of a city called Prichard, Alabama. It was one of the first cities in the South to have a completely African-American elected leadership. It was also one of the poorest cities in America. My first job was lining a football field, turning on the lights for high school games, at age 12—probably in direct contradiction of all child labor laws.
People always think of me as, Oh, he went to Princeton. But I'd spend my weekend nights from like seven to 11 playing basketball at recreation centers that my dad ran. I learned really early that if I said certain things to certain people, I'd get punched in the mouth. I learned that my father would watch me get punched in the mouth because he thought I needed to get that lesson.
You hear me talking about diversion programs. It's because I think of the kids that I saw in my dad's rec center (who would) benefit from programs there.
I remember the first time someone had me hold a gun at the rec center. I was like, 'I cannot touch that. I'm not allowed.' He was a 12- or 13-year-old kid. Then that kid, two years later, ended up in this job training program. And now he knew what was at stake: literally, a check. He could buy clothes with it, give it to his mother, feed his sister.
Princeton was the North Pole compared to Mobile. Interestingly, it made the world really small, too small in some ways. I was president of the student body. Four years after I graduated, I was on the board of trustees. Which, to this day, I will never have a Christmas card list as awesome as that.
My wife's part of the Charlotte Civic Orchestra. She plays cello. If she needs an icebreaker, I always say, 'My wife played with Earth, Wind & Fire.' They came to town and they needed an orchestral background. She played cello on various tunes like 'September,' and 'Reasons.' They made her throw away the music right after she was done with it.
We met when I was waiting tables at Chapel Hill while I was in law school. I worked at 411 West, an Italian restaurant. There's some days when I think I learned more there in preparation for my work than I did in law school.
It's where I learned to talk to 12 people for a living. But it goes further than that. In my job now, I have a role in an entire system, and everybody has different functions. In the restaurant, you're working with the chef, who wants to get the job done on time, but wants to be perfect. And you've got a customer to satisfy, because you're on the front line and waiting tables. The bartender doesn't want ice melting in his drinks, because it changes the product.
While I think people are right to have expectations of me, it's important to have those expectations be realistic. If you have a chef with no servers, you have no restaurant. If you have a server with no chef, you have no restaurant. It takes an entire system of people working in the same direction.
For me, that means recognizing my responsibility and building a system that's fair, has people's trust, and keeps them safe. It does not absolve me of a central responsibility of mine, that we're holding people accountable for crimes they've committed.
Often you have someone who's on the brink. You can give them a chance to turn their entire life around, and prison may not be their best option. And there are other people who, the day that person gets out of custody, they're going to go back and do the exact same thing. Both of those are stark realities. The reason people say that my job is extremely influential is because it's my job to determine the difference between the two.
There's a built-in challenge to attracting attorneys of color to the D.A.'s office. Many of us are the first in our families to attend graduate school. So there's some different considerations we have in deciding whether we're going to pursue work for high monetary compensation or (in the) low-paying world. The second hurdle is there's not a lot of attorneys of color going to law school to begin with.
The firms at Trade and Tryon are giving a lot of money out, and I've got to compete with that. All I've got is a job that has significant impact. Never does a person have to put their head on a pillow and wonder whether their job is important. I can sell that.
It won't get to the front page of the paper. But if you're in a room with people who are really hurting and you've done something to help them, there's nothing better than that.