Life Lessons from the Founders of No Grease Barbershops
A local barber school teaches students about more than buzz cuts and shaves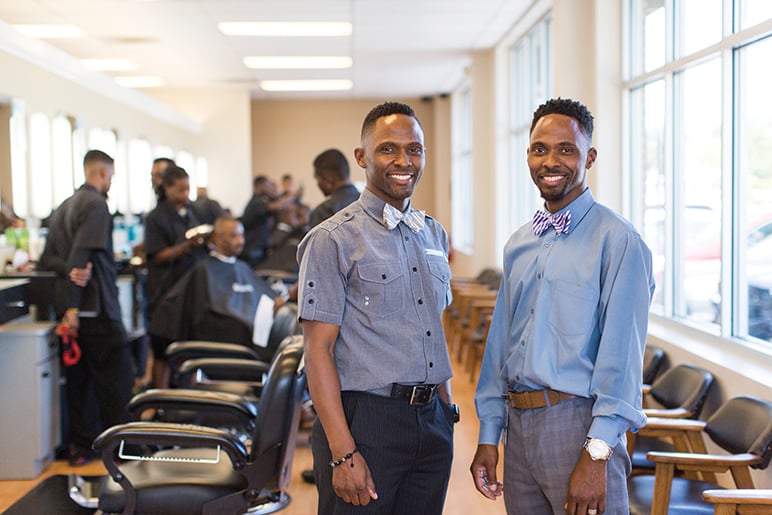 In a brightly lit classroom at Park West Barber School, Jermaine Johnson is preparing to teach. On the walls around him, posters illustrate the key muscles in the head, neck, and face, along with different types of skin lesions. In front of him sit rows of students dressed in black pants and smocks. Johnson wears a colorful plaid shirt and a textured bow tie that has become his trademark as owner of the local chain of No Grease barbershops.
"Now I'll sit with you, I'll cry with you and laugh with you, but our mission is not to make you a better father or boyfriend," Johnson says. "This is our mission."
He points to a flat-screen monitor, where a statement promises to help students gain "practical hands-on skills and knowledge for a rewarding barber career." A new barber can earn between $18,000 and $25,000 in his first year, Johnson explains later.
He discusses enrollment fees for the school on Wilkinson Boulevard and the consequences of coming up short. "I like some of you," he says. "I even love some of you, but this is a business."
A ringing cell phone in the audience interrupts him.
"Who was that?" Johnson asks, looking out across the class of about 30 people. "Be honest."
"It was me," confesses someone in the back.
"Good-bye," Johnson responds. "You get an early release today."
"Yes, sir," the student says, and slinks out of class.
Johnson, whom the students call "J," doesn't tolerate any foolishness. When he and his identical twin brother, Damian, natives of Buffalo, New York, moved to Charlotte in the mid-1990s, they opened two barbershops. Eventually, the chain expanded to four locations, at Time Warner Cable Arena in uptown, Concord Mills and Carolina Place malls, and near Johnson C. Smith University. But they had trouble finding employees with the kind of talent and skill they needed. "They were licensed," Damian says, "but they didn't know how to cut hair."
In 2003, the Johnsons opened their own barber college and ran it for nearly a decade before deciding to join forces with the Durham-based Park West Barber School franchise. Their philosophy is to teach economics and socials skills, along with techniques for shaving and buzz cuts.
The students, most of whom are African American men, come from a wide variety of backgrounds. Some have a limited education; some are ex-criminals. "Many of them never graduated from anywhere else," Johnson says. "Many of them can't get a job anywhere else. We get a lot of broken people here."
Student Terrence Rice, 33, struggled after serving in the U.S. Army in Iraq. "I couldn't find myself," he says. "I couldn't adjust to civilian life." He was also diagnosed with epilepsy, which narrowed his employment options. Park West was willing to give him a chance. "It has given me a whole new perspective on life," he says.
"For some of us, this is the last good opportunity," adds James Johnson, a 42-year-old student who is not related to the Johnson brothers. "Without this, many of us would go back to the streets."
Many of the students view Jermaine Johnson as a role model and counselor. "All I see is myself in all these people," he says, gesturing toward the class. "All my nephews are locked up. I need to be straightforward. I don't mollycoddle."
When he's done with the day's lesson, he writes his cell phone number on the board. "Anybody can call me," he says. "Now call me with some b.s. and see how many times I answer."
The students laugh, but they can see in his eyes that he isn't kidding. His gaze is steady, almost paternal. "I'll be there for you."