Life Lessons: Greg Olsen
A football player second, a father first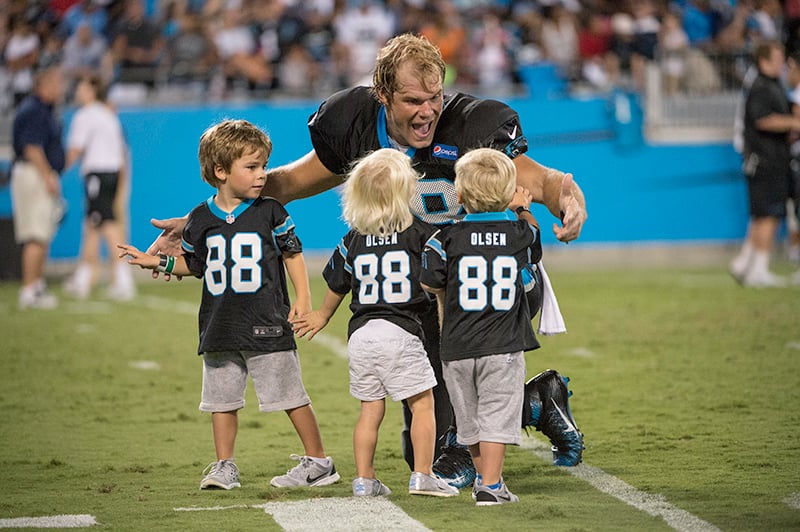 GREG OLSEN IS ONE OF THE BEST tight ends in the NFL, and in the years since being acquired by the Panthers in 2011, he's become one of Charlotte's most prominent parents.
In 2012, his son T.J. was born with a congenital heart defect. T.J. underwent several open-heart surgeries at Levine Children's Hospital in his first few years—surgeries and time that parents who don't make $7.5 million a year, as Olsen does, often can't afford. So Olsen and his wife, Kara, started a foundation called the HEARTest Yard, which gives financial assistance to families of children born with congenital heart diseases, to help those families through long hospital stays. In 2015, the foundation gave out $445,000 in grants and awards.
On top of that, Olsen is regularly spotted around town participating in fundraising events and helping in other ways. In the summer of 2013, for instance, cameras caught him assisting at the scene of a car accident he happened to witness in south Charlotte. And he's gone to Raleigh to lobby the legislature to pass a bill that would make certain heart-related tests mandatory for newborns.
In the days after the Panthers lost by a single point in their season-opener against the Broncos on national television in September, Olsen spent some time with writer Bill Voth, whose website, Black & Blue Review, is an online news site covering the Panthers. The two didn't talk about football. Instead, they talked about the lessons Olsen has learned since becoming a father to son Tate (now 5) and T.J. and his twin sister, Talbot, who turned four in October.
Here's Olsen, in his words (edited for clarity and space):
---
I FIRST BECAME A DAD in 2011, about six weeks before I was traded here. It was crazy. I had to call my wife from training camp in Chicago, and she's with (our) six-week-old son who (we) just brought home. The next thing you know, you're telling her that you're moving cities. She packed up our house, and her and my mom packed up the car with the dogs and our son Tate, who was two months old. Drove from Chicago to Charlotte. They got a little rental for us for the time being, and just like that we were in a new city with our kid.
THERE WAS AN ORDER we wanted to do it in, but that was going to be a big part of our lives and a big part of our marriage: raising kids together, bringing kids into our home, and trying to shape them for the future.
KARA AND I went to college together. We met our freshman year. We lived in the same dorms. We enrolled in school in the fall of 2003. We met each other shortly after that. We were friends for a while, and toward the end of our freshman year, we started dating. We got engaged in 2007 up in Chicago toward the end my rookie season. Then we got married in March of 2009.
IN COLLEGE, when everybody wanted to go out, and her girlfriends and sorority sisters wanted to go out, she would stay home with me because I had things I had to do bright and early. She understood the sacrifice that came with what I did and she was always a great supporter. She always understood that maybe we couldn't always do what everybody else did, and our time together made us both better.
MY FAVORITE PART of fatherhood? I think there's something special about people whose lives are so dependent on you and they get so much happiness and so much direction from you. They look for approval, they look for guidance in everything they do. It's a pretty special relationship. It's really the only relationship that you have that is like that.
I DON'T THINK it's a coincidence that I've played my best ball since my kids have been in the picture. I think there's something about keeping a routine, keeping things in perspective, being a part of something bigger than yourself. I think those are storylines that also parallel what we do in here.
I HAVE THIS TALK with my kids and the conversation came up recently with my parents. My mom said, isn't it kind of crazy that in this world that both Kara and I have sets of parents that are still together? Our kids have two grandmas, two grandpas that they see, that are involved, that are around. It's not the norm, and I think that example on us made a pretty strong impact. Not everything's always going to be easy. Not everything's going to be marital bliss at all times. But it's a process, like anything else. And through that process of selflessness and seeing things through their point of view, I think makes you a better person.
WITH THEM GETTING OLD and my career getting a bit longer in the tooth, you really want to embrace (being an NFL player). So I try to include them in as many different things as I can. Yeah, it's fun bringing them to game days and seeing me play, but there's other things that I want to see them experience while I'm playing. Stuff like a Thomas Davis charity event and seeing that just because Daddy plays football, there's a lot more that comes with that platform than just running around, catching the ball, and people cheering for you. We've been very fortunate; we've been very blessed with a lot of different things. I think from an early age teaching our kids where they fit into this picture is important. I think those are valuable lessons. The world does not revolve around them, while a lot of times it feels like it does.
WE TRY TO MAKE IT where I'm Dad first. They understand when we're out—why do people want to take a picture with you? They're starting to get it because they're big fans of Cam, and my daughter loves Luke (Kuechly). My kids are fans of these guys just like everybody else's kids are of me. That's given me a whole different perspective. Now when that kid wants you to stop at dinner and sign his ball, that could be my kid. We try to teach from an early time to realize that while we are very fortunate and we get to do a lot of cool stuff, we also have great responsibility to try to impact other people. We bring them around the hospital a lot. We always talk about taking care of T.J.'s heart friends and we want them to be involved in that. Like the other day, at a Thomas Davis event, my son wasn't in school. So I brought him (to the event) to teach him this isn't always about us. There's other kids out there that need our help.
Bill Voth is in his 12th season covering the Panthers. A former sports anchor and producer with WSOC-TV, Voth in 2014 founded Black & Blue Review, a website that provides Panthers news and analysis.
---
This article appears in the November 2016 issue of Charlotte Magazine
Did you like what you read here? Subscribe to Charlotte Magazine »
---