Life Lessons: Gymnastics Star Sam Cerio
After a devastating injury, this Huntersville native got back on her feet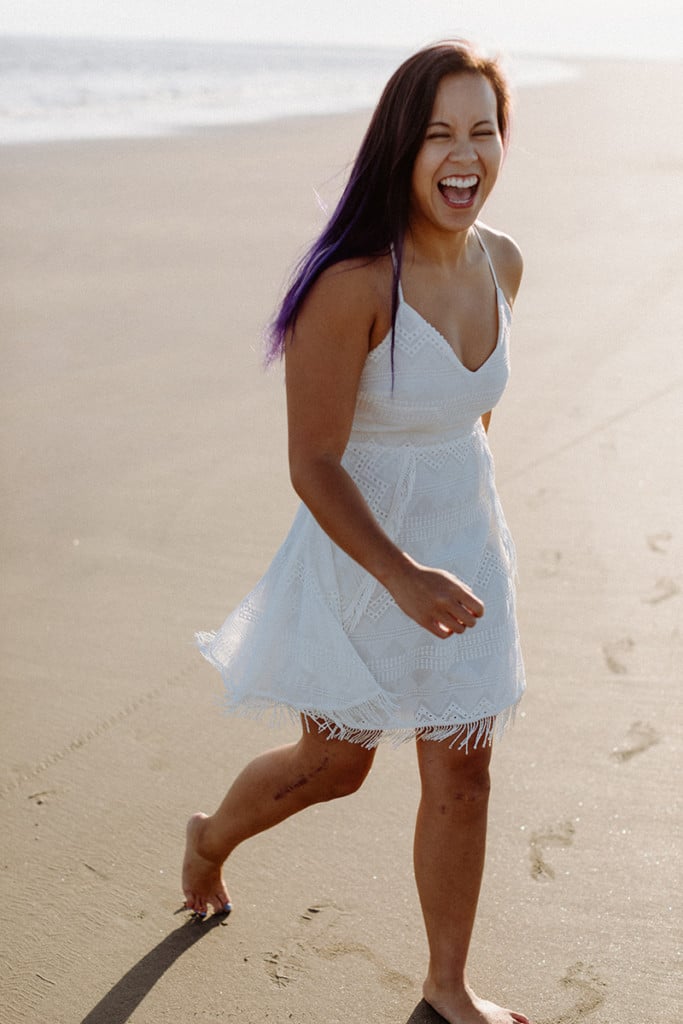 LAST APRIL, Sam Cerio knew her life was about to change. The Huntersville native and Auburn University gymnastics star was a month away from graduating with a degree in aerospace engineering and two months from getting married. But she couldn't have predicted that, in the middle of a floor routine at a competition that month, a fluke landing would dislocate both of her knees, tear several ligaments, and break her left leg. Her first concern as she was rushed off the floor was her team. Two major life transitions loomed, though, and it quickly became clear to Cerio that she'd have to say goodbye to gymnastics. 
She endured months of grueling rehab but was able to walk down the aisle for her wedding in June. I call Sam, who now lives in Charleston with her husband, Trey, on a September Friday after she gets off work as a structural analysis engineer at Boeing. She doesn't dwell on her injury. With a new husband, new city, and new job, Cerio's much more interested in what lies ahead. She shares some of the lessons she's learned, but she's not quite ready to dole out advice to newlyweds. She laughs and says, "We're still figuring it out." Cerio's words have been edited for space and clarity.
MY MOM ALWAYS TOLD ME I had way too much energy when I was growing up. They tried to put me in soccer, and I didn't really focus. I didn't like running all that much, and I just kind of sat in the grass. Dancing wasn't really my thing. We eventually tried gymnastics, and I really liked it because it was like, 'Wow! These things are really cool! I'm not just running on floor.'
MY FAVORITE THING about gymnastics—it's always been my favorite thing—is learning new skills. Being able to come home and tell my parents, 'Oh my goodness, I got to do this new thing on the bars or on the beam!' or 'I learned this new skill on floor!' That's something that pushed me to continue doing gymnastics, because the possibilities are endless.
MY INJURY WAS UNIQUE, and it was kind of like living a different life at first, because there were so many things I couldn't do. For a few weeks, I wasn't allowed to put weight on my legs, so I was in a wheelchair. That was when I learned getting around is not as easy. If you're going somewhere, it takes a little more time because you have to get in the car and you have to pack your wheelchair in the car too. You can't lift things. You can't reach for things that are high up. Even opening and closing doors and getting out of bed were hard. Knowing I had to depend so much on my friends and my family was something I didn't want to do for a very long time. For myself and for my friends and family, I wanted to make sure I was recovering as quickly as I could.
I'VE LEARNED THAT I'm very good with change—or at least I try to be. Relationships have always been very important to me, and that definitely stood out this year. It was really nice knowing that we had a good support group backing us up whenever I needed it, whenever Trey needed it, whenever we both needed it. I think that's been the biggest thing I've learned—knowing that I have people I can rely on that care about me and that I also care about.
WHAT WAS DRIVING ME to recover was having small goals that I set for myself. So the first thing was, I want to be able to stand. I want to be able to maybe walk at graduation. Then the next thing, of course, was walking at my wedding. After that it was, I want to be able to move into our new house. I have to be able to drive. I want to be able to become more autonomous and not depend on my husband so much. I had little goals that really helped me push through every day.
I HAVEN'T HAD that big of an issue transitioning from a gymnastics to a non-gymnastics life. Before I graduated, I did a summer internship and spent more time working than I did training, getting to see what life is like as an actual engineer instead of as an engineering student. I ended up really enjoying what I was doing and the people I worked with, and it was something that solidified my decision to stay in engineering. Knowing I had a job after I graduated was really helpful for my transition. And of course, getting married was always a big thing. Now I really enjoy my free time. I get to spend time with my husband and our families, and we spend time with our dog, walking her and playing with her.
RIGHT NOW, I'm just focusing on my job. I'm focusing on being at home and getting to enjoy the post-college life. It's definitely way different. I really enjoy my job and the people I work with.
EVERYONE FLIES IN A PLANE, everyone knows about the Space Shuttle missions, but actually getting to understand how these things work and why pieces go together like this and the aerodynamics of it is really neat. It's something that not many people get to have hands-on experience with.
THERE HAVE BEEN a few people that have reached out to me that have been so sweet, and they've told me that when they've seen an article or video of me, it's helped them get through some of their difficulties in life, especially physical difficulties. One of my friends was in a bad accident, and she's recovering from it now. She was like, 'I saw you every day, and I saw you get better, and how you were always positive. I'm hoping I can do that, because the way you took it and the way you handled it was just amazing.' Even though I wasn't in the spotlight for the best reason and it wasn't something you necessarily want people to see, there were people who were positively affected by it. I think small things can have big impacts on people.
SPORTS TEACH YOU personal characteristics and traits that are very important. Gymnastics taught me to be resilient and to never give up. It taught me responsibility. It also teaches you how to adapt to your situation, because your routine's never going to be perfect. What if you aren't right on a dance move or you can't complete a skill? What are you going to do then? It teaches you how to finish your routine. It helped me with the mindset that you've got to keep going because you've got to get through it anyway. Yes, my injury happened, but that's not what defines me. Gymnastics taught me to keep going.