Life Lessons: Janet Stovall
Davidson alum aims to put racial equity at the top of corporate America's to-do list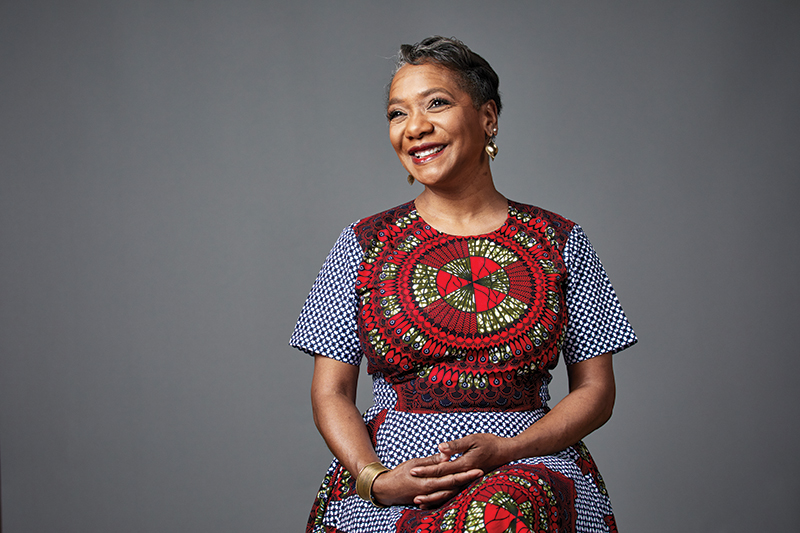 Janet Stovall describes herself as "single-minded" in her fight against racism in the corporate world. The communications expert has worked for more than two decades as the head speechwriter at various Fortune 500 companies, most recently at UPS, where she's worked as an executive since 2017.
Few people of color work as executive speechwriters, and Stovall, 57, uses her own experiences as fuel to make sure issues of race are front and center in the minds and speeches of company leaders—most of them white men. Today, she is best known for her 2018 TED Talk on the importance of setting specific goals to achieve diversity and inclusion in business; as of early December, the video of the talk had drawn nearly 1.9 million views.
Stovall's antiracism work ignited during her time as a student at Davidson College in the 1980s, when she and other students pushed the predominantly white institution to admit more Black students and hire more Black professors and administrators—and succeeded. She graduated with an English degree in 1985. Today, she lives in Atlanta but remains a steward of change for her alma mater as a member of both the college's board of trustees and its Commission on Race and Slavery. Her words have been edited for space and clarity:
As a young girl growing up in Rocky Mount, I never really thought about being Black. I went to integrated schools starting in the third grade, and by the time I got to high school, the main public school was about 50% Black and 50% white. I was in the marching band, head of the Color Guard, and president of my National Honor Society chapter. I did my thing and never really thought about being Black.
The summer before I headed to Davidson College, there came a deeper understanding of some of my life experiences up until that point. I went through my mother's books and found Roots and The Autobiography of Malcolm X. I read them back to back, and all of a sudden things that I either had never articulated or had never noticed became abundantly clear to me.
I thought about driving past white neighborhoods where so many families had pools, yet I didn't know a single person in any Black neighborhood in Rocky Mount with a pool. I realized I was always the one to go to my white friends' homes; they never came to mine. I remembered one of my dearest friends, a white girl, coming to elementary school one day and telling me I couldn't come over anymore because her father's new wife didn't want a Black girl at their house. At the time, I accepted it and moved on. But now, all these little things started adding up. I began to really see the inequities, how different our worlds were.
I thought it would be different at Davidson, but I was hit with the inequity from the minute I stepped onto campus in 1981. I walked out of my dorm one day right into the Civil War. A fraternity was holding its Old South Weekend, and they were in full Confederate regalia. I was shocked. I went to the dean to tell him I wanted the event kicked off campus, and he told me it had been taking place there for years. I realized then that racism went beyond individual or interpersonal bigotry, that the system was poisoned. They thought this event was OK. That is when I started railing on Davidson.
It all came to a head my junior year. Out of 1,200 students on campus, only 52 of us were Black. We had been saying we were angry and unhappy; Davidson was saying they wanted to fix it but didn't know how. I realized I needed to quantify the issue, so I wrote Project 87. It was a challenge to Davidson to, by 1987, enroll 100 Black students, hire 10 Black professors, introduce five Black studies courses, and hire one Black dean.
Up until then, they could always tell me what they wanted to do or what they believed to be right. Now they were going to have to take action. Davidson's new president said my requests were reasonable. He went to work on it, and it eventually came to fruition. It didn't happen by 1987, but we got there.
My focus on systemic racism continued after I graduated. Throughout my career, I was writing for CEOs, and whenever I got the opportunity, I made sure—with my single-minded self—that I talked to them about issues of race and injustice. I had the ear of some of the most influential businesspeople in the world. It was not always easy. We would go back and forth on what went into speeches, but, by meeting somewhere in the middle, we have been able to effectively communicate the importance of valuing each other's differences. We have been able to build bridges with our words.
About a year into being at UPS, I got talked into doing the TED Talk. I didn't think I had anything important to say, but my colleagues kept pestering me to do it, so I started thinking about what I really believe in and when I first knew it. The answer was Project 87.
The mistake we make about dealing with racism is that we deal with it as the subjective issue that it absolutely is. The feelings we have about it are subjective, but when you start trying to eradicate it, you have to take an objective approach. Asking someone to do something because it is the "right thing to do" makes it the voluntary and optional thing to do. When you put numbers to it and hold people accountable to their stated values and mission, now that requires action and change.
I started this back in college and had been preaching it in corporate America whenever I had the opportunity. I had been whispering it for years into the ears of all the CEOs I worked with and eventually got it coming out of some of their mouths. I realized that was the story I needed to tell.
My hope is that more companies start understanding the value of difference and start leveraging that value. There needs to be equal representation, and it needs to include diverse people in decision-making positions, not just a diversity of bodies in the building.
As we work toward that, we do have to recognize that diversity, inclusion, and equity are end states. That's where we are trying to go. What we need is the action verb that gets us there. I like to use the word "leveling," a true leveling of the playing field. If we can do that, we can get to the ideal state when it comes to equity and inclusion.
The conversations we're having now about equity are unlike any we've had before in this country. In the 1960s, with the civil rights movement, we were talking about basic access. Now we're talking about equity, and that's where my head was in the 1980s and what I've been fighting for ever since.