Life Lessons: Joe Vogelbacher of Sugar Creek Brewing
A brewery co-owner, a father of a newborn, a little brother to a sister who is battling cancer, and a reservist who just got called to serve overseas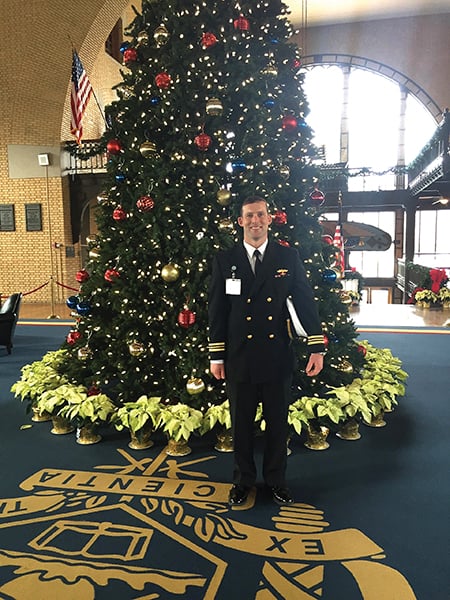 JOE VOGELBACHER grew up in Charlotte and always has been close to his family. So it's no surprise that several years after starting a construction company in New Jersey, he moved back here. In part, it was to be closer to his sister, Michelle, after he learned in 2011 that she had bile duct cancer, or cholangiocarcinoma. But he also had an opportunity to help start Sugar Creek Brewing Co. with some old Charlotte Catholic High School buddies. It didn't take him long to decide to sell his company and return to North Carolina.
Vogelbacher's sister was cancer-free for about five years until early in 2016, when they learned it had returned. Just a few months later, he received orders that he would be activated from the Navy reserves. He'll spend a year in Afghanistan on an Individual Augmentee (temporary duty) assignment with the Army.
Vogelbacher left late this past summer, saying goodbye to his wife, three children under the age of 6, his sister undergoing chemotherapy, and his brewery. We talked to him before he left. Here he is in his own words (edited for clarity and space).
I STARTED MY CONCRETE form business in 2007 in New Jersey and was doing really well. Then the 2008 stock market crash happened. It was fine at first, but it started trickling down to real estate in New York City and eventually I lost my top five biggest accounts. I had about 30 employees and I had over 100 vendors, and I was losing a big portion of my business.
ON SUNDAY NIGHT, I'd start having these panic attacks. It's embarrassing to say because I've been through a lot of stress and gone through military school and all that stuff, but I was starting to wonder, how am I going to pay my vendors? Who am I going to lay off? I couldn't sleep and I felt sick to my stomach.
SO MY UNCLE bought me a real basic home brew kit. At the time, I wasn't a big beer guy. I liked beer, but I didn't have a desire to make it. But my uncle said, "Joe, get your mind off of it and try to make some beer on Sunday nights." That was around 2009. You make five gallons at a time, so I had all this extra beer left and I was giving it out to my customers and friends. Everyone really liked it. Then I gave it to some buddies I went to Charlotte Catholic with, and they liked it.
IN 2011, my sister came to visit and was complaining about a pain in her side. While she was there, she got the news that she had a tumor in her liver. They took 65 percent of her liver and treated her with chemo and radiation. She's got two kids, and I'm their godparent. She seemed to recover from surgery, but I always felt like in the back of my head, if there was an opportunity that fit with my life to get down to Charlotte, then I'm going to take it.
AROUND THIS SAME TIME, some friends of mine who are friends with John Marrino, the owner of Olde Mecklenburg, learned that John was selling his equipment from Olde Meck to upgrade. My buddy said, "Do you have a buyer? We might be interested."
THEY GAVE ME A CALL in New Jersey. They knew about my sister, and they said, "We know that you are thinking about maybe making a career change at some point. Would you be interested in investing or advising a brewery operation?" Right on the spot, I said yes.
TWO DAYS LATER, we had a contract on the equipment. I presented it to my wife and said, "Hey, look, let's do this." She was 100 percent behind me. Initially I was going to come on just as an investor. But we worked a deal out where I would come on as CEO and be the largest shareholder. Obviously, that came with a large cash investment. That's where all our savings came in. And that's how I got in my position.
I ORIGINALLY GOT INVOLVED with the Navy to pay for college. I had an opportunity to go to the U.S. Merchant Marine Academy, and when I went there, they gave me an obligation for serving for eight years in the reserves. I've been in about 14 years, now.
THERE (WEREN'T) ENOUGH JOBS in the Merchant Marines industry when I graduated to go out to sea, so the Secretary of Transportation gave me a waiver to work as a civilian engineer on an aircraft carrier. I spent about five years working as a Navy nuclear test engineer.
I WENT INTO BUSINESS FOR MYSELF after I got done with my time at Newport News shipbuilding, and I needed a means to pay for my medical insurance and help supplement some of the struggles you go through as a young entrepreneur. So, I stayed in and worked on the weekends to help offset my changing income.
WHEN I STARTED MAKING MORE money, I stayed in because I liked the colleagues that I ran into and I found it a refreshing change from the people I was normally dealing with.
I READ SOMEWHERE that the risk of getting hit and killed by a vehicle by walking across the street in Charlotte is like 1 in 8,000. There's roughly 55,000 reservists and there's less than 5,000 who are activated to Afghanistan. So, I figured my chance of getting activated to Afghanistan was very low.
THEY CALLED ME on the phone in May and said, "Hey, you've been tagged for mobilization." I came into the base after that and talked to them about it, they sent me orders, and it went from there. For lack of better words, it was real shitty news. I was struggling with it because I had so much going on with the business and with my sister being ill and with my family. We just had a newborn, seven months old at the time. And I was just thinking, how can this possibly be?
I HAVE MY LIFE savings invested in Sugar Creek. But it's hard to swallow the fact that I could be saying goodbye to my sister for the last time, which was horrible. She is incredibly positive and believes 100 percent she is going to win in her battle with cancer. Her positivity is infectious and she doesn't accept negative people around her. My last visit with her really wasn't sad because both of us believe she is a survivor. She was all smiles and wished me well while offering her support for my wife while I'm gone. Always thinking about other people before herself.
SHE'S 10 YEARS OLDER than I am, but she's always been my best friend. She's always been there for me. She's the oldest in the family and she helped me with my homework and has always been there like the best big sister you could ever want.
I'M FORTUNATE that I have these great relationships with my business partners and operating partners, a great relationship with my wife; I'm just really thankful for my family. It's so important to really nurture those relationships in life so that when the going gets tough, they're there for you. I just hope that I can give back as much as I've been given.
JODIE VALADE is a freelance journalist based in Charlotte. Email her at jovalade@gmail.com, or follow her on Twitter: @JodieValade.