Life Lessons: La Noticia Publisher Hilda Gurdian
As La Noticia approaches its 20th anniversary in April, its publisher reflects on where she's been and the future of Charlotte's Latino population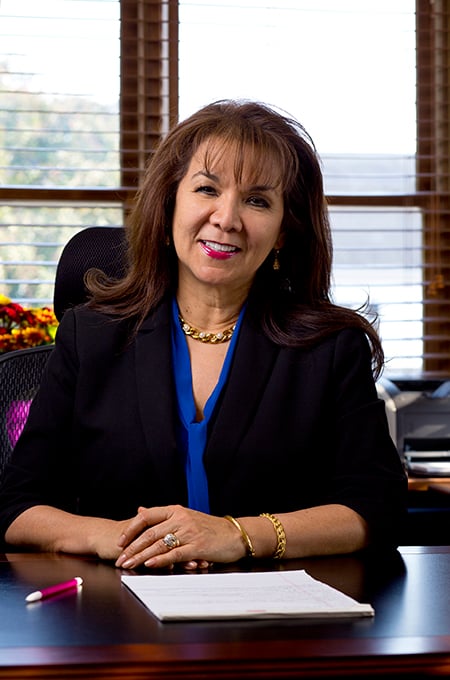 HILDA GURDIAN family-run newspaper, La Noticia, is, by many measures, the best Spanish-language newspaper in the country. Most years it wins more national awards than any other publication of its kind for editorial, advertising, and graphics. And it reaches 300,000 readers throughout North Carolina, giving it tremendous influence in the state's fast-growing Latino population.
The paper publishes editions in Charlotte, Raleigh, Greensboro, and Asheville. The Charlotte La Noticia, with 26,000 subscribers, is the largest. It's one of many reasons Latinos find the city appealing—they make up 13 percent of the city's overall population today, compared to 1 percent in 1990.
Gurdian and her husband moved here with their two sons from Caracas, Venezuela, in 1992. They'd been business owners there, too, running a directory book company. Gurdian's parents owned three newspapers in Venezuela, and her brother owns dailies there now.
It took about five years to adjust to the culture here, she says, and in April 1997 she and her husband started La Noticia. With no other place to turn for news in their language, subscribers and advertisers signed on in bunches. Gurdian became a U.S. citizen in 2002 and has emerged as one of the most powerful people in Charlotte, a voice for a population that's jumped from 40,000 in 1997 to 150,000 today. In April last year, she published her first book, Discover Your Path to Success: 12 Principles That Will Take You Wherever You Want to Go in Business and in Life.
Gurdian, 62, sat down with Charlotte magazine in November, a week after the election, to discuss the future for her, the newspaper, and Charlotte's Latino population. Here she is, in her words (edited for clarity and space).
I come from a big family that was very close. We would have birthday parties and Christmas parties, all together, sometimes with 30 or 40 people. So I left all that to become just us, four.
THE FIRST ISSUE (of La Noticia) came out in April 1997. There was nothing here, and the community needed information in Spanish. We encourage people to learn English, and they have through the years. But it's important for people to receive news and information in their own language.
HAVING AN established newspaper, professionally done and in Spanish, is a great indication that we are in the right place. It tells people that the community is diverse. That the community is welcoming. That if you come from somewhere else, it's OK. I always say that I came to the right place at the right time. Sometimes I ask myself, "How did I choose Charlotte?" and now, 24 years later, I look back and say, "That is the best decision we ever made."
IF THEY say no, you say next. La Noticia was rejected 99 times before I got an advertiser. I went door to door on Independence Boulevard, talking to owners or managers, about giving them the opportunity to advertise in Spanish to attract the Spanish-speaking consumer and give them an opportunity spend money. They have the same money as everyone else. And 99 times people said no thank you.
FINALLY, I FOUND the answer. I had to educate them. I had to tell them, "These people are here. They don't know where to buy cars. They don't know where to go. If you advertise in our newspaper in Spanish, they're going to come to you, and they're going to spend their money. Don't you want to do that? If you don't do that, your competition will do it." So I started slowly changing their minds.
$14 BILLION is the buying power of the Latino community in North Carolina. And they are consumers, the same as everybody else.
WE NEVER, never in the Latino community, wanted to be separated. We always wanted to be integrated as part of the community. We want to be working with everyone together in harmony. Because we strongly believe that's the only way that we are going to be successful, the only way to do what Thomas Jefferson wrote in the Declaration of Independence, that all men are created equal, that they have a right to happiness. We don't want to be thought of as a lesser person or a lesser community—we want to be equal, have equal rights, and have equal duties as well.
I'M NOT Venezuelan anymore. I'm Latina. But I'm here. I'm in the U.S.A. This is a country that speaks English. They have loves, and they have culture, and I have to get used to them. And we want to. This is the best country in the world. This is the smartest country in the world.
WE ARE SCARED. We are afraid of the comments our kids have received in the schools (after the election). In our places of business, even. The white kids are asking our kids, "Are your parents going back to Mexico? Are you going to stay here or go back with them?" We've never felt that. In 24 years in the U.S. and Charlotte, I never felt that fear that a white guy was going to come to me and tell me he hates me because I'm Latina.
REMEMBER THAT I'm from Venezuela. I came to the United States running from leaders who don't build. They destroy everything. They don't build up. And you don't want the same thing to happen to our great country of the United States of America. If you start talking about hate and division, then we're changing the communication, the language, completely.
I BELIEVE in Charlotte people. I believe they're a strong people and they're kind and good in their hearts. (Former Bank of America CEO) Hugh McColl is my hero. So is (former CPCC president) Tony Zeiss. That's the type of person we have here in Charlotte. People with values. Strong people who want to do good for the entire community because you see, you have to do good for everybody. You cannot do good for one group and not for the others and pretend that a community is going to get somewhere good.
IT TOOK me (Five) years to adapt. We're very affectionate people. We touch a lot. I hug people. I had to adapt to that. I remember going to parties all dressed up because in Venezuela when you go to a party, you get dressed up, and then getting to a party here and finding out everybody's wearing shorts and sneakers. You don't want everybody looking at you. You want to fit in. I remember crying, going into my kids' bedroom and just crying, and saying, "Oh, God, did I do the right thing? What have I done?"
I REMEMBER when I finally felt this is my country. The adaptation is not that you're not Latina anymore. That's not what it means. You're still Latina. You still have an accent and look different. But you kind of fit in. You don't wear these bright jackets anymore.
WE MOVED HERE in 1992 and I officially became a citizen 10 years later. You do all the paperwork and then you have to wait 10 years. … It was wonderful. "I pledge allegiance to the flag of the United States of America." It was very emotional. Because it's a dream come true.