Life Lessons: Longtime Charlotte Legislator Becky Carney
She reflects on near-death experiences, her damaged but indomitable heart, and the new health threat she's battling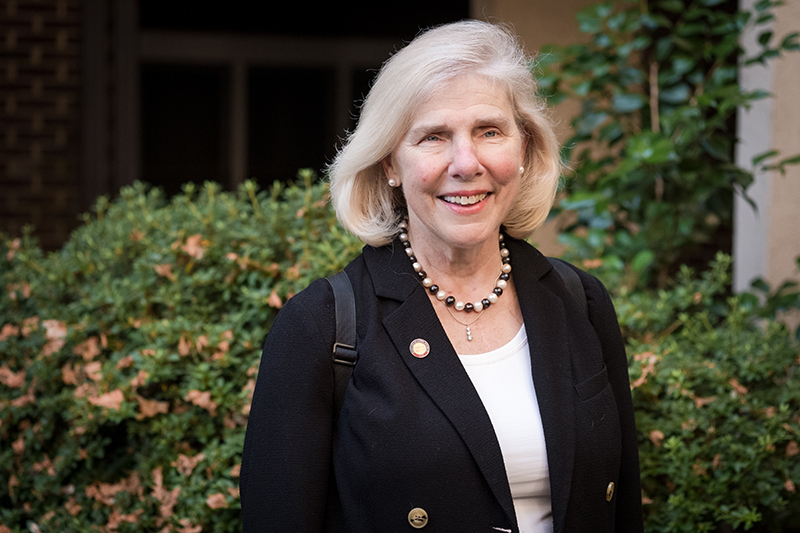 THE MACHINE that keeps Becky Carney alive is an implanted, battery-powered heart pump she keeps in a black backpack she wears when she's away from home. It's called a left ventricular assist device (LVAD), and it pumps blood from the left ventricle of her damaged heart to her aorta and throughout her body. "It's really quite fascinating," says Carney, demonstrating in a Myers Park coffee shop. "This is my driveline, and it goes into my stomach, and from here it loops up and goes into the pump, which is there …"
Raised in Raleigh, Carney moved to Charlotte in 1992 and spent six years on the Mecklenburg County Board of Commissioners. She's currently serving her eighth term as a member of the N.C. House, representing an area of southwest Charlotte, and pursuing a ninth term in a redrawn district that contains such neighborhoods as NoDa and Plaza Midwood. At 73, she's survived three brushes with death: In the mid-1980s, she was hospitalized after a bout with Legionnaires' disease left her in a coma for about three days. Then two episodes of heart failure in 2009 and 2015 necessitated a pacemaker/defibrillator, then the LVAD.
Carney's resilience was tested again this spring, as she prepared for the May Democratic primary and a run for her ninth term in the legislature. After a scheduled mammogram, she was diagnosed with Stage 2B breast cancer in March. A lumpectomy in April went well, and her doctors believe they caught the disease early enough to treat it successfully. "It's an anomaly, another one for me," she says. "It's always a scary thing to hear, 'cancer,' but we'll get through this, like everything else, together. Gene (her husband) is my rock. We just keep going." Her comments have been edited for clarity and space.
---
A little less than two years before my first episode, I had some difficulty walking up hills, and I went, 'Wow, I can't hardly breathe.' I went to see my doctor right away. This was in '07.
My internist put me in the hospital, and they said, 'Well, you have the arteries of an 18-year-old. There's no blockage. So you've got congestive heart failure.' My ejection fraction (an indicator of how much blood the heart is pumping) was down to about 18 percent, whereas a normal ejection fraction is 54 to 58. I went on a restricted-salt diet, and they said, 'Well, we could put in a pacemaker now.' I said, 'Well, I've never had a problem. Can you do it with diet and exercise?' They said the low sodium and exercise, we can try that. So I was fine. They did keep me in the hospital over the weekend and got the fluid off my lungs with IV diuretics. They put me on one medication. I watched my sodium intake. Seven months after that, we went to Scotland for two weeks, had a great trip, no problem.
Two years later, April 2, 2009, I'm sitting at my desk at my office in the Legislative Building in Raleigh. It's a Thursday, during a session. We always leave to go home on Thursdays, when we're through. That day, state employees were testifying before the Insurance Committee—which I'm not on—about improving their benefits through the state employee health plan, and I had gone to listen to them. Just before it was over, I said, 'I've got to go. I've got to get out of here before the 4 o'clock traffic.'
So I went to my office, sitting at my desk, my LA (legislative assistant) came in, and I was talking to her. I had sneezed a couple of times, and my LA said, 'God bless you.' The third time I sneezed, she said, 'God bless you,' and I didn't say anything, and she just kind of glanced up. My head was on my desk. The phone was hanging down.
My heart had stopped. I don't know anything from there until hours later that evening, when I'm at WakeMed hospital.
They said I was probably out for about nine minutes. No heartbeat. They said my heart raced off the chart and stopped. Cardiomyopathy—that's one of the things I've been diagnosed with, along with congestive heart failure.
That night, I was looking at the news, and they were talking about me. It was surreal. And there's the gurney going through the courtyard, my little foot hanging off. I was going, 'That's me. My gosh.'
I had never been sick. I was in good shape. I was like, 'I don't need to have something put in me. I can handle this with more exercise and diet.' Had I had a pacemaker, I wouldn't have gone through what I did. I thought I knew better. But this doctor, Dr. Randolph Cooper, looked at me and said, 'I know your doctors in Charlotte told you they recommended that, and you didn't get a pacemaker. But you have no choice. You're getting it.'
I'm blessed. I'm unique, I guess. I don't worry about things. I never have. In my life, I've been widowed while pregnant at a young age and rolled with it, went on and dealt with life. I've had a lot of things thrown at me. But I've always felt like anything bad that happened to me, I've always come back, and the next step is a little bit better. I thought, 'OK, we've got this life jacket now, we're fine. You're going to handle this low-sodium diet fine, and we're going to pick up and move on. I've got to get back to work.'
I've done it all. I've been single, married, widowed, divorced, and I can even check 'deceased.' I tell people that. You can check off all the boxes.
I knew, after that event in '09, that my health belongs to me. My life is in my hands. I've got the backup stuff that I've been given, the synthetic, man-made things, but now I've got to take charge of my own health—which I thought I had. I thought I was living healthy. But I wasn't doing it well enough. We're the mechanics—I guess that's a way to put it—of our own bodies. We have this gift of life, and the heart is the gift to our bodies. Some people ignore it. We take it for granted. We take so much for granted.
In the spring of 2015, I had been staying at a condo I shared with a colleague in Raleigh. And I'd have to lug my stuff up. When you've got congestive heart failure and a pacemaker, you shouldn't overexert yourself. I didn't know what that meant, because I go wide open all the time. A couple of times I'd go out to the car with my stuff, a tote bag, my suitcase, and I'd feel like I was going to faint. But I'd lean on the car, and it would pass.
We flew out to Nevada on July 2, a Thursday. Our son was getting remarried in Henderson, right outside of Las Vegas. The altitude is horrific out there, and that's really bad on heart patients. It was hot, just horrifically hot. I had another one of those episodes at Charlotte Douglas before we left, and I had another on Friday afternoon, and another one Saturday, the day of the wedding. This one lasted a little bit longer, and I knew something was going on. But each time, the pacemaker fired and brought me back.
I got through the wedding, but at the reception—I mean, I love dancing, but my body was saying, 'Something's wrong.' And I knew it. And all I could think about was getting home.
Early Monday morning, we had to be out at the airport at 5 a.m. to turn in our rental car. There was this little escalator, maybe eight or 10 steps, and I got to the top of that and went, 'Wow.' This one lasted a little longer. I got to a seat and sat down and went, 'This is not good.'
I don't remember getting out of the terminal, don't remember being put in the ambulance, but I remember at some point riding and hearing this man saying in my ear, 'Ms. Carney, stay with us! Stay with us!' And then I came out of it, I guess, and we got to this hospital.
My heart was racing off the charts, and my pacemaker/defibrillator saved my life again. That was on Monday, and we flew back to Charlotte on Wednesday.
Had I been on that airplane on Monday, it would have been a different story, probably.
When I got back, I went to see my heart specialist at UNC Hospital in Chapel Hill, and he checked me out. He came in and told me, 'Here are your three choices. No. 1, heart transplant. But the problem is you're O-positive blood type, which is a popular blood type for heart transplant. It would take six months to a year to get a heart, if at all. We don't think your heart will last that long. No. 2 is the LVAD heart pump. And No. 3 is we can give you medications, send you home, and you can just wait to die.' And I said, 'Well, that's not an option. We're not gonna do that.'
The LVAD was implanted on August 6. I got out of the hospital August 20. September 22, I was back at work.
It's life. I just get up. I have a routine I go through in the morning. I check all the buttons, I write it all down. I check my blood pressure every day, my heart rate, my weight. The LVAD has given me an incredible quality of life. I'm that mechanic, and my car is one of those good antique cars that's worth a lot of money, and I'm going to take care of it every way that I can. If I can't, I'm going to the expert. So that's what I do. It's our way of life. I know there are a lot of people for whom this is life-changing. For me, 'life-changing' meant, 'I'm still here.'