Life Lessons: Lynne Daley of Bank of America
She marched (and jumped) through a 22-year Army career—and uses what she learned to help other veterans at Bank of America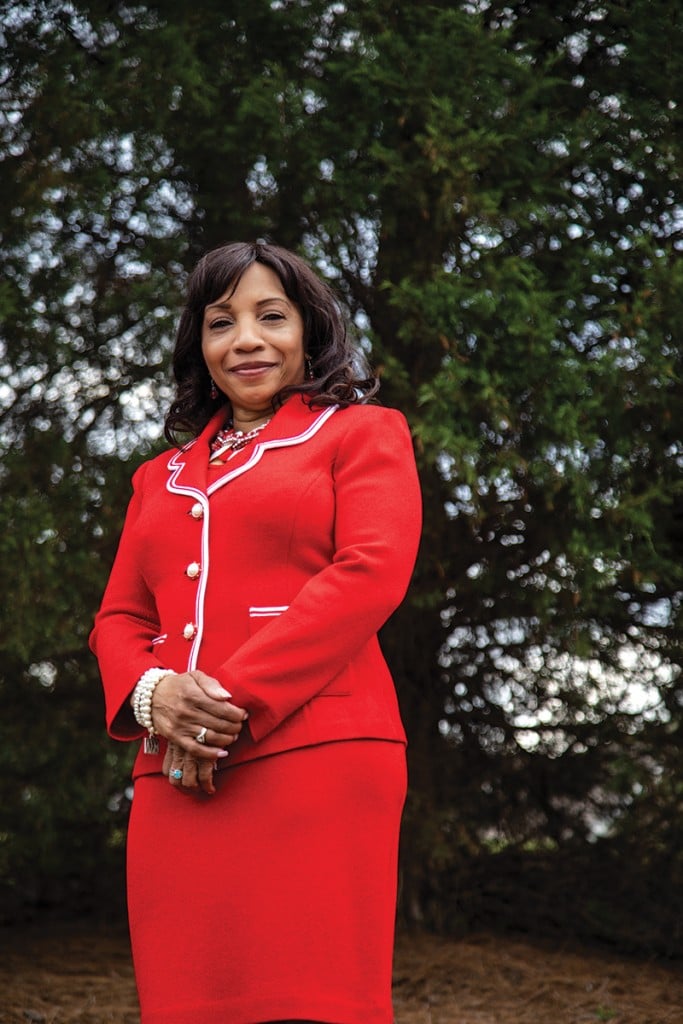 Lynne Daley, a senior business support manager at Bank of America, spent 22 years as an Army officer before she retired in 2006 and joined the bank through a program that recruits veterans in search of civilian careers. Daley supports a team of 240 in the bank's Global Human Resource Technology organization. She also serves as an adviser and mentor in the same program that led to her post-service profession.
Daley grew up in a military family in Philadelphia. She says her father, a World War II veteran, taught her the value of hard work and pushing through discomfort to achieve a goal. Though Daley didn't set out to follow in her father's bootsteps, she joined an ROTC program in college and ended up serving in Germany and South Korea, among other countries with Army posts. A Black woman and an officer, she was a rarity: Even today, only 11% of active-duty officers are Black (compared to 71% white), and only 16% of the total active-duty Army is female.
Before she retired as a lieutenant colonel, Daley led soldiers during Desert Storm and Enduring Freedom, jumped from airplanes, set up a communications hub in a desert, answered to Dick Cheney (literally), and, eventually, became a mother. Now, she says, she's committed to helping other veterans achieve what she has in civilian life.
Here she is in her own words, which have been edited for clarity and space:
I was the best surprise ever for my parents. I grew up in Philadelphia as the youngest of five siblings. We had modest beginnings and two loving parents. My father was my biggest champion. Maybe I was a daddy's girl.
My father taught me the importance of being on time, meticulous, and articulate. He was a great writer, always helping me with my grammar. He knew how to get from point A to point B, and he shared little tips and tools that helped me to be comfortable and confident moving through life.
In elementary school during the 1960s, I was bused from my neighborhood school to a predominantly white school across town. That was where I first learned to work in a diverse setting, and it was the beginning of something that would help me later in life.
I went to college at a small, predominantly white university, Shippensburg University, and majored in business. While I was there, I had a neighbor who was involved in the ROTC program. She said it was a lot of fun, that I should come, and that they got paid. You know how it was in college. You were like, Really? We get paid?
I thought ROTC was something I could do on the side to make a few dollars and get through college. But after summer training, the leader of the ROTC program looked at me and said, "How did you do that? You outperformed everyone in the program except one person." I excelled in navigation, physical fitness, and weapons training, and it came naturally.
My first duty assignment was in Germany. I was excited, excited, excited. My mom cried. I had to assure her, "Mommy, I'll be OK."
After Germany, I was asked to attend the Marine Corps Command and Control Systems Course in Quantico, Virginia. I was one of only five Army officers, the only Black Army officer and the only Black female officer in the whole class. The Marines are a different breed. They're already top of the crop, they've been selected as peak performers. Being around that audience, among a lot of competition—it could be unnerving.
I went to Fort Bragg, home of the Airborne. The mission there was to be the first ones to respond on short notice anywhere in the world and establish communications. It was another high-tempo operation. I am 5 feet tall. Back then, I weighed 110, 115 pounds, and I had to carry about 50 pounds worth of equipment—my rucksack, my weapons—to jump out of planes. Fort Bragg made me more courageous and forced me to be in peak condition, mentally, physically, and emotionally.
Shortly after I was selected as company commander, we were put on notice to deploy to Saudi Arabia and later into Iraq. Whenever I talk about my Gulf War experience, I get teary-eyed. They asked us to do things I didn't know we could do. For example, we were given a grid coordinate and told to go out to this location in the middle of the desert to establish a communications center. I had to take my soldiers and our equipment and make it work. My soldiers called it "Johnson's Mountain." Johnson was my name at the time.
Caring for my soldiers was most important. We performed our mission. We all came home, most of us decorated for what we had to endure. I came back with a Bronze Star for valor in combat.
I was the only commissioned officer of all my siblings. The joke in my family was always, "Here comes the colonel," when I was around. My brothers saluted me.
After we returned, I was asked to interview for a job in Washington, D.C. I dropped what I was doing in the middle of the day, went home, got my dress uniform ready, and drove up to the Pentagon. I became an executive support officer to the secretary of defense. If the light was green on the big phone on my desk, that was Secretary of Defense Dick Cheney. I had to pick it up on the first ring. He would say, "Get me General Powell," or "Connect me to the White House." I would say, "Yes, sir," and he would hang up.
My journey was different. I didn't do normal jobs. I had opportunities to do things that were intimidating, a little frightening. You never know what you're capable of until you're tested. But I took opportunities anyway, and I learned so much. I think you should have a vision for yourself. It's funny—every job I wanted to have, I wrote it down. I even made my passwords about the jobs I wanted, like "Lynne to Lieutenant Colonel."
Eventually, I got to the point where I wanted to be able to raise my daughter. My schedule was crazy—I had a live-in nanny. I thought, The Army will have many officers, but she will only have one mother. So I started searching. At first, I was a little discouraged. People wanted to hire me to go back to work for the military, but I was leaving.
At a job fair in D.C., a young woman at a Bank of America booth called me by name. Turns out she had been a lieutenant when I was a major in Korea. I used to have the young officers over at the house to make them feel at home. When she told me Bank of America was hiring, I laughed. I said, "I don't want to be a banker. I'm not into finance." But she explained the bank had a large technology organization and was hiring former military … and they offered to relocate me from Virginia to Charlotte. I started there in 2006.
Early on, I worked on big projects like the Countrywide and Merrill Lynch transitions. As a leader on the Military Advisory Leadership Council, I helped build programs to transition military service members to corporate life. Once you're in the military, you have a deep appreciation for those who serve and the sacrifices they and their families make.
The bank provides continual training, coaching, and mentoring. We have a cohort program to link people together and help with attrition. If it wasn't for a former military person who asked me to interview, I may never have ended up at the bank.
I think that women are sometimes shortchanged. If you set yourself up and surround yourself with friends, family, faith, and the right knowledge, you can go as far as your ambitions will take you. I am a short, Black female who was in the company of 6-foot-tall men. I had to compete and win and be successful without being intimidated. But you need a village, and you need to ask for help. You might be surprised at all the angels sitting around ready to help you.
Nikki Campo is a writer in Charlotte. She's written for The Washington Post, Good Housekeeping, The New York Times, and McSweeney's.