Life Lessons: Ramona Brant's Legacy
A life sentence turned into her life's work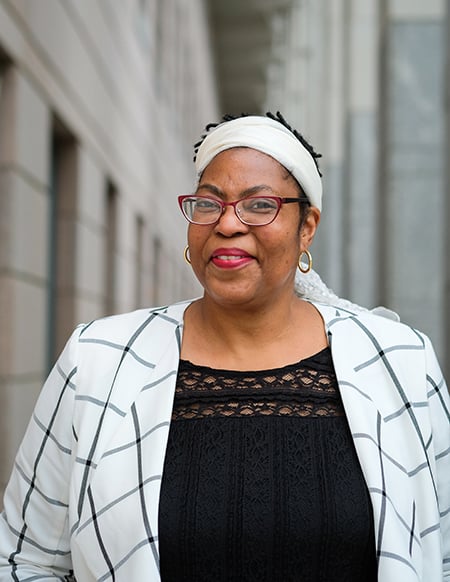 RAMONA BRANT SAT UP STRAIGHTER than the president of the United States. Shoulders back, hands folded, her cardigan an exact match to the purple print in her dress. She kept her eyes locked on President Barack Obama as he leaned slightly forward to address the reporters gathered across the table on March 30, 2016.
Not quite two months earlier, she had been in prison, serving a life sentence for a nonviolent first offense. Now, she was in a restaurant in Washington, D.C., sitting beside the man who had orchestrated her release and who was about to offer her some nachos. If she was nervous or excited, her face didn't show it. Ramona sat up straight, focused on the president, and listened.
That focus is something Ramona brought to her conversations. She paid attention, and she listened. When she spoke, the strength and smoothness in her voice demanded that you listen, too.
Ramona told her story countless times—to church groups and students, at a White House briefing, and in one-on-one conversations. Even as she shared the wrenching details of her time in prison, her words flowed. She often kept a small smile on her face, as if to put her listeners at ease.
Since she left prison on Feb. 2, 2016—21 years to the day after she had been sentenced to life—Ramona told her story to advocate for changing the system, for Charlotte to provide safe homes and good jobs for all its citizens. She reveled in spending time with her two sons, her grandchildren, and her new husband.
Ramona, 54, died unexpectedly on February 25, before the publication of this article and just two years after she was freed from prison. What follows are her own words, edited for clarity and space.
---
I moved down to Charlotte in 1988, and in '89, I met my co-defendant, my children's father. I fell in love with him. During my first pregnancy, he became abusive, and I left him. I went back to New York, and he pursued me and was extremely apologetic to my parents and to me. About a month before I was due, I returned to Charlotte. Everything was beautiful.
After our first son was born, the abuse came back worse than ever before. I didn't know how to tell my parents. I felt embarrassed, because I trusted him; we all trusted him. I used drugs to escape. In a crazy way of thinking, I had control over that.
He had been selling drugs, but he had stopped. He was trying to go straight. There was a bust, and someone gave someone's name, and so when they went to that person's house, they found a ledger that tied him to a person they had previously arrested. That was the proof that they needed.
While he was in custody, they told him if he took a plea agreement, they wouldn't indict me. He didn't, and I was indicted. I was told that he said he didn't want anybody else to be able to have me.
I had never had any interactions with the law. I'm thinking, 'I'm a citizen, I wasn't a drug dealer, I'm going to fight this thing.' I didn't know that you don't fight the government. You accept what they offer and you go and lay down.
One guy testified that he had made a phone call, and I was the one who answered the phone, so I was the one who was really in between him and my children's father. I was found guilty of a conspiracy and sentenced to life in prison without parole. I was thrown in jail Feb. 2, 1995.
At the time, my two children were three and four years old. Here they are experiencing domestic violence in their home, then their father is gone, he's in jail, they don't understand that, and here I am, the last one.
I didn't have an opportunity to prepare my children, to prepare my home, to prepare myself for what I was about to encounter. What was I supposed to do, knowing that I don't know when I'm going home? How do I begin to separate from my sons?
While Ramona was serving her sentence, she was put on a list of "25 Women Most Deserving of Clemency," by the CAN-DO Foundation, a nonprofit that advocates for clemency for nonviolent drug offenders. In 2015, a reporter from Fusion wrote an article about her that caught the attention of White House staffers.
One day I was awakened out of my sleep; I was told I was going to a doctor's appointment. As I waited, I remembered the chaplain singing a song, 'Thank you Lord for all you've done for me.' And I started singing and worshipping and praising, and I said, 'Lord, you know what would be funny? If I came back today and my team is waiting for me and they tell me I'm going home.'
It wasn't exactly like I said it, but it was very close.
When i came back, a prison officer said, 'Listen, while you were out, President Barack Obama called and he said you're going home.' It took a minute for me to absorb that, and I started crying. One of the guards asked, 'How much time have you done?' I said '21 years.' Another one said, 'Well, how much time did you get?' I said, 'They sentenced me to life.' The guards starting crying, and all the officers started coming out and they were congratulating me and crying and hugging.
I went straight to the phone, and I called my son and I said, 'Guess what? I'm coming home.' I said, 'Let's surprise your brother.' He said, 'No! I'm on social media right now!' He was just telling the world, 'After 21 years, my mom is coming home.'
February 2 is embedded in my mind, in my heart, in my thoughts, because 21 years later to the day that I was put in jail, I walked out of prison.
Ramona moved to a halfway house in Charlotte, where her sons lived. While she was there, she and other clemency recipients were invited to Washington, D.C., to meet with White House staffers who worked on their cases.
We pull up in front of a restaurant, and I said, 'Hey, that looks like Secret Service people. Those are those guys that are on TV.' Another clemency recipient said, 'Ramona, you know what, you been locked up too long.'
I look up, and here comes the motorcade. I am about to pass out. President Barack Obama steps out of the car, and he says, 'Hey, Ramona, come on, I'm taking you to lunch!' I was so glad I had on flats, because I would have fell flat on my face.
Inside the restaurant, he sat down next to me. I was done. I couldn't speak, and I'm trying not to cry. He orders some nachos for the table, and he turns around and he's like, 'Hey, you're not eating!' and so he puts the food in front of me. My mom taught me a little table etiquette, so I'm trying to spoon up the nachos, and the president nudges me and says, 'Ramona, get your fingers in there and get those nachos!'
Afterward, we rode back in a motorcade to the White House. What society deemed throwaway, garbage, monsters, here we have the most powerful person in the world sitting down with us, breaking bread, and taking us back to his house.
Receiving the clemency created a platform for me. I traveled a lot, speaking at different colleges, different events throughout the country. One time while I was gone, a young man I had briefly met called me, and I helped him figure out how to make his finances work with his $7-an-hour job.
Much later he called me again and he said, 'I just wanted to thank you.' I said, 'Thank me for what? What did I do?' He said, 'For saving my life. I had already made up my mind to go get a package of drugs, knowing the consequences was going to send me back to prison. But that was the only way that I saw that I could make it.'
We got married in March 2017. I was hopeful to have my dream wedding this year, but realized I can't do it because of my mission, because of my passion, because of my desire to help other people right now.
Ramona and her husband struggled to find housing, because of policies against renting to people who were convicted of drug-related offenses. Eventually, a man agreed to help them and rented them a six-bedroom house.
The man said, 'Now, I want you to understand why I'm doing what I'm doing. I want to support you as much as I can. You don't need six bedrooms. Help other people.'
However, because we were on probation, we were not allowed to cohabitate with other felons. I understand, but I don't understand at all. My sons have gotten into trouble and they can't live with us.
Oftentimes, I question: Who do I owe? We work. I work for the City of Charlotte, my husband has a great job, so why is it that we can't live? When do we finish paying that debt to society?
I'm still trying to bring more awareness, to not only mass incarceration for women, but also domestic violence and what happens to women when they don't have that next place after they leave somewhere. I'm also working with my supervisors in trying to bring awareness to the city of more employment opportunities for those that are coming home from prison.
I can't believe that as many people that have returned to prison wanted to return to prison. They felt the odds were against them. Charlotte is a thriving city, and we need to cover every situation.
I didn't kill anyone. I didn't sell any drugs. There were no wiretaps, no police surveillances, nothing. But I spent 21 long years in prison, away from my children. I could not say goodbye to my mom, my dad, my brother. Going to the cemetery was nothing. I thought that I would gain closure when I got there, and I didn't. Because all I saw was dirt and grass. So I look for them every once in a while, hopeful that one day they might walk up behind me and say, 'Hey, girl. Hi, daughter.'
I had said in the courtroom, 'I'm not doing life, I'm not dying in prison, this is unacceptable. I am not accepting it.' And I just believe that God heard me that day.
Now, I'm happily married, I have two sons who are struggling to find their path after wandering for so many years, and I'm just prayerful that as they see my husband and I thrive, that they will get on their path and thrive, as well. I have a grandson and I have four granddaughters and one due next month. What was taken away is being replenished by the new generation.
Emily Ethridge is a native Charlottean who recently returned after a stint in Washington, D.C. You can reach her at emilyve@gmail.com or on Twitter: @EmilyVEthridge.