Life Lessons: Stephanie Ready
The first full-time female NBA analyst talks television, women in sports, and reminds people to be nice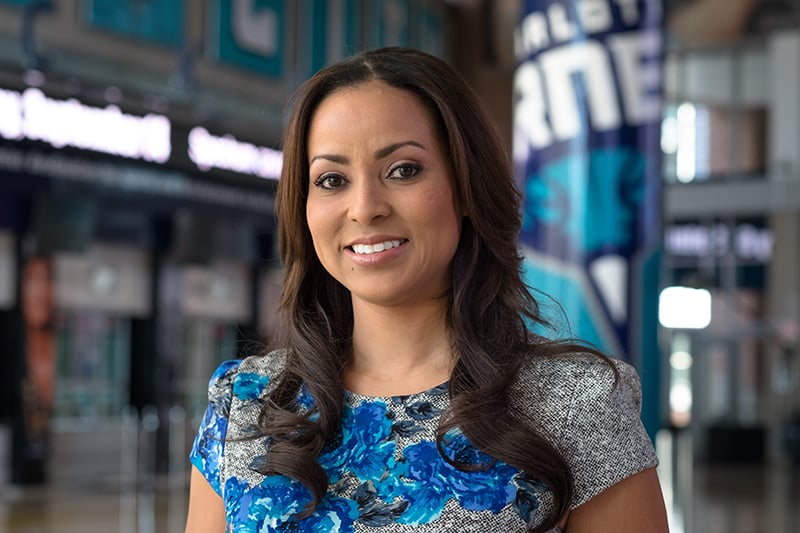 STEPHANIE READY joined the Charlotte Hornets television broadcasts as a sideline reporter in 2004. She knows basketball; before her broadcasting career, Ready was an assistant coach in the WNBA. She was also the first female assistant coach for a men's professional team when she coached the NBA Development League's Greenville Groove. Before that, she was an assistant for the men's basketball team at her alma mater, Coppin State University in Baltimore, where she was the first female Division I coach to recruit full-time.
In 2015, she made history again when she moved into the broadcast booth as the first full-time female NBA analyst. This past December, early in her second season working with fellow analyst Dell Curry and play-by-play announcer Eric Collins, Ready talked with Charlotte magazine about how she got to where she is and some of the challenges she experiences with her job. Here she is, in her own words (edited for clarity and space).
---
I DON'T REMEMBER a time when I was not into sports. I remember very vividly Sundays, specifically, because NFL football's on all day, and sometimes as a small kid, you want to watch something else—like cartoons. With my parents, the rule was: If you don't want to watch it, go outside and play. There were no options.
MY MOM WATCHED, too, but didn't understand the little nuances and intricacies. She's actually part of the reason why I knew I would be a good coach-slash-broadcaster, because I spent a lot of time explaining things to her and teaching her. I remember being in middle school and explaining to her what a ball screen was, and having to use the salt and pepper shakers to show her. She's like, "Ohh."
I LIKE PLAYING fast-paced sports where there's constant action, so I gravitated toward basketball and volleyball. I ended up getting an academic scholarship to Coppin State and walking on (to the basketball team), and then earning a full athletic scholarship after the first semester.
I GRADUATED in May (1998) and was ready to go to grad school. I majored in psychology and minored in management. I wanted to go on to do industrial organizational psychology. (Then) a phone call came in July asking me to be the head coach of the volleyball team. So I took the job and I was the youngest Division I head coach. I was 22.
I WAS the head volleyball coach for three years, and the assistant men's basketball coach for two years. That's when I got another phone call to coach in the (NBA's Developmental) League. It's just so funny. The (Coppin State) athletic director and men's basketball coach, Ron "Fang" Mitchell, would joke with me and say, "I don't know why you keep making plans. Someone else has a plan for you."
MINOR LEAGUE SPORTS are challenging. It's not the best travel, not the best hotels. Scheduling is a nightmare. But I learned a lot. I had a wonderful experience, and we won the championship that first year (2002). But after two years, the team folded, and I didn't really know what I was going to do. I started looking into broadcasting opportunities.
I WAS DOING some local radio for some colleges, doing some NBA TV reporting, just random events, just trying to get in front of the camera. The most broadcast experience I had came in seventh grade, when I co-hosted a kids' news program in D.C. that came on the local FOX affiliate.
I CALLED ESPN'S Michael Wilbon, whom I'd met while coaching. I had my little reel, which was not very good because I only had a couple of things on it, but I asked him, "Who should I send this to?" He was like, "Send it to my guy at ESPN and I'll tell him it's coming and he'll look at it and let you know if it's going to happen." His guy was a producer for men's college basketball. He sent my tape on to women's college basketball, and they invited me up to Bristol, Connecticut, for an audition. I went, and they hired me to do a game here and there, and the women's tournament for the first couple rounds.
TV IS HARD. But live TV is really hard. You have no idea what's about to happen. When you're at a game, you don't know who's going to shoot the next shot.
I STARTED WORKING for the Hornets as a sideline reporter, but my goal was to be an analyst. I think it comes from my coaching background. As a coach, you teach, you explain.
DELL CURRY IS the salt of the earth. He's a really good guy. He has embraced it (having another analyst). He's all for it. We have fun. We're constantly laughing and joking. You can tell we actually like each other, the three of us.
WE'VE HAD A LOT of great feedback with me in the analyst role, but of course there's going to be plenty of negativity, especially when it's a woman in sports. I have always been taught to take the high road. I've always been taught to treat people the way you want to be treated. I don't tweet as much in-game as I used to, but one of the things I started doing as a sideline reporter was I would just tweet back to people, "Be nice."
IT'S LIKE, "HELLO these are real people you're talking about, it's not just characters on a board." I've gotten some comments that have been extremely misogynistic. Crass. Downright crude. I have always believed I'm not going to give that person any extra energy. The nature of my business is, it's subjective. Ten people can watch the same broadcast and have 10 different opinions. So all you can try to do is do the best you can do all the time. And the people who feel a certain way because I'm a woman, it's not going to change. Because I'm not changing. It's done. I'm a woman. That's not changing, people.
THE COMMENTS THEY make, sometimes it makes me laugh. They'll call me an airhead. To me, that is the most sexist thing you can say, because you never hear anyone call a man an airhead. Of all things I might be, airhead is not one of them. I graduated cum laude. I've probably forgotten more basketball than that person will ever know. If you don't like my analysis, that's one thing. But don't insult my intelligence by calling me an airhead, of all things.
I'VE LEARNED THAT I have thick skin. It used to be really hurtful to me to hear some of the things, until I realized the only kind of person who will say something like that is the kind of person I don't care for. I have learned patience. And I guess forgiveness. I've learned forgiveness.