Life Lessons: WBTV's Kristen Miranda
Viewer favorite on Morning Break rebounds with a new show—and a fierce commitment to be true to herself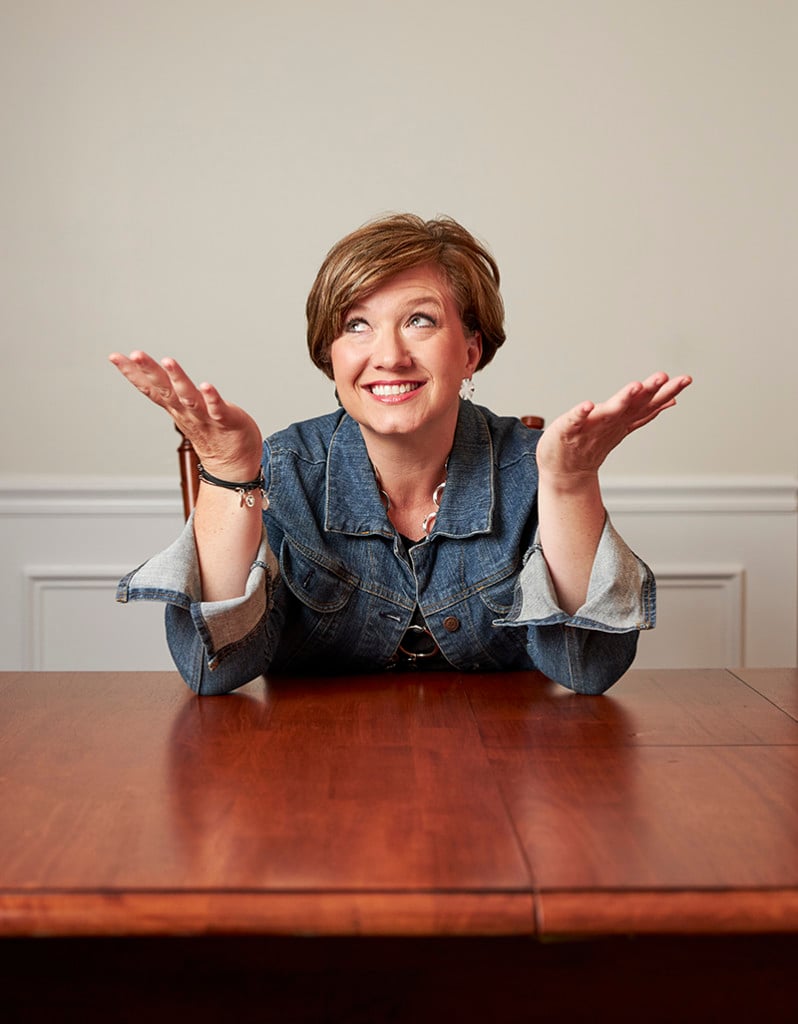 WBTV CONDENSED its hit local morning show from an hour to 30 minutes last September, and viewers responded with emails, social media posts, letters, and phone calls begging the station to bring back the hour-long Morning Break. It worked. The televised hour returned on January 7 with co-hosts Kristen Miranda and Coach LaMonte Odums. Now WBTV will debut another hour-long show, QC@3, weekdays at 3 p.m. with Miranda at the helm.
Charlotte magazine caught up with the Buffalo, New York, native ahead of the show's September 9 premiere to discuss how the last two decades in television news have prepared her for the job she's wanted since she was a little girl. Here she is in her own words, edited for clarity and space.
---
I WAS A SUPER-SHY KID, so my parents are still surprised that this is what I do. I was afraid to pick up the phone and order pizza on Friday nights. I don't remember a moment when that changed, but it did somewhere along the way, because this is the least shy job you could have. I first stepped into a newsroom when I was in high school. I was really involved in drama and thought that was the direction I was going. But the closest thing to that was an internship at a TV station, so I did it, and I loved it.
IN COLLEGE, I was working for the TV news station on campus at State University of New York at Fredonia, and there was an incident. A friend of mine got involved in something bad, and it was campus news. We were going to put it on the newscast, and the friend called me and said, 'Please don't do it.' I thought, if it were anyone else, I would do it. It was a real struggle for me, knowing that once I said those words on air, I'd probably lose a friend. And he never spoke to me again.
BUT I REALIZED there is a responsibility to what we do. We have to be fair, even if it doesn't make the people around us happy. Every situation we cover involves someone's friend, child, or loved one. No matter what the circumstances, if it's a murder victim or a criminal, it's someone somebody loves. I try to treat those stories with that in the back of my mind.
MY FIRST ON-AIR JOB was at a tiny station in Binghamton, New York. The studio got hit by a tornado that destroyed it while I was there—that's how tiny it was. I was 22 years old, going out and shooting my own stuff—and this was before cell phones. Some days I went home crying, thinking, 'I don't know what I'm doing.' But like anything else, it builds a harder shell on your exterior.
I WORKED WITH AN ANCHOR who gave me some great advice. He said, 'People love human frailty.' I'd made a mistake, and he told me not to worry about it, because nobody wants a robot. Be your most authentic self, and if you take a few missteps along the way, that's OK. If you can do that on TV, people will feel like they know you. I've tried to remember that my whole career.
ONE OF MY BIGGEST MISHAPS actually got me my job at WBTV. In Rochester, New York, I was doing a live shot at a playground for kids with special needs. I was going back and forth with the anchors in the studio, and at a certain point my mic went out. Most people would cut away from a live shot, but we had such a good rapport that the anchors started joking; then I started doing charades, and this went on for a few minutes. For some reason, I put it on my resume reel, and a news director in Charlotte saw it and told me that's why he hired me. That technology glitch—and the way I handled a mistake—got me a job. I've been in Charlotte 11 years now, which is longer than anywhere else I've lived.
TELEVISION IS CHANGING so much, just like any other media outlet. It's making sure you can roll with those changes, that you're recognizing where the audience is and how to get to them. When I started, you had a TV with maybe 40 channels, and everyone watched the 6 o'clock news. Now we break news all day. So we're always searching for where the audience is.
ABOUT A YEAR AGO, the station cut Morning Break to a half-hour. So for a while we did the second half hour on Facebook Live, but our viewers were so amazing and sent emails, social media posts, letters, and phone calls, begging our station managers to put us back on the air for the full hour. And this didn't just happen for a few weeks—we're talking months. They were relentless—the managers were on it and eventually got corporate approval. It let the company know there's a need for local programming, and viewers want to see it from people they know.
QC@3 HAS BEEN IN THE WORKS since the end of last year. Steve Harvey's show is ending this fall, so there was a hole to fill at 3 p.m. We really fought to have that. There are plenty of pay-to-play shows they could have put in that slot, but viewers can feel that when they're watching it. It was important that this wasn't an hour-long commercial. Obviously, we'll have some sponsored elements because we have to pay the bills, but I'm really making sure I say things because I mean it—it's important that people trust me.
WE'RE USING FOUR WORDS to describe QC@3: educate, empower, engage, and entertain. If we meet that bar every day, we're doing it right.
WOMEN ARE A REALLY IMPORTANT PART of our audience. Women want to feel empowered to make changes in their lives, to be the best parents they can be, know how to take care of aging parents, learn another language, and we want to show them that they can. That's not to say we'll exclude men—there'll be tons of segments for them, too.
MORNING BREAK is completely unscripted. It's one thing to do an interview on tape and cut it up later, but doing it live in front of everyone, you've got to have your ducks in a row. QC@3 will be totally unscripted, too. In a way, we're ad-libbing the whole show. And I like ad-libbing because it's my words.
IT STILL FEELS WEIRD to be recognized in public. I don't get excited about that ego-y part of what we do. But sometimes it's really special. A woman came up to me about six years ago and said she'd been hoping to meet me someday. I'd done a story about a particular type of cancer, and her husband had one of the symptoms, so they went to the doctor, got it treated, and now her husband is cancer-free. I'd forgotten about all of it, but for this person, it changed everything.
IT'S ALL ABOUT AUTHENTICITY. My brother was killed in a motorcycle accident, and my niece died by suicide. You never know when you'll lose somebody. People fall in and out of your life all the time. I always want people to know where they stand with me, that the person they see is the person they'll get.
WOMEN CAN BE TOUGH toward one another in this business, but some of the best advice I got was from another woman, a co-anchor. She said, 'Run your own race. Don't look behind you, don't look beside you. Do the thing that is truly you.' I'm 45 years old, and I'm finally getting the show I've always wanted since I was a little girl. And it's truly me.